acension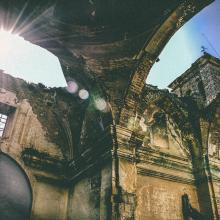 Editor's Note: This post was originally a sermon in our monthly Sojourners chapel.
Friends, grace and peace to you from God our Father and the Lord Jesus Christ.
Around the time I started middle school, my church acquired a series of books called The Left Behind Series. These books chronicle the final days of earth as outlined in the book of Revelation and other apocalyptic biblical texts. I won't offer any commentary on the theology of these books, or even their literary value, but, as a middle-schooler, they were fairly impressionable.
The entire series begins with a dramatic reinterpretation of the rapture. People are going about their daily lives — driving to work, flying airplanes, making breakfast — when all of a sudden, people who had been there just seconds before are gone. Simply vanished into thin air. Of course, chaos ensues, because who is driving the car? Flying the airplane? Tending the stove? The world they leave behind is shattered, broken, and chaotic! This seminal event — the rapture — shapes the rest of the series as those who have been "left behind" work to win the ultimate prize — a place in heaven where they are no longer left behind.