accuser
How do you defeat Satan?
That was the question the University of Harvard had to answer last week when the Harvard Extension School's Cultural Studies Club planned a satanic "Black Mass" at the university.
The Harvard community, led by Harvard president Drew Faust, was outraged by the Black Mass. Faust addressed the situation by stating, "The 'black mass' had its historical origins as a means of denigrating the Catholic Church; it mocks a deeply sacred event in Catholicism, and is highly offensive to many in the church and beyond." Although Faust was offended by the planned event, she defended the right of the Cultural Studies Club to proceed with the black mass. "Nevertheless, consistent with the University's commitment to free expression, including expression that may deeply offend us, the decision to proceed is and will remain theirs."
The Archdiocese of Boston also responded with outraged offense. Cardinal Sean P. O'Malley claimed, "Why people would want to do something that is so offensive to so many people in the community, whether they're Catholic or not, it's very repugnant."
As a Christian, I understand the outrage. After all, the black mass mocks the Eucharist, one of the most holy events in Christianity. But, before we fester in our animosity toward the Satanists, I want to encourage us to take a step back and analyze this event from the angle of mimetic theory.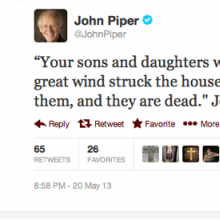 Many of my liberal friends never call themselves "Christians." Their hesitancy is usually a reaction against conservative Christians who, let's face it, are an embarrassment to the name. You know what I'm talking about – those who make crazy claims like natural disasters occur because God is angry at homosexuals. And then there are those who use phrases like, "legitimate rape."
Influential pastor John Piper provides the latest example. While most of my friends on Facebook and Twitter lamented the devastation wrought by the Oklahoma City tornado, Piper decided to show off his biblical acumen with this tweet:
"Your sons and daughters were eating and a great wind struck the house, and it fell upon them, and they are dead." -Job 1:19
Piper's tweet is a bit ambiguous. His reference to Job doesn't say that God caused the tornado, but Piper has historically claimed that God causes these types of disasters. In fact, this wouldn't be the first time Piper has tweeted something so theologically insensitive. A few years ago Piper claimed God caused a tornado in Minnesota because God was angry at homosexuals. Piper's god is a fickle Cosmic Jerk.