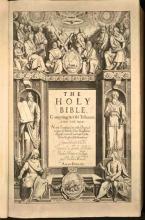 For some months after he returned from England last year, a Montclair State University professor did not realize what a treasure he had found in a rare books library at Cambridge University.
While abroad, Jeffrey A. Miller, an assistant professor of English at the New Jersey school, had acquainted himself with some of the 70 pages of a notebook that had belonged to Samuel Ward, a 17th century biblical scholar. But it wasn't until Miller returned home, and made a more thorough study of photographs he had taken of its pages, that he understood how stunning a discovery he had made.
The notebook held draft portions of the most enduring English translation of the Bible: the King James Version, which was published in 1611 and named for the newly ascended King James I.
"I am not even sure I believed it initially," said Miller, describing the moment when he figured out he had seen draft pages from the most widely read work in all of English, including Shakespeare.