able bodied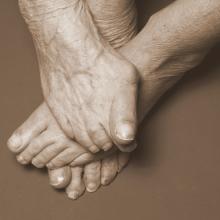 Last spring, I heard a terrific talk from Shane Claiborne at the Festival of Faith & Writing. Claiborne, a prominent voice in progressive Christian circles, lives in Philadelphia's inner city, where he and the other inhabitants of the Simple Way community practice a "new monasticism."
They value hospitality and communal living, seek to build relationships with those living in their neighborhood, and are concerned with issues around poverty and wealth, power and violence. From the descriptions I've read, the Simple Way practices similar values to the Church of the Saviour in Washington, D.C., where I worshiped for most of my 20s. The Church of the Saviour had the unusual distinction of taking both Jesus and social justice seriously. It was a community in which I was comfortable speaking like an evangelical, while voting and approaching social issues like an Episcopalian.
Listening to Claiborne speak back in April about justice and love and how our stories illuminate God's kingdom, I felt at home. Here was the kind of guy I used to worship with in my earnest urban-dwelling days. His message, his words, and his stories felt intimate, familiar, and inspiring.
That is, except for this one story...