99%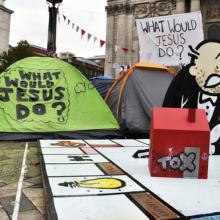 While having lunch recently with Harvard Professor Robert D. Putnam, I was asked an interesting question.
Putnam is appalled at the radical lack of equality of opportunity in the U.S. today, and he wanted to know if evangelical preachers would dare to say what his pastor said when he was a teenager. Putnam told me that back then, in the midst of Martin Luther King's great campaign against segregation, his devout Methodist pastor dared to preach that "racism is a sin."
Professor Putnam asked me, as an evangelical, whether evangelical pastors today would be ready to declare today's great economic inequality of opportunity a sin. That's a great question.
"Middle class" is the chemical weapon of political warfare. We know applying the "middle class" label broadly works and can help us win in the short term. But those victories come at a cost to who we are … and tend to result in long-term (and not insignificant) casualties for those we are supposedly fighting to defend.
Republicans are the Party of the Rich. Democrats now fashion themselves the Party of the "Middle Class." Can anyone think of a group left with no champion? Here's a hint:  20 percent of Americans with a full-time job are getting paid so little that--even with both parents working full time—their family of four is still living in poverty. But when's the last time you heard a Democratic politician even mention the word "poor?"