24-hour news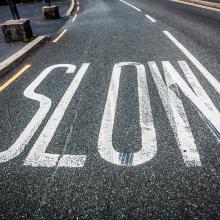 The hum of 24-hour "news" drones on in the background most of my days. I'm not quite sure what television media's version of "Breaking" means anymore, though what accompanies it is closer to this Saturday Night Live spoof than real life.
Something is always "breaking." And someone is always responding. We feel the need to get there first, to offer the most unique point of view, to lend our "expertise," or to speak on behalf of our [fill-in-the-blank]. Organization? Generation? Gender? Or some cross-section of all of the above?
I know. I can definitely be part of the problem, and in this, I attempt my confession — sometimes my judgment fails me and I fall into the trap of the sensationalized newsbyte. I'm the web editor of a publication — meaning, I solicit, edit, sometimes even write some of these responses, of which there are a variety.
We have the "first response." They are those who get there immediately. On television, these might come with the Impact font-ed "Exclusive," or even "First to Report" (gross). Sometimes they just recount the events. Often, they will include — whether by slant storytelling or outright commentary — their reaction to said events.
Then there's the "second-day response." More nuanced, and typically with corrected "facts" that first responders didn't mind repeating ad nauseam the day before, these reports put the events into greater historical context — or at least whatever context the writer could whip together from Wikipedia entries and closest possible "expert." (We have a missing plane? Look, here's a flesh-and-blood PILOT to explain what happened.)
From there, you get the out-and-out commentary. The "here's my take," or "this is whose side I'm on." Rarely unique, though under the constant illusion of specialness, these commentaries attempt to stake out ground for a person or group of people. This happened, here's how it happened, and here's where I [we] stand on it.
Inevitably, you'll then get the response to the response: How dare you stand there! She's missing the whole point of [news-making event].
And on it goes.
I'm not offering this as consolation to those who have lost someone they love, but as a warning. What's true of those we love may be just as true of those whom we hate and fear: we become like what we worship, and we worship what we cherish in our hearts.
When people commit monstrous deeds, it is hard not to turn and stare in horror. Think about how hard it is to pull your eyes from the television even when none of the news is new, just the same breathless commentary about what we don't yet know, what we still don't understand about the latest act of terror.
When the monsters and their violence become our focus, they grow and become our gods. We've become very good at hurting one another, so of course we need to be vigilant. But it's possible to take our fear too far, to let our natural reaction to sudden violence become a permanent policy of suspicion and terror. Then we are in danger of worshiping our would-be enemies. We don't worship them joyfully, but we worship them anyway, the way we might worship any vengeful, unstable, wrathful gods: looking over our shoulders and fearing their power. If the best we can come up with is invective against immigrants, suspicion of people unlike us, and perpetually heightened security measures, it starts to look like our hearts are full of fear.