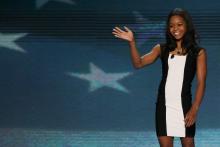 They call her the "Flying Squirrel" — Gabby Douglas, the pint-sized fire-cracker who won two gold medals (and the hearts of millions) at the 2012 Summer Olympics.
Gabby can flip, tumble, vault, balance, swing, totally stick the landing, throw out the first ball at a Dodgers game, charm Jay Leno and Howard Stern (try that, Michael Phelps!), and high-five the First Lady — all the while exuding confidence, good humor and the greatest of ease through her cajillion-watt smile.
So, what's next for the 16-year-old wonderkid?
A tell-all book... about her Christian faith.
Gabby is working on her first book — a memoir titled Grace, Gold, and Glory: My Leap of Faith — which is expected to be published at the end of the year, according to an announcement made today by the Christian publishing house, Zondervan.