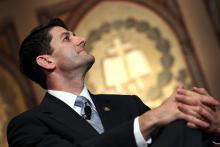 Speaking at Georgetown University, Rep. Paul Ryan—the chairman of the House Budget Committee and a possible vice-presidential candidate— seemed to seek to quell the debate. He called his budget a roadmap to avoid a debt crisis that will hurt the poor hardest of all.
And he seemed to soft peddle his defense of the document as consistent with Catholic teaching.
"The work I do as a Catholic holding office conforms to the social doctrine as best I can make of it.  What I have to say about the social doctrine of the Church is from the viewpoint of a Catholic in politics applying my understanding to the problems of the day," he told an audience composed mostly of students, faculty and staff.