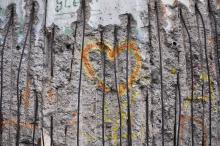 1989 was a big year for me, and for the wider world. It was the year I left my teenage years behind. It was also the year that the brutality of government repression in Tiananmen Square rocked the world, U2 came to my home town and rocked the tennis stadium for seven nights straight, and my football team went back-to-back.
But the biggest news by far that year happened in November when the Berlin Wall came tumbling down literally overnight. For 28 years the wall had separated Berliners from each other, dividing not just a nation but whole systems of government — as well as families, traumatizing them in the process.
This is all very personal for me; I have German parents who grew up during a world war that saw their country devastated both from within and without.
Today marks the 25th anniversary of that most wonderful night when people who had been divided for decades were suddenly reunited, and thousands danced on the symbolic grave of separation, celebrating the death of division. For millions of Germans, it is no doubt one of the enduring memories of their lives. For them, Nov. 9, 1989 will never be forgotten.
I can still recall watching it on TV at my mother's home. As I was watching, I looked over at Mum and saw tears streaming down her face, unable to believe the enormity of what was happening before her eyes. Talking to my dad later, he said he thought it would never happen in his lifetime.