1965
Today is the 50th anniversary of the landmark Voting Rights Act, passed Aug, 6, 1965. The act, signed into law by President Lyndon B. Johnson, created key provisions to prevent racial discrimination in voting laws.
The Voting Rights Act has been called "the single most effective piece of civil rights legislation ever passed by Congress."
Today's anniversary is a bittersweet commemoration. In 2013, the Supreme Court struck down Section 4, which had required Alabama, Alaska, Arizona, Georgia, Louisiana, Mississippi, South Carolina, Texas, and Virginia to seek federal approval before imposing changes to voter laws.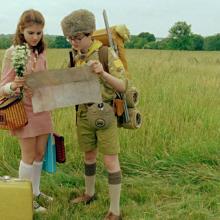 I liked this film so much I've already seen it twice. Moonrise Kingdom is so good, in fact, I almost couldn't bring myself to write about it for fear of not doing it justice.
And yet, since I first took my 11-year-old nephew, Ethan, to see it last month, I've been talking about Moonrise Kingdom nonstop, encouraging everyone I know to go see it. It has captured my imagination completely, an absolute tour de force — wholly original and an "instant classic," as I heard one film critic utter tell a companion on his way out of the theater.
Perhaps Ethan, a mythology buff who's never met a fantasy film he didn't like, put it most eloquently when he said (surprising no one more than himself), "That was the best film I've ever seen."
Moonrise Kingdom is director Wes Anderson's seventh feature-length film to date. In an iconoclastic cinematic oeuvre unrivaled among filmmakers of his generation, Anderson's latest stands above the rest of his stellar films — Bottle Rocket, Rushmore, The Royal Tennenbaums, The Life Aquatic with Steve Zissou, Fantastic Mr. Fox and Darjeeling Limited — as an eloquent, funny, enduringly poignant homage to childhood and, moreover, to innocence.
In a word, the film is perfect. I wouldn't change a thing.