[continued from part 1 [4] and part 2 [5]]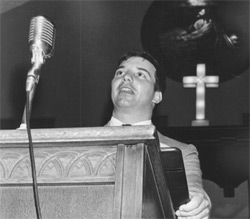 Back in 1961, Gurdon Brewster was a seminary student at Union Theological Seminary, training to be an Episcopal priest. When this Northern liberal raised his hand to volunteer as a summer intern at Ebenezer Baptist Church, he had no idea what lay in store for him. He tells this story in No Turning Back: My Summer with Daddy King [6]
.
Why did you decline the Kings' offer to work as an associate minister at Ebenezer Baptist Church in 1966?
The movement had shifted very dramatically in those five years between 1961 and '66. Black power had come into force. In 1961, I was welcomed by the church and the black community. In 1966, I was treated more skeptically. As an example, my wife helped a group of people build sort of a head-start school, which was going to open in the summertime. The day before it was supposed to open in 1966, the school was burned to the ground. It just felt to me that it was a difficult time to be there. Also, it also felt to me that probably that particular position should be taken by a black person and not by a white person. So, I went down there for the summer of '66 and declined the permanent offer.
What memories do you have of the day Martin Luther King Jr. was shot?
BREWSTER: That was a devastating day for me and for the country. I was going to a seminar that I was leading at Cornell when I heard it on the radio. I just parked my car and began to cry. I went in to the seminar but couldn't really do anything. We just reflected and sat around and talked. I had the sense like so many people that this was the end of an era. We wouldn't see the likes of it again in our lives. So, I remember that day very well.
Explain what happened when Daddy King came to preach at Cornell in 1979.
BREWSTER: When I invited him to Cornell, he preached to our little congregation and began to talk about losing Dr. King and then losing his second son, A.D., and then finally losing his wife, who was killed in the church by a black man. He felt that in the middle of losing all of that, he would not lose his gratitude. He could still imagine God taking more away from him. Then he stopped and said, "Brewster is like a son to me." That completely amazed me because I had no idea of how I might have affected him. When I was down at Ebenezer and living with him, I was 24 years old. Basically, I was a young man. Looking back on it, I was extremely young and probably didn't realize this incredible opportunity that was just right in front of me. I realized the impact he was having on me, but I had no idea of the impact I was having on him. That just didn't compute in my mind. Looking back on it, I could see that I was probably the first white person who ever had lived in this house and had gotten that close to him. I never really talked to him about it but perhaps I was the first white person that he could really sit down and talk to and trust that way.

Becky Garrison is one of the many people interviewed in the documentary The Ordinary Radicals [7].