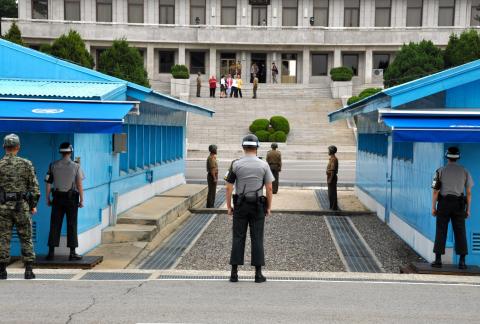 North and South Korea are reportedly set to make a joint announcement officially declaring the end to the countries' long-standing military conflict, according to CNBC [4].
The move comes ahead of the first summit since 2007 next week between North Korean leader Kim Jong-un and South Korean President Moon Jae-in.
Lawmakers from North and South Korea are reported to be negotiating the details of a joint statement that could outline an end to the 1950-1953 Korean conflict that ended in a truce, not a peace treaty.
CNBC reports:
A successful summit between the Koreas later this month could help pave the way for a meeting between Kim and President Donald Trump. The U.S. president and North Korean leader are poised to hold talks in late May or June, according to the Korean Central News Agency (KCNA).
"Even though our special envoys confirmed his denuclearisation will, it is entirely different if the two leaders confirm it directly among themselves and put that into text," Im Jong-seok, South Korean presidential chief of staff, said [6]. "We expect the summit will confirm the denuclearisation will [of North Korea], and hope to have a comprehensive agreement with the North on the matter."
Read more here [4].