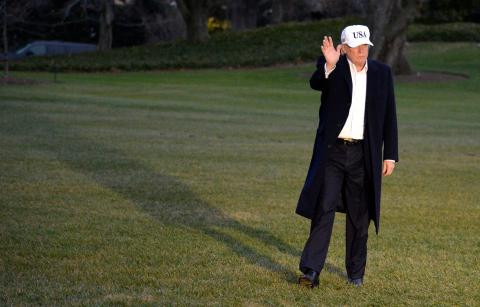 The Trump administration dropped the Obama administration's declaration of climate change as a national security threat in Trump's new National Security Strategy (NSS) that was announced on Dec. 18.
Trump's NSS prioritizes his "America First" agenda, emphasizing the economic growth and national security of the U.S. The new strategy is centered on four main pillars: protecting the homeland, promoting prosperity, peace through strength, and advancing the influence of the U.S.
"Climate policies will continue to shape the global energy system," the NSS document [5] said, according to The Guardian. "U.S. leadership is indispensable to countering an anti-growth, energy agenda that is detrimental to U.S. economic and energy security interests. Given future global energy demand, much of the developing world will require fossil fuels, as well as other forms of energy, to power their economies and lift their people out of poverty."
The Guardian reports:
White House officials said on Sunday the Trump NSS was the culmination of 11 months of collaboration between all the leading security, foreign policy and economic agencies of government. The exclusion of climate change as a national security threat appears however to conflict with views previously expressed by the defense secretary, James Mattis.
"Climate change is not identified as a national security threat but climate and the importance of the environment and environmental stewardship are discussed," a senior administration official said regarding the new NSS.
The move follows the administration's lack of approach to climate change, particularly after Trump vowed to withdraw the U.S. from the Paris climate accord [6].
Reuters contributed to this report. Read more here [7].