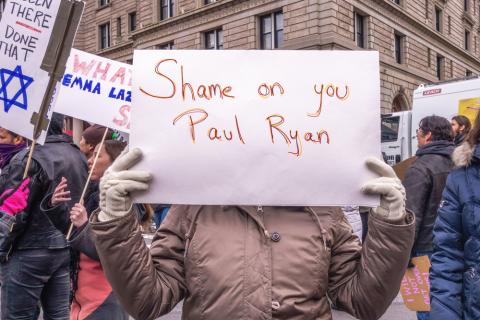 Almost immediately after House Republicans unveiled the health care plan they hope will replace the Affordable Care Act, a number of Bible-quoting, justice-loving Christians began pointing out that the GOP's proposed replacement doesn't quite live up to Jesus's command to "heal the sick."
"He and I must have read different Scripture," said Rep. Joe Kennedy III (D-Mass.) Kennedy of House Speaker Paul Ryan (R-Wis.), a major proponent of the GOP plan.
"The one that I read calls on us to feed the hungry, to clothe the naked, to shelter the homeless, and to comfort the sick. It reminds us that we are judged not by how we treat the powerful, but by how we care for the least among us."
Public theologian Diana Butler Bass tweeted a reminder that Jesus spent many of his earthly days healing lepers and restoring sight to the blind — for free.
Jesus' entire ministry was based on giving away free health care. What's so difficult in understanding that?

— Diana Butler Bass (@dianabutlerbass) March 7, 2017

[7]
Princeton Theological Seminary associate professor Yolanda Pierce and Moral Mondays leader William Barber, pointed out that the GOP's proposed plan would affect those most in need.
Because if we did, we'd break the chains of systematic inequities instead of demeaning the most vulnerable...

— Yolanda Pierce (@YNPierce) March 7, 2017

[8]
Today we see a health care repeal bill that is a sick & sad example of extremist whiling to sacrifice t/lives of t/poor, t/sick & t/elderly.

— Rev. Dr. Barber (@RevDrBarber) March 7, 2017

[9]
Others point out that the Bible is pretty emphatic about how Christians are to treat the most vulnerable.
People God is clear about taking care of in the Bible: the sick, poor, vulnerable, & children
People hurt by this healthcare plan: see above

— Sara Misgen (@saramisgen) March 7, 2017

[11]
#trumpcare [12]

WWJD?
The "J" doesn't stand for Judas.

Luke 5:31
Jesus answered them "it is not the healthy who need a doctor, but the sick".

— Ana Arqis❄️ (@AnaArqis) March 9, 2017

[13]
On March 13, a report issued by the nonpartisan Congressional Budget Office revealed that an estimated 24 million people would lose their health care by 2026 — 14 million within the first year. Ryan celebrated the CBO report, pointing to the report's estimate that the plan would reduce the deficit by $337 billion by 2026. The report ignited a new wave of ire from the Twitter faithful.
Care for the poor.
Care for the sick.
Care for foreigners.
Care for prisoners.
Or else you're a goat.
As per Jesus.
(Matthew 25)#BibleStuff [15]

— Brian Zahnd (@BrianZahnd) March 14, 2017

[16]
Does he even know a single thing about #Jesus [17]? | #GOP [18] Congressman: Jesus Says Poor People Don't Want #HealthCare [19] https://t.co/I4balUuTpq [20]

— Ruba Ali Al-Hassani (@RubaAlHassani) March 13, 2017

[21]
@SpeakerRyan [22] shocking that you claim that being Catholic matters to you when you SO hurt those in poverty with your Medicaid cuts! Stop IT!!

— Sr. Simone Campbell (@sr_simone) March 13, 2017

[23]
Eliminating 10% tax on tanning beds & denying 24 million health coverage sounds like greed not Act of Mercy @SpeakerRyan [22] #ACA [24] #acha [25] #CBO [26]

— Jennifer Butler (@JenButlerFPL) March 14, 2017

[27]
In my reading of the Bible, pairing increased military spending with reduced healthcare spending is the opposite of Jesus' teaching.

— Mark Reid, MD (@medicalaxioms) March 14, 2017

[28]
If Jesus is right in Mt.25 and we'll be judged by how we welcome strangers & care for the sick...some of our politicians are in big trouble.

— Shane Claiborne (@ShaneClaiborne) March 14, 2017

[29]
"I was sick and you took away my health care." Paraphrasing Matthew 25:43

— Brian D. McLaren (@brianmclaren) March 14, 2017

[30]
You should definitely let President Trump know what you think of Obamacare. https://t.co/wFv3gl0iTS [31]

— Bob Shine (@bobshine89) March 14, 2017

[32]