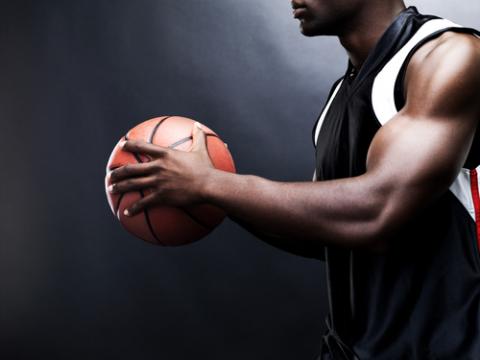 I love sports. During my childhood I spent countless hours with my older brother and cousins on our driveway basketball court. In high school I participated in cross-country, basketball, and baseball; in college I was fortunate to enjoy four years of basketball with great teammates and a fantastic coaching staff.
My first memories of meeting my wife were from a summer basketball pick-up game while we were teenagers (she was much better than I, and would later earn a Division 1 scholarship). During my first months as a parish pastor I helped build a basketball court next to the church building, and we started a league for area youth. In many ways, sports have been – and continue to be – a significant influence in my life, and I figure this trend will persist as long as my body and mind will allow.
While I strongly believe that physical activity and participation within sports can offer excellent avenues for education and wellness on an individual and community level, my role as a fan of sports has been significantly tested over recent years. In other words, I have come to wonder whether or not something inherently good, such as sports, has reached excessive levels to the point of having far too many negative consequences in society. For example, in the U.S. we experience massive inequality and outcry surrounding government budget shortfalls, yet we seem to have more than enough funds for stadiums, tickets, TV packages, and team-related memorabilia. While our public servants receive salary cuts and loss of jobs, millionaire professional athletes argue with billionaire owners over income distribution and so-called "fairness." And of course, while I hear countless people complain about how busy they are and how financial times are tough, those same individuals seem to have plenty of time to watch a few hours of sports on TV each night, and more than enough resources to support their favorite teams. With all of this in mind — and one could list countless more examples — we have to wonder whether our priorities have been distorted, as our collective love for sports may have crossed the line from entertainment to idolatry. Or in other words, how we went from being spectators and participators to devout worshippers.
While we should appreciate — and strive for — athletic achievement in its various forms, we can no longer ignore the various costs of a society that worships sport. For example, we cannot disregard the sociological phenomenon that domestic abuse increases on the days after team loses. We can no longer deny that people spend far too little time participating in sports and far too much time watching it from the couch or barstool. We can no longer accept the onslaught of verbal and physical violene that is often directed toward referees and opposing fans. We can no longer remain neutral when parents scream at their children and coaches from the sidelines. We can no longer accept spoiled athletes and owners who fight why national unemployment rates remains steady. We can no longer accept universities that profit off their student athletes without seeking to educate them for the future. All together, as we consider the faithful role of sports in North American life, we cannot accept a society that replaces high appreciation with holy adoration.
In no way does this all mean that sports are evil and should be avoided at all costs, for the lessons of teamwork and dedication are just a few of the many positive messages that can be received as a result of faithful participation and appreciation of sports.
As stated from the onset, I credit a great deal of my personal development (and marriage!) to those who provided me with various opportunities through sports. In addition, one can name a variety of ways that sports serve as a tool for community reconciliation and unity, as well as an instrument for crossing boundaries and building societal bridges. With these thoughts in mind, I hope that we will continue to affirm the various athletic ventures throughout the world that provide empowerment and long-term wellness for athletes and supporters.
But I want us to recognize that various aspects of life that are intended for good can become negative when taken to the extreme. As a result, the time has come for us to take a step back, reflect, re-evaluate, and consider whether or not our priorities surrounding sports have been misplaced. The differences between high appreciation and holy adoration are often subtle, yet they require our deep recognition, resilient consideration, and careful navigation.
Brian E. Konkol is an ordained pastor of the Evangelical Lutheran Church in America (ELCA), and PhD candidate in Theology & Development with the University of KwaZulu-Natal (South Africa).