Issue:

August 2016

Following his death in April, Daniel Berrigan (1921-2016) was lauded as a prophet, poet, and peacemaker. He was a tireless resister to the U.S. military industrial complex who burned draft records and poured blood on warheads. In this issue, Sojourners pays tribute to Berrigan, a "doctor of the Church," by sharing the words of students, friends, and family, all who saw Berrigan's life as "preaching the resurrection."

Republican Speaker of the House Paul Ryan, who last week gave his support to Trump, said Tuesday that Trump's recent attack on Judge Gonzalo Curiel of a United States District Court was "the textbook definition of a racist comment." Textbook racism, said Ryan — but he has yet to withdraw his support.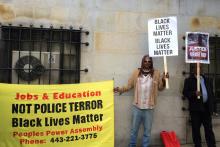 While I am no legal expert on the details of the court decision yesterday or whether the charges against him and each of the other officers were carefully made or effectively prosecuted, nor a spiritual expert on Nero's motives, nor an administrative expert on Baltimore police training, one fact continues to remain clear: No one has yet to be held accountable for Freddie Gray's death who was alive and well before being detained and put into that police wagon.
Since all the political news is terrible and only getting worse, I decided to reflect on something very personal this week — about a great event that happened this weekend.
As you likely know, faith-based organizations don't endorse candidates. So you won't be surprised that I am not going to endorse Donald Trump — neither will I endorse his Democratic opponents, Hillary Clinton or Bernie Sanders. But we faith leaders will comment on the morality of this presidential campaign, the issues raised or not raised, and the morality of candidates based on our moral values. That's what we "values voters" do. And we will again this election year.
Of course, Trump took notice and attacked, in one of his regularly ugly tweets, calling Dr. Russell Moore a "truly a terrible representative of Evangelicals and all of the good they stand for. A nasty guy with no heart!"
Well, Donald, many of us are right with Russell on this, and you will face strong opposition to your political use of racial bigotry from Christians across the political spectrum. If you had the courage to join a public forum with us faith leaders on the terrible dangers of racial bigotry in a time of such division and fear, it could be very good for the country.

The name Berrigan helped keep the possibility of coming back to my Christian aith alive. Just like the black churches that took me in, here were some Christians who were saying and doing what I thought the gospel said that nobody in my white evangelical world was. I believe the witness of the Berrigans literally helped keep my hope for faith from dying altogether.

The church simply cannot afford to erase its strong female leadership.
In a world mired in xenophobia, racism, and gender violence, female clergy are often plotting the way forward. Shepherding houses of God all over the world, these women prove that a relentless and repressive patriarchy will not have the final word in God's coming kingdom.
Imagine what it would look like for a diverse mosaic of justice movements to stand together to oppose white supremacy.
Imagine what it would look like for our spirituality to be infused with a longing for repair and restoration of what centuries of racial division have broken.
Imagine what it would look like for a room full of business leaders, local pastors, grassroots organizers, and artists to discuss real answers to deep problems.
That's the vision for The Summit 2016. And we need your help to make it happen.
Pages