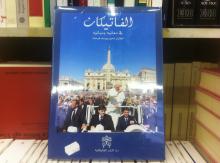 The Vatican has released a new Arabic-language guidebook, the first of its kind, which aims to bring the culture of the Catholic Church to a new audience.
Titled The Vatican, its Significance and its Monuments, the guidebook hit bookstores around the Holy See late last month and goes beyond sightseeing tips.
The book's author, Edmond Farhat, said he was compelled to write the guide after a lengthy diplomatic career representing the Vatican across North Africa.