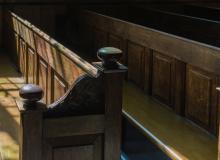 Skeptics might say that as a perimenopausal woman with a teenage daughter, I'm apt to cry at the slightest provocation, which may be true. But I believe something different happens when we expose our vulnerabilities in a community of faith.
A close friend told me her theory that we are being "seasoned" in church each week, preparing to be broken open in ways we cannot anticipate. So we pray the liturgy, sing the hymns, go through the motions. Yet this seasoning of our spirits prepares us to be tender-hearted, open to prayer working on us.
This makes sense to me. There are so few places where we can bring our raw emotions without a self-conscious need to explain or escape to the nearest bathroom, which happens when we get teary-eyed at work or in line at Home Depot. Perhaps church is one of those last safe havens, where we can cry in public for no reason.