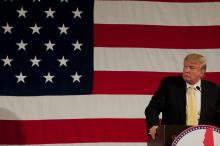 When members of the House Republican leadership met with several evangelical and Catholic leaders in 2014, they promised to our faces that they would bring serious immigration reform to the House floor for a vote. They failed to live up to that promise, deciding instead to cave to their white-washed right wing base. Some Republican members admitted to us that many of their constituents were expressing clear racial biases.
I believe Donald Trump is deliberately and directly appealing to that white racist core of the Republican Party, and that's why he is currently number two in the Republican polls. He is selling racism and he is winning.
I know and trust Republicans and conservative friends who reject such racism — want to purge it from their party — and long for a wider, more diverse Republican Party for the future. Indeed, the Republican votes, and even impassioned speeches, to take down the Confederate flag in South Carolina show a tale of two Republican parties — and that is a hopeful contrast to the racist elements of the party to which Trump is selling himself.
It is time for them to stand up to Donald Trump and what he is selling.