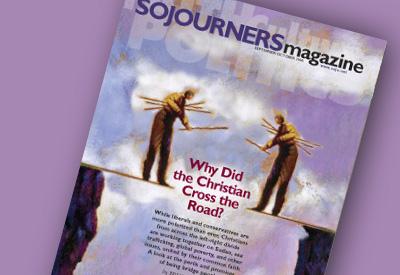 The devastation of the Asian tsunami in December 2004 has highlighted the global crisis of child sex tourism. The potential increase of the child sex trade in the wake of such a devastating natural disaster has shocked and educated many in the West.
It is North America and Europe, however, that have been driving the multi-billion-dollar global child sex tourism industry all along. American citizens alone comprise 25 percent of the industry, according to ECPAT-USA, an organization fighting sexual child abuse. These Americans travel overseas and pay to have sex with boys and girls, mainly 5-to-14-year-olds.
Globally, according to UNICEF, there are an estimated 2 million children currently in prostitution. While children in prostitution find themselves there for various reasons - some are sold by their poverty-stricken parents, some are tricked into debt, some literally captured and enslaved - it is Western culture that drives this nefarious economic force. Without the West, the child sex tourism industry would not flourish.
Many impoverished children in developing nations such as India, Mexico, Thailand, and Cambodia daily and perpetually suffer sexual abuse. Pedophiles feast upon the bodies of the desperate. Some visitors travel explicitly for sex with children, some decide to "experiment" while on vacation - both phenomena drive up the demand.
The victims of sexual violence will experience lifelong emotional and psychological problems. Many habitually abused children develop Post-Traumatic Stress Disorder, severe dissociative disorders, and other psychopathologies related to habitual victimization. These children unwillingly further the AIDS epidemic. Physical disfigurements and complications may limit their hope for family and relationship for the rest of their lives. As a psychotherapist, I have not worked with a survivor of sexual abuse who has not believed that he or she was responsible in some way for the perpetrator's actions. They believe that they are who their abusers say they are - subhuman, unclean, and guilty.
The psychological effect on a society that prostitutes its children is also crippling. When people become a commodity, they are not only an objective function of the global market, but they also become radically temporal - used and soon to be discarded, like other natural resources of the Third World.
Recent efforts by private and governmental institutions have made encouraging strides toward curbing the trade and prostitution of children worldwide. Organizations such as World Vision and International Justice Mission have aided law enforcement in policing problem regions. The Protect Act of 2003 makes it easier to prosecute Americans who solicit child prostitutes outside the United States. Such measures, however, are only as effective as the commitment of the people in power.
As the church, we are called to care for these children. Although we cannot easily remedy the systemic evils of the global economy in a broken world, we can fight for those in need, aware that people who are in desperate poverty will sell even their children. Such an economic force is not easily swayed - it's violent, pervasive, and treacherous - but we must both name the systems we participate in and actively subvert them by loving the victims.
Chris Keller, a psychotherapist, is editor-in-chief of the online publication The Other Journal (www.theotherjournal.com)