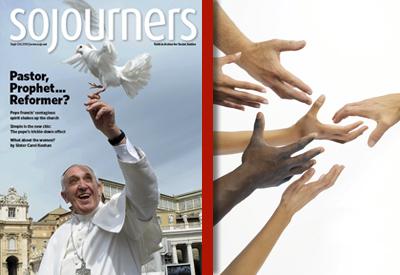 THE LEADERSHIP of 12Stone Church, a multi-campus congregation based in Gwinnett County, Ga., became increasingly concerned about how home foreclosures, rampant unemployment, and other financial strains were impacting families in metro Atlanta. They set an ambitious goal of providing relief to 5,000 families in their church and community. Eventually they raised more than $550,000 through designated gifts, many from church members who were themselves unemployed.
Partnering with the HoneyBaked Ham Company, Kroger grocery stores, and other area sponsors, the 12Stone Church members distributed food to needy families, culminating with a day of giveaways in the parking lot of Coolray Field, home to the Gwinnett Braves, the local minor league baseball team. People began lining up hours before the event, jamming traffic on nearby I-85. Others slept in their cars overnight to keep from missing out.
Imago Dei Church in Raleigh, N.C., has mercy ministries built into the DNA of the church. They've adapted Rick Warren's PEACE Plan: plant churches, evangelize the world, aid the poor and sick, care for the orphan and the oppressed, and equip leaders.
Working through the Raleigh-based nonprofit Help One Now, Imago Dei is partnering with an orphanage in Haiti and sponsoring children. Through this ministry, the church is providing basic needs, including food, clean water, and health care. They also support education programs so that the children will be equipped to one day provide for their own families.
Orphan care is an important element of Imago Dei's ministry and mission. As a church, they desire to create and maintain a biblical culture of adoption and caring for the orphan and widow. The church recently launched the Imago Dei Adoption Fund to assist church members who desire to adopt domestically or internationally and who require some financial assistance.
IMAGO DEI AND 12Stone are only two of the many Protestant churches that are not only talking about caring for others, they are taking action. More churches are finding ways to make social action a natural outflow of their missional response to the world, both locally and globally.
According to a series of telephone surveys conducted by LifeWay Research between 2008 and 2012, there is a growing awareness of and involvement in social justice ministries among Protestant churches in the United States, aimed at caring for the forgotten, disenfranchised, and oppressed.
Almost all—95 percent—of the 1,000 or more Protestant senior pastors we surveyed agreed that caring for the poor is mandated by the gospel. When pastors believe this, their churches tend to care more about social justice issues. Studies show the percentage of churches engaged in care for the poor has increased over the past four years. In 2012, 90 percent of Protestant pastors said their churches had "mobilized its members to directly engage and care for the poor in their communities," up from 76 percent in 2009 and 85 percent in 2010.
Pastors also identified poverty as the most important issue facing our nation today when asked to rank the following five issues—poverty (25 percent), abortion (24 percent), same-sex marriage (20 percent), health care (19 percent), and the environment (3 percent).
The level of engagement churches have in caring for the poor may be influenced by how often pastors speak to their congregations about poverty. More than three-quarters of Protestant pastors speak on poverty several times a year or more. In 2012, 43 percent said they speak about poverty several times a year, up from 39 percent in 2010; 18 percent speak on poverty about once a month; and 16 percent speak on the topic several times a month. Pastors who self-identify as mainline and Democrat talk more in their churches about poverty than do other pastors.
OUR RESEARCH ALSO indicates that the level of a pastor's involvement in addressing poverty is somewhat related to geography, political affiliation, and church affiliation.
Pastors in large cities are more likely to strongly agree (63 percent) that their churches are "personally involved at the local level in addressing poverty." Among pastors in rural areas, 53 percent strongly agree. Pastors who self-identify as Democrats (71 percent) or independents (64 percent) are more likely to strongly agree with that statement than self-identified Republicans (47 percent).
In addition to focusing on poverty and hunger, evangelicals in recent years have become active in the fight against human trafficking. With data indicating that there are more people enslaved today than there were during the years of the transatlantic slave trade, many evangelicals have stepped into the fray, especially to address bonded labor and sex trafficking, the two most prominent forms of contemporary human slavery.
Gwen Adams, for example, is the adult women's pastor at ChangePoint church in Anchorage, Alaska. She's not only educating the people in her church about trafficking, she also joined the governor of Alaska's taskforce on human trafficking. Through the taskforce some key changes have been made in a crime bill that will make it easier to address crimes of human trafficking and easier to help victims of these crimes. She also is part of her church's startup initiative called Priceless: Redefining Worth, a ministry focused on sex trafficking, incest, sexual slavery, and sexual assault in Alaska.
Seventy percent of the pastors we surveyed agreed that many social justice issues—including poverty, disease, and torture—are "pro-life" issues. Based on our research, it appears that pro-life is considered by many pastors to include caring for creation, particularly when one considers the harm environmental degradation has on human health.
Jonathan Merritt, author of A Faith of Our Own, says that young evangelicals are more pro-life than previous generations, if one considers pro-life to mean "a womb-to-tomb ethic that addresses war, poverty, and global hunger, in addition to abortion." It appears the "womb-to-tomb" idea is gaining traction among pastors.
Jesus defined his ministry as being focused on the poor, the captive, the blind, the oppressed (see Luke 4:18). So we join him on mission not only when we proclaim the gospel but also when we confront injustice, touch human need, and seek to bring about changes that make at least one part of the world more like God intends it to be.
Because Christ's reign has already been inaugurated though not completed, the church has a meaningful role within the "already, but not yet" time we call the present. More than just "having a role," we sense inside us a God-given desire to serve the hurting, to restore the broken, and to minister to the marginalized with the tools and opportunities God has placed at our disposal.
Christians have always believed that they can't preach Jesus and not care about justice or, conversely, that they can't have true justice without pointing people toward Jesus the Just. The numbers seem to show that more churches are catching that mission.
Ed Stetzer is president of LifeWay Research. His most recent book is Subversive Kingdom.