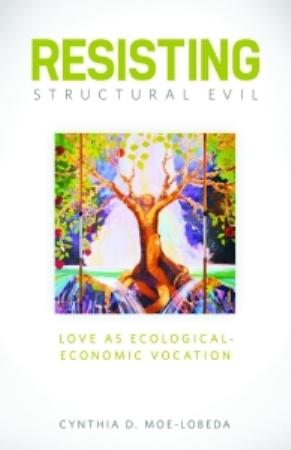 CYNTHIA MOE-LOBEDA is a Lutheran feminist ethicist trained at Union Theological Seminary in New York who teaches Christian ethics, gender, and diversity studies at Seattle University. The author of several previous books in Christian social ethics, she has emerged as a significant voice in contemporary Christian economic, ecological, and public ethics.
The evil considered in Resisting Structural Evil is primarily the collective ecological and economic damage being done by wealthy global North folk—such as most readers of this review—through the indulgent and wasteful way of life that we have been socialized into accepting as normal despite its disastrous implications and effects. This evil is structural and driven largely by the unaccountable and nearly unlimited power of the modern corporation.
One reason our ecological and economic injustice can be labeled as evil is because it is largely hidden from our eyes—or if we see it, it is accepted as simply the way things are and always have been and always will be. So we live off the suffering of the people whose land we take or despoil, or whose livelihoods we destroy, or whose water we poison, or whose labor we exploit to get our "everyday low prices." And we go merrily about our wealthy and comfortable way in a state of what the author describes as "moral oblivion."
Moe-Lobeda takes the reader on a journey intended to end such moral oblivion. I find the book to be primarily an exposé of the connections between the "American way of life" and the injustices on which it is built—and which it perpetuates. Among these injustices is harm to the earth, which has both terrifying long-term implications for the livability of our planet in the future and concrete short-term costs for those invisible neighbors of ours who suffer ecological harm so that we might drink our soft drinks and get the latest electronics.
Resisting Structural Evil also does much more than this. Four of its 10 chapters offer what might be described as a political-theological ethic of justice-making, earth-repairing love. The author's goal is not to depress or disempower but to demonstrate that a "critical mystical vision," together with the power of the God of creative and restorative love, can motivate and empower us to change the way things are in the direction of the way things should be. And throughout the book, the author integrates numerous specific case studies intending to illustrate not only our complicity with ecological and economic injustice but also creative ways to resist these injustices and rebuild a world that is more just and more verdant.
This extensive work introduced me to a number of lifestyle issues to work on, news sources to engage, and activist efforts with which to connect. It is a highly practical and concrete book that anyone committed to social justice, from the novice to the seasoned activist, can learn from.
The theological approach of the book offers an eclectic mix of classic Christian sources including scripture, the fathers of the church, Martin Luther, and Dietrich Bonhoeffer as well as a more-pluralistic, almost post-Christian creation-centered Spirit-mysticism. Perhaps its most significant distinctively Christian theological move is its elaboration of the social, ecological, and economic implications of a Christian love ethic. Here Moe-Lobeda draws on deep wellsprings in scripture and tradition while engaging a dramatically new context.
The most significant problem with Resisting Structural Evil is its writing and editing. Besides a sometimes awkward writing style, I counted more than 100 spelling, typographical, and grammatical errors. This is surprising from Fortress and distracts from the book's impact—because this book really is important. It offers state-of-the-art and highly motivating direction for how Christians and others can resist structural evil and live more just and ecologically gentle lives.
David P. Gushee, the Distinguished University Professor of Christian Ethics and director of the Center for Theology and Public Life at Mercer University, is author of 15 books on Christian ethics and a Sojourners board member.