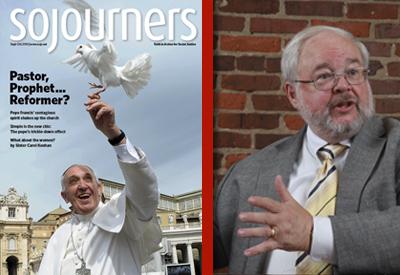 RIGHT FROM THE beginning, John Carr saw Pope Francis as a "great sign of hope."
Carr, who spent more than two decades as the U.S. bishops' top peace and justice officer, was home, working at his kitchen table, when the white smoke came up announcing the selection of the new pope. "I thought, 'Oh, my,' and this guy I didn't recognize came out," Carr said. "When he said the name 'Francis,' I thought 'it's going to be okay.'"
As executive director of the Department of Justice, Peace, and Human Development at the U.S. Catholic bishops' conference, Carr carried a rather large portfolio. He often tells the story of being introduced by a man who said, "He's in charge of social development and world peace." The man's wife, in Carr's telling, looked at him and said, "You need to do a better job."
Since leaving the bishops' staff last year, Carr has launched a new initiative, based at Georgetown University, aimed at helping lay people "become more informed and engaged in their vocation to be 'salt, light, and leaven'" in public life. Carr, who visited Sojourners' office this spring, is encouraged that the election of Pope Francis "has provided incredible visibility, urgency, and passion" around social issues. "When he was going to be elected, his friend said, 'Don't forget the poor,'" Carr explained. "A church that moves to the edge to care for the weak and vulnerable is a church you want to be a part of."
The election of Pope Francis, Carr believes, wasn't just a chance occurrence. "We do believe that the Holy Spirit acts, so I don't think Francis was an accident," Carr said. "Imagine if I went to a book publisher and said I have a novel to propose. Chapter one, the pope quits, for the first time in 600 years. Chapter two is on a bus in Argentina. We have this 76-year-old Jesuit who lives among the poor. Chapter three, the Italian front runners fade away, and they elect the Jesuit on the bus. And, chapter four, he goes to the juvenile prison and washes the feet of Muslim girls. What do you think they'd say about that book? I want to know how the rest of the book turns out.
"So I don't believe Francis is an accident," Carr continued. "I think his leadership is, frankly, inspired. I think he will have an enormous impact."
The pope's commitment to a simple lifestyle is already affecting the behavior of Catholic clergy. "A friend of mine ran into one of the more fluffy cardinals, who is very much into lace and all that, in St. Peter's Square," Carr said. "The cardinal wore a simple black robe. My friend said, 'What is this?' The cardinal responded, 'Simple is the new chic.' There's a lot of lace for sale on eBay." In July, after Pope Francis encouraged priests and nuns to choose "humble" cars, a priest in Colombia announced he was selling the white Mercedes Benz E200 convertible that his four brothers had given him. "We priests undoubtedly have to be very conscious that we have to live with our people in the conditions in which our people live," said Cardinal Ruben Salazar, head of the Colombian bishops' conference.
The pope's actions go far beyond mere symbolism, according to Carr. "In the Catholic community, symbolism is substance—we're a sacramental community," Carr said. "Where he stands, what he wears, where he lives, who he eats with—all those are communicating to us in very powerful ways. Francis is demonstrating with his style, his substance, that standing with and for the poor is at the core of who we are."
FRANCIS' PAPACY, CARR thinks, could well herald a significant time of reform in the Catholic Church—a reform centered on reconnecting the church with those who live on the margins. "When Francis was in Argentina, and over and over again since he's been named pope, he said he prefers a church at the edge," Carr said. "He said, 'I prefer a church that makes a thousand mistakes in the streets to one that is turned in on itself.'"
Francis, Carr believes, is "a simple, powerful pastor who is teaching us about priorities"—and the pope's lessons apply to U.S. politics as well. "He chose the name Francis because St. Francis was for the poor, for creation, and for peace," Carr said. "If you were to pick the three issues that most need attention in Washington and aren't getting it, it would be poverty, creation, and peace. So he's going to challenge the status quo, in the church and in Washington."
Challenging the status quo, of course, inevitably entails addressing the subordinate role of women in the church. "My hope is that Pope Francis will find and communicate that the richness of the life of the church—men and women, First World, Third World, African, Asian, European, North American—that that diversity will be reflected in who leads the church," Carr said.
"There are women, lay and religious, who are among the most powerful leaders of the church, in terms of its ministries," Carr continued. When an earlier pope said that "to care for the poor is as important as proclaiming the gospel and celebrating the sacraments," Carr said he was struck that "those are ministries, essentially, established by and run by women, at least in the United States. So if proclaiming the gospel, educating people in the faith, caring for the poor is as important as the sacraments, then Catholic health care, Catholic education, and human services" are all essential aspects of leadership in the church. "If the church's life is defined by all three things, then we ought to reflect that in who we recognize as leaders in the church."
A key issue of church leadership, for Carr, involves the role of lay people, and that is highlighted by this year's marking of the 50th anniversary of the Second Vatican Council. "One of the outcomes of Vatican II has been enormous participation of lay people in the ecclesial life of the church," Carr said. "One of the greatest heresies of our time is the separation of faith from everyday life on the part of the laity. I think we've got a lot of that heresy around. Closing that gap is really important. It's important for our own salvation. It's important for our own families and parishes. And it's really important for the society we live in."
Carr's new venture, called the Initiative on Catholic Social Thought and Public Life, focuses on helping Catholic lay men and women "bring the fullness of Catholic social teaching" into public life. "Part of what I'm hoping to work on," Carr said, "is making sure that lay men and women, particularly younger folks, see this as part of what it is to be a believer. Faith is not a burden. It's not just a set of rules. In fact, it's a different way of looking at the world. Catholic social teaching can be a way to invite people in."
And so far, Carr sees Pope Francis strongly supporting that perspective. "I think everybody understands that social teaching is a part of being a Catholic Christian," Carr said. "But there's a question about where that fits in our lives, in our parish life, in the church, in our country, and around the world. I think Francis is settling that: It's core."
Carr emphasizes that "Catholic" social teaching isn't limited to the Catholic Church, nor is it new. "It literally goes back to the prophets, back to Genesis," Carr said. "But it took particular power and force from the life and words of Jesus. For me, the mission statement of the church was given by Jesus in his hometown synagogue. 'The spirit of the Lord sent me to bring good news to the poor, liberty to captives, and sight to the blind.' That's the heart of Catholic social principles: how we treat the human person, especially the least of these. I think Catholic social teaching has a lot to offer" as we seek to address the problems of the world.
At this point, early in Pope Francis' tenure, Carr is inspired and encouraged by the pope's leadership. "It looks to me like he's an incredibly caring pastor in a global parish," Carr said, "and a very powerful teacher, because he speaks directly and bluntly to us." The question is, will we listen?
Jim Rice is editor of Sojourners.