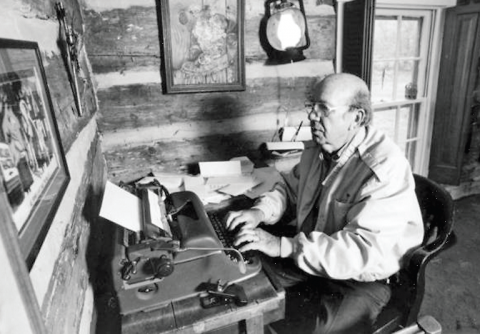 IN HIS EULOGY at Baptist pastor, civil rights activist, and author Will D. Campbell's memorial service in late June, Campbell's close friend, journalist John Egerton, recalled their first meeting. Campbell was wearing the broad-brimmed black hat that became his signature, with jeans and cowboy boots. At the time, Egerton noted, Campbell was in the middle of "a costume change" from the tweed jacket, clerical collar, and calabash pipe he had affected as a young, Yale-educated liberal minister.
Campbell was a notoriously theatrical figure, as famous for his hats and walking sticks as for his theological pronouncements. In fact, in the 1980s Campbell became a cartoon character in the guise of Rev. Will B. Dunn in the late Doug Marlette's "Kudzu." Campbell also dramatized his own life in Brother to a Dragonfly, his National Book Award-nominated 1977 memoir, and in a 1986 sequel, Forty Acres and a Goat.
Another favorite prop in the Will Campbell show was the acoustic guitar he would strum while singing his own country compositions and old favorites like "Rednecks, White Socks, and Blue Ribbon Beer." Campbell, who was based in Nashville from 1957 on, also became a sort of chaplain to the "outlaw" element in that city's country music industry. He traveled on Waylon Jennings' tour bus, and Jennings' widow, country star Jessi Colter, sang at Campbell's memorial.
But to call Campbell "theatrical" is not to call him frivolous or trivial. Instead, he was following in the tradition of the Hebrew prophets who walked around naked or wearing a yoke, and of his beloved "Mr. Jesus," who famously entered Jerusalem on the back of a donkey.
Campbell seemed to be having fun playing the role of a Mississippi Piney Woods prophet, but his eccentricities and affectations—most of them anyhow—had a profoundly serious purpose. He was trying to act out a way to be both a white Southerner of the yeoman class and a true Christian.
Campbell came by both parts of that role naturally. He was raised in a family of proud small landowners that was thrust into poverty by the Great Depression. Campbell was baptized at age 7 and ordained at 17 in a Baptist church where the pulpit Bible was a gift from the local chapter of the Ku Klux Klan. But he also had a grandpa who, after hearing Campbell and some other boys use the N-word, "explained that there were no more n***s." As Campbell tells it in Brother to a Dragonfly, when the boys protested, "We just saw one go down the road," the grandfather replied, "No, hon. There ain't any more n***s. ... All that's left now is colored people."
When the U.S. entered World War II, Campbell refused his ministerial deferment and enlisted in the U.S. Army as an infantryman, but ended up spending the war as a hospital orderly in the South Pacific. It was during this time that, at the urging of his brother Joe, he read the book that would set the direction for the rest of his life. It was Freedom Road, a historical novel by Howard Fast set in the Reconstruction South. In the book, a freed slave, Gideon Jackson, leads an alliance of blacks and poor whites to challenge the power of the landed gentry, an alliance that is ultimately smashed by the terrorism of the Ku Klux Klan. In Brother to a Dragonfly, Campbell wrote:
The poor whites ... [Fast] described were my people. And I knew that the black men and women ... were those we grew up thinking we had to oppose. I had never questioned why we were so taught before, that it was because for us to do otherwise would constitute a threat to those who ruled us before the Civil War and who had in just one decade after the war succeeded in ruling us again ... I knew that the tragedy of the South would occupy the remainder of my days. It was a conversion experience comparable to none I had ever had, and I knew it would have to find expression.
That experience explained why, even after Campbell had, to all appearances, joined the "black" side during the civil rights struggle, and was subject to violence and death threats from "his people," he could never shake his identification with poor and working class whites. He knew that the racism of Southern poor whites was not the problem, but a symptom. The real problem was the larger economic and political order that divided the poor of different races against each other in order to keep them all in their places. But finding his way to an expression of that insight would take decades.
After the war, Campbell finished college at Wake Forest and went to Yale Divinity School. Despite this Ivy League pedigree, he managed to secure his first and last Southern Baptist pastorate, where he preached racial equality for two years before being urged on to the post of religious life director at the University of Mississippi (Ole Miss) in 1954. He was pushed out of that job for socializing on campus with a black minister and for inviting a Northern white clergyman supportive of civil rights to speak at the school's "Religious Emphasis Week."
After being effectively banished from his native state, Campbell became a "race and religion" specialist for the National Council of Churches (NCC). Based in Nashville, Campbell pursued a behind the scenes ministry of offering aid and comfort to the freedom movement, while also attempting to explain it, and sometimes represent it, to white Southerners. He walked beside the black school children in Little Rock in 1957. He was the only white person present at the founding of the Southern Christian Leadership Conference in 1957. He served as a witness and negotiator during the Nashville sit-ins of 1960.
In 1965, with its first goals largely achieved, the "beloved community" of the Freedom Movement began to fracture. Around the same time, Campbell experienced a second religious awakening, one that was recounted in an excerpt from Brother to a Dragonfly published in this magazine. In that epiphany, under the prodding of a combative religious skeptic, Campbell was forced to admit that a Klansman was every bit as loved and forgiven by his God as the civil rights worker he killed. "We're all bastards," Campbell wrote, "but God loves us anyway." That insight, combined with the political-economic vision of Freedom Road, propelled Campbell for the rest of his life. The "costume change" Egerton noted had begun.
Before long, Campbell left the NCC and began a freelance ministry under the auspices of the Committee of Southern Churchmen, which had him associating with prisoners, exiles, and addicts of all races and stripes. It was what Third World missioners would soon be calling "a ministry of accompaniment." Campbell preached a gospel of universal grace and reconciliation, mostly by practicing those qualities with whoever crossed his path, and occasionally by preaching it at churches and schools around the country and in the pages of the Southern Churchmen's journal, Katallagete ("Be Reconciled").
This is where Campbell entered my life. As a Mississippi college student in the mid-1970s, I read a couple of intriguing magazine profiles about him. I'd just had my own Freedom Road-style epiphany when a professor had me read C. Vann Woodward's The Strange Career of Jim Crow. Then I heard Campbell speak at a neighboring campus, and the deal was sealed. Campbell gave me a grasp not only of the Southern tragedy and my people's place in it, but of the larger human tragedy. Once I had accepted the fact that even the vicious racists all around me didn't make themselves and were not "the enemy," it was a pretty short step to the insight of the filmmaker Jean Renoir: "The really terrible thing is that everyone has his reasons." And once you know that, it gets really hard to hate and judge anyone.
In 2011, Campbell had a stroke that took away his ability to speak or write for his last two years, but he sang at his own funeral. His family recessed from the church to the recorded sound of Campbell performing his talking blues, "Mississippi Magic." The song ends, "'Fore we was born we was all kin. When we dead we'll be kinfolks again."
In his 88 years, Will Davis Campbell bore witness to that vision of heaven, and he even helped bring it a little closer to the earth.
Danny Duncan Collum, author of the novel White Boy, teaches writing at Kentucky State University in Frankfort.