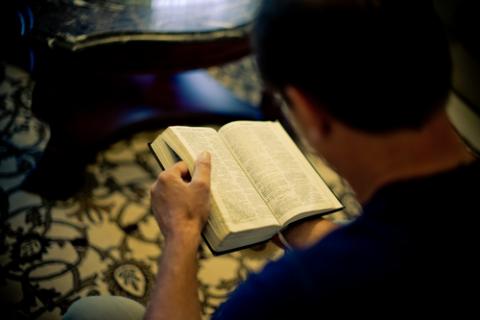 [ online only ]
Our readings from Hebrews yield one of the most intense images for the experience of being addressed by the Holy One: "Indeed the word of God is living and active, sharper than any two-edged sword, piercing until it divides soul from spirit, joints from marrow: It is able to judge the thoughts and intentions of the heart. And before God no creature is hidden, but all are naked and laid bare to the eyes of the one to whom we must render an account" (12: 4-16). Those who passionately feel convicted by the Word to work for the transformation of the broken and unjust structures of society need to witness to our own continuous religious experience of being penetrated, judged, and aroused in our living conversation through scripture. Otherwise people might mistakenly imagine that this strong language somehow belongs to those who extol the inerrant authority of scripture while finding in it support for reactionary values.
A prison chaplain gave a new inmate a Bible. Asked later what he made of it, the prisoner replied simply, "I didn't read the book; it read me." And this isn't an occult experience. We allow ourselves to be addressed whenever we drop those filters that screen out impressions that threaten upheaval for the status quo. A critic once said of Austrian artist Oscar Kokoschka's drawings, "We don't look at them, they look at us, searching, probing, and testing us," and these words come back to me often when I open the Bible for meditation, and drop my defenses.
Martin L. Smith is an Episcopal priest, author, preacher, and retreat leader.
[ October 7 ]
Your Hardness of Heart
Job 1:1, 2:1-10; Psalm 8;
Hebrews 1:1-4, 2:5-12; Mark 10:2-16
Mark 10 links Jesus' teaching about divorce with a telling vignette: The disciples brusquely block some parents from bringing their children to the master for a blessing. Both elements are diagnostic, exposing the endemic sickness called "hardness of heart." Jesus, exercising the authority that was so strikingly different in tone and outcome than the kind wielded by religious lawyers, pronounces divorce to be a concession that deals with the cruel estrangements that hardness of heart makes inevitable. Divorce doesn't represent God's will at all since God does not accept as normal the hardness of heart that demands it. Hardness is a tragic "second nature" that God seeks to heal.
The disciples proceed to demonstrate another symptom of the condition of hardness of heart: intolerance toward vulnerability. They waive aside these babies as mere nuisances, devoid of any claim on the master's attention. Jesus angrily rebukes the disciples and sweeps the children up in his arms: "It is to such as these that the kingdom of God belongs" (10:14). It wasn't sentimentality that drove these parents. Half of all children died in infancy; parents yearned for any prayer, any blessing, that might protect their babies. It is to those whose lives hang by a thread that the kingdom of a tender God is wide open, just as it is impenetrable to the hard of heart who repudiate the supreme divine mandate to tenderness.
How many preachers will have the courage to explore this sacred anger of Jesus, perhaps by raising the issue of the suffering caused to children by the prevalence of divorce? As a child who had to struggle through the divorce of my parents, I had to wait until my 30s before the pain I endured was given any credence, rather than minimized. Pastors are so reluctant to stir up guilt among the divorced that it's easy to end up colluding with the pretense that children carry on more or less unscathed in the tortuous arrangements our society makes in divorces. What can we do to make the church a place that focuses above all on the healing of the hardened heart? Only the conversion of the heart to tenderness can keep together what God joins.
[ October 14 ]
Needle's Eye Still Trouble for Camels
Job 23:1-9, 16-17; Psalm 90:12-17;
Hebrews 4:12-16; Mark 10:17-31
"How hard it will be for those who have wealth to enter the kingdom of God!' And the disciples were perplexed at these words … They were greatly astounded" (Mark 10:23-24). In our time, the ultra-wealthy have cornered unprecedented resources and have more tools for manipulating political processes to bolster their dominance. Christians are utterly failing in our task if we aren't provoking perplexity and astonishment by presenting Jesus' teaching about wealth with new force. Unfortunately, our teaching of the kingdom has been so inadequate that many people still think that Jesus is saying that God has to give special help to the rich so that they can "get to heaven."
Jesus, of course, is talking about the absolute opacity of the kingdom to those who are dedicated to wealth, power, and privilege. They can't enter it because the kingdom—that invisible network of new relationships, a people living out the compassion and moral inventiveness and creativity of a suffering God—doesn't exist for them. Insofar as they may detect odd signs of the kingdom, they will automatically dismiss them as trivial, or perverse marks of failure. God, with whom all things are possible, is able sometimes to shatter the prejudices that block the wealthy from seeing the reality of the reign and desiring it. Such breakthroughs count as miracles. It is interesting that "the successful" has been used in this election campaign as a euphemism for the hyper-wealthy. But the addictive power and security bought by wealth represents abject failure in the eyes of God.
Hebrews 4 has its own astonishing twist. Just when the writer has used rather fearsome language about being exposed and naked before the all-seeing One, we are shocked by being shown that the judgment scene is actually a vision of a compassionate and humble advocate and priest, Christ who sympathizes with our weaknesses and identifies with the ambiguities and conflicts of human living, having been stressed and strained just as we are. The test to which God's judgment submits us is whether we will actually accept this compassion and intimacy from one who is more on our side than we are.
[ October 21 ]
Learning Obedience
Job 38:1-7, 34-41; Psalm 91:9-16;
Hebrews 5:1-10; Mark 10:35-45
Learning obedience is a common theme in these readings. Job has to surrender his insistence that God answer his lawsuit, his bid for God to prove that there is a consistent morality in providence that matches the demands of human reason. God's voice from the whirlwind turns the tables. It is we who must answer the questions of God, and these questions drive home the reality that human beings are embedded in the teeming life of a baffling complex creation. The world in which we have emerged into consciousness is not tailored exclusively to human concerns and geared to our preoccupations. God drives home the scale and intricacy of creation and our place among the myriad creatures with which we share our precarious Earth. Job learns obedience through suffering when he says "yes" to his humble place in God's wild and strange world and ceases to make resentment the only lens through which he looks to make meaning.
The epistle of the Hebrews gives an awe inspiring account of Jesus' identity as "the reflection of God's glory and the exact imprint of God's very being" (Hebrews 1:3). Yet of all the New Testament readings outside the gospels, it places the most emphasis on Jesus' human vulnerability. The transcendent High Priest is none other than the one who had to cry out in prayer with desperate tears, and who "learned obedience through what he suffered" (5:8).
Mark 10 is heavy with the irony of obedience. The sons of Zebedee try to work out a deal to be Jesus' immediate deputies in the new regime they suppose he is going to inaugurate. Jesus predicts that they will in fact share his destiny; they will be executed. "The cup that I drink you will drink; and with the baptism with which I will be baptized you will be baptized" (10:39). But only God knows who will be the leaders of the kingdom community. Whoever they are, they will lead through service, and their qualifications will stem from the thoroughness with which they have identified themselves with the self-giving humility of the Servant Jesus that culminated in the cross.
[ October 28 ]
Eternal Intercessor
Job 42:1-6, 10-17; Jeremiah 31:7-9;
Hebrews 7:23-28; Mark 10:46-52
"He is able for all time to save those who approach God through him, since he always lives to make intercession for them" (Hebrews 7:25). How vivid for us is this great theme of Christ as eternal intercessor in heaven? Decades have passed since I moved among women and men for whom this was at the heart of their faith. Few preachers allude to it now. Perhaps intercession itself is something we have made rather shallow or routine. We include people on prayer lists, we harangue God in pastoral prayers, we organize prayer chains: But how many people have a sense that intercession is a matter of deep identification with others' needs and pain, and the irresistible impulse to share it, to offer ourselves to God as we take on the suffering of others and make it our own?
How many become intercessors answering an urgent call that a few lines from Charles Péguy's "A Prayer in Confidence" express so poignantly?

We need's must take our stand at sorrow's very heart,
And be firmly placed at the axis of distress,
And by that sacred need to bear a heavier load,
And to feel more deeply and go the hardest road,
And receive the evil at its greatest stress.
Hebrews presents us with an image of the ascended Christ bearing our lives in his heart where they can be exposed to the blaze of God's healing love. And the other readings remind us who they are who are at the heart of Christ's heart, who they are who have an advocate totally identified with their cause—"the blind and the lame, those with child and those in labor, together" (3:8), as Jeremiah lists them. Or those for whom we take blind Bartimaeus to represent as we read this week's gospel passage from Mark. The Eternal Intercessor is the representative of the suffering, the marginalized, the disenfranchised, those robbed of hope and heritage.
"Preaching the Word," Sojourners' online resource for sermon preparation and Bible study, is available at sojo.net/preaching-the-word.
Image: Reading the Bible, Karen Grigoryan / Shutterstock.com