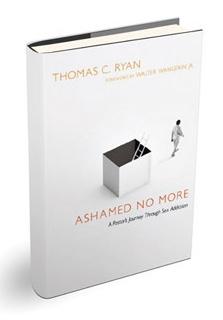 PASTOR T.C. RYAN spent 40 years haunted by the shadow life of compulsive sexual behavior. Despite the challenges, Ryan never gave up hope of trying to reach the fullest recovery. He tells his story in Ashamed No More.
Compulsive sexual behavior put Tiger Woods into the headlines and made him an object of ridicule, as it has for so many others. In telling his own story, Ryan tears back the curtain to reveal the fuller story of painful realities, challenges, and hopes for those faced with the daunting task of recovery from similar compulsions.
"Those who are not addicted to sex understandably assume that the addict at least experiences enjoyment from the sexual activity, but this is not the case," Ryan writes.
As Ryan describes it, he was living a divided life. In one arena he was a capable and gifted pastor. In the other he was plagued by shame, self-loathing, and an inability to stop destructive behavior. His extensive explanation of the cycle of addiction, the lies he had come to believe from childhood, the role that therapy and other supportive measures played in his recovery, and his hopes for how the church can become the ultimate 12-step program make every chapter of this book essential.
Ryan explains the cycle of addiction, with each stage setting up the next: faulty core beliefs lead to impaired thinking, which then triggers the addiction cycle of preoccupation (being obsessed with escape), ritualization (routines for acting out), compulsive sexual behavior, and despair. This feeling of being "despicable," where "the compulsive person [is] awash in despair, shame, and pain," is unmanageable. It reinforces the starting point of faulty core beliefs and the cycle runs its course again in a slow downward spiral.
No story of recovery would be complete without some introspection and recounting of childhood stories. Ryan's book is no exception. But rather than fill the book with graphic details, he questions our collective lust for such voyeurism and sees it as proof of a broken society that lacks genuine community where truth-tellers and sinners are welcomed with open arms. The details he does share offer a foundational understanding for how his addiction began. He frames the story in a way that makes it accessible—this is a book not only for the addict, but also the family members of addicts and the congregants of addicted pastors. If you wonder how a pastor could end up in this situation, this book explains it in convincing detail.
Ryan takes to task the church and our culture at large in how we shame others. He argues that we use shame as a means of controlling others' behavior. This only reinforces worthlessness (and thus the addiction cycle), and does nothing to reflect the true nature of God and our status as God's children. Ryan illustrates how distinguishing genuine guilt over a specific bad behavior from generalized shame is parallel to how Jesus was straightforward and truthful with people about their sins while always valuing and respecting their personhood.
Ryan also touches on how Christians tend to elevate sexual purity to the highest value and deem sexual sins as the gravest sins. He argues that this is not an expression of the gospel, but legalism that serves to create second-class citizens who are forever tainted. By integrating sexuality in its proper proportion within a holistic pursuit of God, Ryan offers us a chance to find healing. He does not make excuses for himself or any other addict, but rather calls us all to examination and authenticity.
Stacey Schwenker, a graduate of Fuller Theological Seminary, is the advertising sales associate at Sojourners.