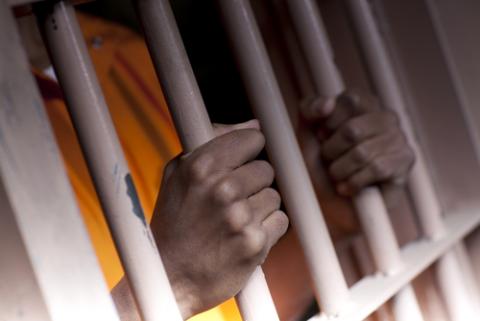 IN NOVEMBER, Californians will vote on a ballot initiative that would end the death penalty in the state: the Safety, Accountability, and Full Enforcement Act of 2012, known as the SAFE California Act. The backdrop of this vote is California's deep economic crisis and the economic savings to be gained from ending capital punishment. But when the debate is largely concerned that the cost of killing criminals is just too high, where does faith come into the conversation?
If the measure passes, all 725 death penalty sentences in California will be converted to life imprisonment without the possibility of parole. The supporters of the initiative have one main mantra: "California can't afford the death penalty!" This initiative delivers on savings—around $1 billion in the first five years, say supporters—due to halting the death penalty's expensive legal processes and increased costs for death row detention.
The initiative also redirects some of those funds, $30 million per year for three years, to counties across the state to help investigate unsolved cases of rape and murder. In 60 percent of rapes and 36 percent of murders in California, no one is even charged with the crime, let alone convicted.
Death row prisoners are generally not allowed to work; once their sentences are changed under this initiative, they will be required to work inside the prison and to pay into California's victim compensation fund.
People of faith usually argue to end the death penalty on gospel and ethical grounds, citing the command "thou shalt not kill," the call to forgive, and the call to love our enemies. However, the most compelling variable at play in this historical moment is California's budget crisis—in this case, as always, the budget is a moral document. Where we spend our money as a society discloses our true values and priorities: It shows whether we believe in the God of life or the power of death.
The SAFE California Act has an impressive and diverse list of supporters, including the former warden of San Quentin, Jeanne Woodford, who oversaw four executions; Don Heller and Ron Briggs, who helped write and pass California's death penalty law in 1978; several victims' rights groups; and a former California attorney general. Other endorsers include judges, prosecutors, defense attorneys, and several leadership bodies of civic and religious organizations.
Like many of you, I have done my research. I've learned that the death penalty is applied overwhelmingly to poor people, mostly to people of color, especially those who kill white people; that it does not deliver a reduction in crime; that it is outrageously expensive without delivering any substantive healing for victims; and that it is inequitably pursued (for example, in California it is applied more in some counties than in others). It is costly revenge, indeed.
So the question now turns on how to best deal with this mess we have made. The budget crisis brings a laser focus to this question. Those who support alternatives to the death penalty are seizing the moment.
It is smart to stop funding a massive capital punishment system that doesn't do what it purports; smart to have prisoners work and pay into a victim compensation fund; smart to redirect funds toward solving violent crimes, which would enhance public safety; smart to save around $1 billion in the first five years alone. People of faith—in California, and in other states that may be inspired to follow the lead of the SAFE California Act—can add "smart" to the reasons to oppose the death penalty.
Eric DeBode is a member of the Kelly Avenue Catholic Worker in Half Moon Bay, Calif. For more, visit safecalifornia.org.
Image: African-American prisoner, Dan Bannister / Shutterstock.com