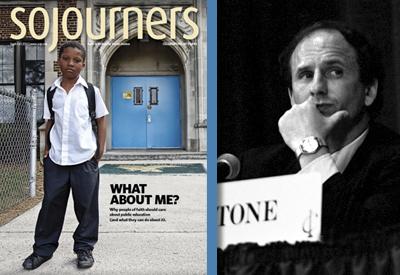 A few weeks after the October 2002 plane crash that killed Sen. Paul Wellstone, his wife, Sheila, their daughter, Marcia, and five others, a Lutheran confirmation class visiting D.C. from Minnesota decided to stop by Wellstone's office to pay their respects. As the group went through security at the Senate office building, one of the students—who had worked on the senator's re-election campaign and was still wearing a Wellstone button—set off the metal detector. The officer took her to the side to wand her. As he was checking her, the guard said, "Not one other senator in this place knows my name; Paul Wellstone knew my kid's name." He and the student hugged each other, and both started weeping.
Paul Wellstone touched people's lives in profound ways, mostly because he genuinely sought to live a life of integrity, in both public and personal matters. He once advised, "Never separate the life you live from the words you speak," and those who knew him best said he honestly tried to follow that advice. (A Midwest political observer said the Right never knew what to do with Wellstone, because he lived "conservative values" at home while working for progressive change in the public sphere.)
Wellstone's political career began when, as a political science professor at Minnesota's Carleton College, he started working with farmers to block electric lines forcibly run through their farms—and he continued to organize and agitate on behalf of regular people for the rest of his days.
Bob Hulteen, a longtime Minneapolis-based activist (and a former Sojourners editor), said that Wellstone respected people more deeply than "any politician, or church leader, I've ever met—and, maybe most important, he didn't take himself too seriously." But Wellstone never underestimated the seriousness of his work for a better world, which is why, a decade after his passing, we asked several people who have been touched by his life in various ways to offer their thoughts on the legacy of a man who continues to offer a model of inspiration, integrity, and hope—attributes that are profoundly needed, in this and any election season. —The Editors
-----
'Stand Up and Keep Fighting'
Why Paul Wellstone wasn't "once-in-a-lifetime."
by Korla Masters
We listened, in my high school health class, as Minnesota Public Radio confirmed that Sen. Paul Wellstone, his wife, Sheila, their daughter, Marcia, and five others had died in a plane crash in northern Minnesota. Very quickly, a common sentiment began to echo from caller to caller: "Paul was once-in-a-lifetime." So we sat there, a room full of stunned teenagers, hearing that we could never hope to see—or be—another leader like Paul Wellstone.
That refrain—a lament in the truest sense—was repeated throughout the following days and weeks, in moments of despair. Each time I heard it, I got more frustrated. I felt that same deep sadness, but I refused to believe that my generation had lost the right to expect more of our leaders and be leaders of integrity ourselves.
There were other voices and other refrains as well. True to Paul's call to "Organize, organize, organize!" these voices were strongest when we came together. Yes, we came together to mourn and share in our collective grief; but together, the idea that there could never be another Paul or another Sheila gave way to real wisdom: Stand up, keep fighting.
Toward the end of his life, Monseñor Oscar Romero assured his supporters (and those who threatened his life) that he would "rise in the Salvadoran people." And he did. In a similar way, in the wake of the Wellstones' deaths, dozens of committed, passionate, and still-grieving people came together to pick up the torch and insist that Paul and Sheila Wellstone would not—could not—be once-in-a-lifetime. Dozens became hundreds, then thousands trained in organizing, advocacy, and campaign management through Wellstone Action's Camp Wellstone program.
Ten years later, the hard work continues and the grief is still there. Yet so is the wisdom and the fire that Paul left us. The progressive vision that shaped his work as an organizer, professor, and U.S. senator still informs and drives our calling today—sometimes in unexpected ways. Every time I walk past my boss's office, the lone bumper sticker on the door reminds me, in Paul's words, that "We all do better when we all do better." That vision is why we stand up and keep fighting. —Korla Masters
Korla Masters lives in Minneapolis and works with Minnesotans United for All Families.
-----
We Are Paul's Legacy
We were one in grief. Now we're one in purpose.
by Rev. Doug Mork
Above the computer in my office is a picture of Paul and me. In many ways, I am part of his legacy.
Like many who knew him, I met Paul when I was a student at Carleton College. Having grown up in a small town in rural Minnesota, my vision was fairly narrow as I walked onto campus that first time. I wanted to be a research physicist, and I was pretty committed to putting my years at Carleton to good use by squeezing out every last drop of education I could get. No interruptions please.
It took me more than a year and a half to realize that I could not ignore the world around me. Whatever academic course I was to pursue, I had to start claiming a public life or there would simply always be good reasons to put it off. While I have sometimes commented from my Lutheran pulpit that it's a bit ironic that three Jewish professors most shaped the direction of my life after college, certainly Paul was at the center. Over the next couple years, he became a crucial mentor for me and, more than that, he taught me how to live out my values with deep integrity. What's remarkable is that I wasn't particularly rare. Paul mentored hundreds of students into lives of greater conviction and purpose before he even ran for the Senate.
So what is his legacy? I think it's pretty simple. Paul believed intensely in people. He believed in a world of abundance, not scarcity, though perhaps he wouldn't have used exactly those words. He truly believed in politics as an extraordinary tool for the common good. He was an organizer, a weaver of disparate communities into a strong fabric of shared purpose. While he lambasted corporations and the consolidation of power in the hands of the few, he always believed that together, people could prevail. And he wanted every group of marginalized people to join him.
More than just believing any of these grand ideas, he lived them out. He strategically and systematically invited community after community to join him, to test the waters, to see what it feels like to organize around shared values.
When the first news came of Paul's plane going down, I was called to his office, and I stayed all day. His legacy showed up. The Hmong community, the Somali community, the African-American community, the LGBT community, old and young, Lutherans, Catholics, Jews, Unitarians—we were all one in grief. And, thanks to Paul, we were all one in purpose. And we still are.
Rev. Doug Mork, a former labor organizer, is lead pastor at Cross of Glory Lutheran Church in Brooklyn Center, Minnesota.
-----
A Witness for Peace
In Wellstone's last major speech, he rose up against the "costly mistake" of the Iraq war.

by Duane Shank
In summer and early fall 2002, the war drums of the Bush administration were beating on Iraq. Sen. Paul Wellstone was in a close race for re-election, and he knew the political risk of opposing the war resolution. But even if it were to cost him his Senate seat, he was determined to stick by his principles, one of which was to use diplomacy and build multilateral cooperation rather than go to war.
On Oct. 3, Wellstone rose on the Senate floor to deliver what would be his last major speech. He condemned plans for a "pre-emptive, go-it-alone military action in Iraq," and posed questions about the consequences of possible U.S. actions, in particular about the "possible loss of life that could result from our actions"—for "U.S. soldiers and innocent Iraqis"—concluding that a war "could be a costly mistake for our country."
Although his warning was not heeded and proved tragically correct, it remains a powerful reminder. Ten years later, we face a situation of ongoing or increasing U.S. involvement in wars around the world—Afghanistan, Pakistan, Yemen, Somalia—and threatened interventions in Syria and Iran. The major international cooperation in those areas is cooperating in wars, and serious diplomacy takes second place. Courageous voices such as Wellstone's are in short supply. Elected leaders who put their convictions ahead of ideology and party are nearly extinct.
Paul Wellstone combined personal integrity and political ethics in a way unusual in American politicians. In his book The Conscience of a Liberal, he wrote about both. Personally: "We should never separate the lives we live from the words we speak. To me, the most important goal is to live a life consistent with the values I hold dear and to act on what I believe in." Politically: "Politics is about the improvement of people's lives, lessening human suffering, advancing the cause of peace and justice in our country and in the world."
Since his death, I've had a bumper sticker hanging in my office that reads: "What Would Wellstone Do?" On many issues over these last 10 years, it has been a useful reminder of his integrity and ethics, and a touchstone to emulating them.
Duane Shank is senior policy adviser at Sojourners.
-----
'Pay it Forward'
The day we lost Wellstone was the day my life began.
by Peggy Flanagan
In spring 2002, I was well on my way to becoming an early-childhood special education teacher. After graduating from the University of Minnesota with a degree in child psychology and American Indian studies, I planned to work for a year and then go back to school to get my master's in special education. Little did I know that God had other plans for me.
I was driving past the Wellstone for Senate campaign office in summer 2002 and something told me to stop. I thought, "I really like Paul Wellstone; maybe I should volunteer." I walked in the door and was greeted enthusiastically. I sat down with complete strangers for two hours stuffing and licking envelopes for a fund-raiser. It was the most fun I'd had in a long time.
What struck me most when I walked into that office were the people. They looked like Minnesota. There were young people, seniors, veterans, people of color, immigrants, and at least one Native American (me). Needless to say, I went back every day after work. My volunteer duties changed as the campaign progressed. Toward the end, I was leading the organizing effort in the urban American Indian community. I was surrounded by people who were invested in my leadership development and loved the community we were building.
By fall 2002, it was clear that we were going to win the re-election campaign. We had built the largest grassroots volunteer operation in the history of the state. But on Oct. 25, just 11 days before the election, we lost Paul Wellstone, his wife, Sheila, their daughter Marcia, his driver, two campaign staffers, and the two pilots in a plane crash. The world had stopped and I couldn't catch my breath.
Former Vice President Walter Mondale was selected to run in Paul's place. With less than two weeks to campaign and little money left, we came together as a community. One day, while making homemade signs with a bunch of kids, ink covering our hands and arms, I paused to look around the room. I thought to myself, "This is what I'm supposed to do for the rest of my life."
The day we lost Paul Wellstone was the day that my life truly began. Out of the tragic loss, we started Wellstone Action, the largest progressive training organization in the country. I've been fortunate to work for the organization for almost seven years. We've trained more than 50,000 people across the country to make change in their communities, to continue the work of Paul Wellstone. I'm grateful I was able to work for a man who was truly "one of us," and now that I have the opportunity, I have to pay it forward.
Peggy Flanagan, a member of the White Earth Band of Ojibwe, is director of external affairs at Wellstone Action.