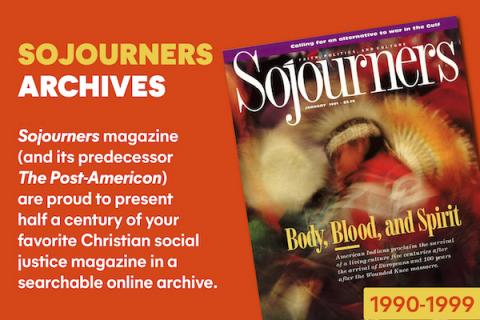 Calvin DeWitt is director of the Au Sable Institute of Environmental Studies in Michigan, professor of environmental studies at the University of Wisconsin-Madison, and a prolific author of articles for scientific and Christian publications on topics ranging from world food production to the ethics of environmental stewardship. In his effort to put scientific and ethical education into practice, he has organized successful campaigns to preserve forests in Michigan and led a Wisconsin town to develop a model stewardship plan for its wetlands, woodlands, and agricultural lands.
In his own modest words, DeWitt is "a student of the scriptures," inspired by his "gratitude to God" to "open up the university of creation to students so they can receive a lifelong education."
His contribution is to help develop a framework that brings Christians and others together around a biblical vision of the integrity of creation. "Environmental responsibility is at the heart of Christian faith and life," he insists. "There must be a conversion among Christians—mainline, evangelical, fundamentalist—to acknowledge God anew as Creator, not only in word, but in deed. People of all faiths, and the whole of society, must do an about-face."
DeWitt was interviewed by Marjorie Hope and James Young, a husband and wife team who have published four books on social problems. When this article appeared, they were completing a book on the potential for an effective environmental ethic in several religions of the world.
CALVIN DEWITT joined us after lunch in the Au Sable dining room. He entered with a quick stride, puffed his apologies for being late, and shook hands with us warmly. Considering the rapid pace of his day, he seemed remarkably relaxed; his voice, gestures, and laugh conveyed a deep enjoyment of life.
We were particularly interested in learning more about his philosophy. Could he offer some broad outlines?
He looked out the long wall of windows to the forest beyond and began slowly. "I try to see things whole. That includes science and religion. We must take what we learn from the universe seriously. I try to use the words of early scientists—'to think the thoughts of the Creator after him.' To me this is the best way to understand the creation and our place in it. You come to see a world without dualism, without alienation between science and belief."
"As you see it, when did the split between religion and science develop?" we asked.
"With the objectification of the world during the Enlightenment. Today many scientific texts do little to convey a sense of awe and wonder for the natural world. Nor do they give us a moral compass to navigate through the world described in science. Without that we're prone to press nature into our own self-service. With my own students, I make my first goal the instilling of awe and wonder for the biosphere, for the universe. From such wonder action springs.
"Many scientists know this awe. It comes from realizing the immense order and integrity of the universe. Wherever we think we'd see that violated, which might be expected from the uncertain terrain and mushy structure of the mires and marshes I study, we continue to find an ordered, highly structured biosphere.
"Even chaos theory discloses order in what seems disorder. Chaos has its consistent patterns. This is what much of the excitement is about in the new physics!"
He leaned forward intently. "For me, it is most reasonable to believe that this order derives from a single source. From a just and ordered mind—the mind of God. It is the one, the eternally consistent God. Not the warring gods of polytheism, nor the gods of pantheism in every rock and tree.
"My cosmology begins with the Creator, whose mind and law pre-exist everything that has been made, and proceeds to what we currently call the Big Bang and on through the creation of matter and life over Earth's history. The Creator is the one mind to whom all things owe their origin, through whom all things were made, and by whom all things have their integrity.
"Monotheism satisfies our wonder about why the world is integrated and why it exists at all. The world is ordered and has integrity because it has a single source in a wise, just, and sustaining God."
"Do you believe in evolution?"
"Well, evolution is a theoretical construct explaining some aspects of what we see. It doesn't call for 'belief' in the same sense that monotheism does. We should all be open to the teachings of the biosphere of creation, no matter what its lessons. To the extent that what we call evolution is substantiated by what is happening in the world, we should incorporate it. What I learn from the natural world I believe has the same Author as the scriptures, so the testimony in both is reliable.
"Unfortunately, the debate over how God made the Earth has gotten in the way of taking care of it. The debate is not even informed by modern evolutionary theory, which has gone far beyond Darwinism to recognize cooperative as well as competitive relationships. Many things in nature can be explained only by cooperation, altruism, community. Peter Marler has discovered that some bird song is just for joy! It's not merely territorial announcement."
"So how would you describe the most fruitful approach for scientists?"
"How? Well, scientists have three choices: agnosticism, atheism, or believing in God. Scientists want to see things whole. An atheist would have to build an entire cosmology based on the material. This requires developing a belief structure to explain everything. This is not easy. Agnosticism leads in the same direction, but has the advantage of not cutting us off from non-material options.
"My own conclusion is that a scientist is freer if she or he starts with the belief that God exists. This allows us to stay within any theoretical constructs our data will support, and does not drive us to fill the gaps with weaker theory or speculative materialism. If that belief is accompanied by confidence that the whole world is ordered, it will actually expedite our scientific work. Such a God-believing scientist is free to discover the beauty of death in the way it returns material substance to the various biogeochemical cycles that sustain all life. And this can inform his or her theological perspective on life and death."
DeWitt sees "seven degradations of creation's integrity" as the chief environmental problems today: alteration of planetary energy exchanges; global warming and ozone layer destruction; loss of land and soils to urbanization, soil erosion, desertification, and salinization; deforestation and loss of habitat; species extinction; water quality degradation; and human and cultural degradation.
To reverse these degradations, we must work diligently, always holding before us the call by God to take care of creation. "Many people have seen legal and technical measures as the solution," he went on. "But alone, they haven't worked. The problem is also ethical. Clever lawyers can always get around laws. The only answer is to get to people's hearts. We should see what the Bible says for our time, re-reading it with our ecological glasses on. Many people suffer the arrogance of believing that we can invent in a decade what has taken centuries to develop."
"How do you relate this widespread disease of arrogance to the biblical verses citing human dominion over the Earth?" we asked.
"Genesis 1:28? We can't extract one verse from its context and pretend it gives the whole story, without reference to scriptural scholarship—such as the rabbinical teaching that exercising 'dominion' to the extent of destroying your subjects is to destroy your dominion. Human beings are special creatures only in the sense that we can conceptualize how the Earth is ordered and respond in a caring way. In the scriptures, dominion means service, not exploitation. In Ezekiel 34 we can read: 'Is it not enough for you to drink the pure water, must you also muddy it with your feet?'"
"So the problem is that biblical teachings are rarely put into practice?" we asked.
"Yes. My suggestion to my students is, 'Don't pay as much attention to what people say, as what they do!' We don't find biblical principles put into practice in many places. But still, for example, the meek people of Amish communities work directly out of biblical teaching, although they don't publicize it."
DeWitt stood up, stretched a little, and suggested another cup of coffee. He had been talking a long time, but he looked animated and eager to continue.
"The scriptures are very helpful in developing an answer to, What is right? and science, an answer to, How does the world work?" DeWitt said. "We need both. Some of the cottagers around Big Twin Lake here are what I call 'Kentucky bluegrassers,' or 'recreational mowers.'" He grinned. "Most are urban types who 'escape' to the North Woods. They come up for the weekend and spend it mowing their lawns, practically down to stubble." As DeWitt spoke, we looked across the forest floor with its vegetation.
"They even act as if this were some kind of religious duty! Professing to make things orderly, they bring disorder. They poison the Earth and the lake with chemicals. They are people with a new kind of poverty; their knowledge of how the world works is impoverished. They destroy the very world that attracts them.
"All of us are something like that. Knowing what is 'right' and not how the world works, we destroy the world; knowing how the world works but not caring about what is right, we defile the Earth," he summed up.
"So environmental laws and techniques are necessary but not sufficient?"
"Exactly. We need education that helps get our moral compass in place and gives us an ecological understanding of our own yards and the planet. With this wisdom we can come to understand Earth's order and then act."
"What about Christians who say, 'This is not my home, I'm just a-passin' through?'" we asked.
"I answer, 'Read the scriptures believingly. Don't confuse television with the Bible!' Why would Revelation tell us that at the Last Judgment the time will come to destroy those who destroy the Earth? The Earth is the Lord's and God loves it. So much that God gave the one through whom the world was made and held together to make things right again. So I conclude that there are three questions: How does the world work? What is right? And then what must we do? If we fail in any one of these, we have failed in everything."
All over the world there are enough examples of failure for an environmentalist to despair, we reflected. But in DeWitt's voice we could detect only hope.
Before we left, DeWitt led us on mossy paths to the building that serves as chapel and meeting hall. Like the surrounding woods, it was of pine. An enormous fireplace stretched along one side, a large piano occupied a corner opposite, and before us was a pulpit. Behind it was a huge window. Running the length and height of the wall, the window revealed a wide porch with a tree growing through it, and overlooked a pond, aspen, birches, and tall red and white pines. The scene reminded us of a Shinto temple we had visited in Japan, a shrine open on all sides to the surrounding forest, and like this chapel in the Michigan North Woods, propelling us outward into the natural world.
We moved back to the woods. The rain was falling, sounding a hush on the pine needles, moss, and leaves, the mushrooms pushing through glistening ferns. The earth smelled fresh.
A Life of Learning From the Land
"RELIGION HAS ALWAYS been very important to me and my family," DeWitt says. He was raised in the Christian Reformed Church, which teaches that you come to know God through two great books: creation itself and the Bible. A love for science, art, and civic life is fostered. DeWitt says he still recalls the "probing, intellectual" sermons he heard as a child.
His parents encouraged his love of animals as well as his faith, and his childhood menagerie included "turtles, lizards, snakes, alligators, frogs, and various mammals in the backyard, a cockatiel in the kitchen, and 39 parakeets and a tropical fish in our basement."
DeWitt received a bachelor's degree at Calvin College and a master's at the University of Michigan, both in biology, taught natural history and biology at Calvin College, then returned to the University of Michigan to complete doctoral studies in zoology. Following marriage to Ruth Wiersma, who has worked in the fields of biology and natural history most of her life, the couple conducted research together on the desert iguana in the California desert.
In 1972, he moved to the University of Wisconsin-Madison to take a position in its newly formed Institute for Environmental Studies. Concerned that his work on computer modeling of land-use dynamics would mean losing their connection with the natural world, Cal and Ruth sought the area of Dane County with the most wetlands and found a house on a glacial drumlin in the town of Dunn. Today they live on a thousand-acre wetlands preserve that they helped establish with their neighbors.
"Sometimes when I look out at the marsh I almost think I see a mastodon in the mist. The bottom layers of the peat under the marsh were laid down 6,500 years ago! The area has become a classroom. My students study its history and its possible future—a future depending on what its human inhabitants do." -MH and JY
The Natural Classroom
THE AU SABLE INSTITUTE, serving students from kindergarten through college, is the first American environmental education center that explicitly incorporates Christian teaching and practices. Its declared mission is "to bring healing and wholeness to the biosphere and the whole of Creation."
Its setting, the relatively pristine North Woods country of Michigan's Lower Peninsula, illustrates DeWitt's belief that nature itself is a university, once accessible to everyone but today barely existing in the consciousness of many people. Students from Christian colleges come for courses in environmental stewardship, some of which lead to vocational certificates, such as water resources analyst. The institute also serves 7,000 school children with programs in basic ecological principles (even the youngest children do field work), and offers college and church groups a site for retreats and environmental conferences.
Every summer the Au Sable Forum explores some aspect of the relationship between religion and ecology. Representatives of nearly all the evangelical traditions, as well as Amish, Mennonites, Roman Catholics, Eastern Orthodox, Jews, Buddhists, Native Americans, and scientists from around the world have participated. The purpose is to stimulate discussion, research, and publication of environmental stewardship materials across Christendom.
When DeWitt became director of Au Sable in 1980, there were only three cooperating colleges. Now 35 Christian colleges participate, and students from 55 other Christian schools enroll. Says DeWitt, "In the early '80s, conservative Christians were doing virtually nothing about the environment. So I felt our mission would best be served if we first served them. Au Sable is defined not by a boundary, but a focused learning about Christian environmental stewardship."
For more information, contact the Au Sable Institute, 7526 Sunset Trail NE, Marcelona, MI 49659; (616) 587-8686; www.ausable.org.