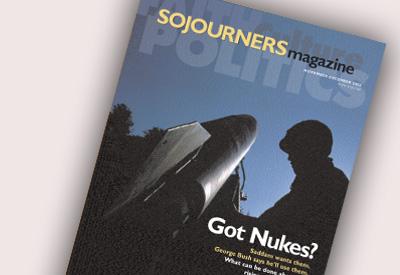 People who dedicate a period of their lives to voluntary service usually have a lot in common. They're nurturing, generous with their time and energy, and eager to help make another person's life better.
They are also usually women.
Since the founding of this country, women have given their time to voluntary service, often church-related, mainly because—until only a few short decades ago—they had limited options to develop a career, and unpaid volunteerism is conducive to family life and time spent in the home. In recent years, however, national initiatives like AmeriCorps and America's Promise have led more and more young Americans to dedicate a part of their lives to the service of others. This leaves many wondering: Why do so many of these volunteers continue to be women? It might be added that the overwhelming majority of volunteers is also white; people of color have never represented a significant percentage of the full-time volunteer corps.
Women give more of their time for a number of reasons, which tend to boil down to two major trends. First, despite a general acceptance of feminism and women's equality in this country, social justice activists feel that women are more naturally drawn to service roles that require a nurturing, empathetic manner. Secondly, there is enormous socioeconomic pressure on men to immediately earn a salary after college.
By the numbers. Several major religious social service umbrella organizations report a largely female population of volunteers, paralleling the trend of women being more active in religious life in general. Both the Lutheran Volunteer Corps (LVC) and the Jesuit Volunteer Corps (JVC), two groups that recruit volunteers to live in communities-in-need across the country, report disproportionate female-to-male ratios. The LVC reports a ratio of 80-to-20 women to men; the JVC is between 70 and 75 percent women.
Even the closest-to-equal ratios are still well above 50-50. The Mennonite Voluntary Service (MVS), a network of volunteer programs around the world, is about 60 percent women. MVS staff members say this is actually a closer ratio than most religious service groups because of a 50-year tradition of social service in the church.
"Within the Mennonite church there has been a long history of men participating in voluntary service as an alternative to military conscription," said Del Hershberger, assistant director of the service, learning, and discipleship department at the Mennonite Mission Network. Additionally, MVS has had an influx of male volunteers over recent years because of an increase in the number of German Mennonites who must do voluntary service in order to be granted conscientious objector status by their government.
The American Jewish World Service (AJWS), an international organization that sends volunteers around the world to communities that need skilled workers, also reports a 60-40 ratio. AJWS leaders attribute the higher number of women to a Jewish precept that assigns a moral leadership role to women.
"There's always been this belief that even though men are the providers, it's women who determine the moral character of a family and a community," said Seth Appel, program director of the Jewish Volunteer Corps, a program of the AJWS.
The money matter. The traditional definition of volunteering involves work done solely out of the goodness of the volunteer's heart. AmeriCorps changed all that in 1993, when the Clinton administration allocated funding to the Corporation for National and Community Service to provide substantial grants to help pay back student loans or fund future education in return for 10-to-12 months of work in a service position.
Most religious and faith-based voluntary service organizations also provide housing and a food allowance to volunteers. They live a simple existence, to be sure, but basic life expenses are often taken care of by the sponsoring organization, with some even offering a small extra stipend. Many groups hoped that these financial incentives might attract more male volunteers to the table.
But for many men the perception of service as a financially viable option in this money-hungry world remains out of reach. Breaking this perception barrier presents a challenge to volunteer recruitment efforts.
"There's definitely an effort for campus ministers and ministries to reach out to men," said Matt Koerner, membership and recruitment coordinator for the Catholic Network of Volunteer Service (CNVS), which reports a 63-37 ratio of women to men.
Koerner, who visited more than 45 campuses last year to recruit volunteers for CNVS's 230 service programs around the country, says that recruitment efforts aimed at men often hit roadblocks even before the men come in the door. Some campuses advertise men-only meetings, though that is rare. Others organize socials, dinners, and information sessions and advertise among men who are already active in campus religious groups. Koerner has found that the young men he meets are intrigued by CNVS's affiliation with AmeriCorps (although, he said, "we try not to use that as the selling point"), and in these times of job uncertainty, they're often enthusiastic at the thought of paying down their student loans.
However, another organization's experience challenges Koerner's hunch. The Jesuit Volunteer Corps, with the exception of its Eastern region, has participated in AmeriCorps for the past five years. But Kathleen Haser, executive director of JVC East, reports that the East has roughly the same ratio of men to women as the other regions. Regions that offer volunteers AmeriCorps grants have not attracted more men than the one that doesn't.
For some men, it is not financial or even social pressures that keep them from volunteering, but a matter of not being emotionally ready to give up a comfortable job. Erik Thompson, 28, went to work for Boeing right after he graduated with an aerospace engineering degree from the University of Michigan. Taking time off for service "never came up as a serious option." He enjoys his job, but compares it to the 1999 movie Office Space, which depicts corporate life as a monument to inefficiency. "You go in day in and day out," said Thompson, "and [you wonder] what are you doing; are you having an impact?"
However, he is comfortable earning a good wage and having a relatively simple life. "That's hard to give up," he said. "Almost anything else that would be more involved in a meaningful or personal way would definitely involve more responsibility." But Thompson, a committed Christian, feels that his faith is calling him to do something more. A licensed pilot, he would consider either a complete career change or taking a year off in the near future to fly aid missions in poor or war-torn countries.
"Doing a year of service, or doing something more meaningful, has been something I always knew I wanted to do. Getting closer and closer to doing it is more a matter of admitting that to myself," he said.
Adam Niermann, 23, a 2001 graduate of Valparaiso University, is another exception to the rule when it comes to the male preoccupation with earning a living. Niermann, who majored in business, felt the social pressures as he watched his friends accept job offers.
"It was a lot of pressure—from the school, from friends, even from my parents a little bit—'you've got to go out and find a job, pay back your loans,'" Niermann said from his LVC-sponsored volunteer assignment in Seattle. "It's an important status step, to get an apartment, get a car, take girls out on dates," he added.
But his faith and a desire for self-exploration sent him in a different direction. "Maybe I could be happy doing something that didn't give much money," he recalled thinking. So he enlisted in the LVC and was matched with Heart of America Northwest, a nonprofit environmental watchdog group that advocates for clearing the world of nuclear waste. LVC provides volunteers with housing, a food stipend, and an $85 monthly "personal" stipend that covers phone, transportation, and entertainment. Niermann shares a group house with another man and four women—unusual in the LVC, where most group houses have only one man, if any.
Even though Niermann is happy with his volunteer life, he still sometimes feels that as a man, he's a stranger in a strange land; he wrote a tongue-in-cheek poem about being "the only guy" that was published in the "Simply Said" newsletter of his LVC section. But even if he's had some adjustments living in a community that consists predominantly of women, he says he's learned from the experience and that it's made him a better listener and, therefore, better able to serve others.
Provider vs. nurturer? Like many men who volunteer, however, Niermann's post—even within the social service world—is an administrative, business-related assignment, as opposed to a direct service position. Women are still viewed by society as caregivers, nurturers, and in the best position to help make others' lives better. Men are seen as providers, the organizational strategists who are the best management material.
"We work with men who are creating empires. They are building organizations. It isn't that different from the corporate world," said the Rev. Mark Farr, the national faith director for America's Promise: The Alliance for Youth. America's Promise, according to senior vice president for community mobilization and local support Carolyn Berkowitz, can boast a 50-50 ratio of men to women because of this business-style model. "We think that everybody has something to contribute to the cause of youth development," said Berkowitz. "Everybody's got something to give."
Farr, an Episcopal priest who for the past five years has worked with faith communities that build networks of volunteerism programs across the country, says that the nonprofit world's spirit of competition is attractive to men—at the organizational or managerial level. "The nonprofit world is very competitive; there's not enough money to go around," he said. "Competition is what many men thrive on."
However, some volunteers say that having more gender balance in the direct-service positions, instead of only at the managerial level, would benefit both the volunteers and those receiving the services. Lauren Clarke, 24, is a full-time MVS volunteer with the Mennonite Church-sponsored House of Friendship. No men currently volunteer there. But some of the refugee families she serves come from societies—ranging from Mexico to Pakistan to Iraq to Zimbabwe—where they have trouble relating to women as professionals or authority figures.
"Here I am, this young woman helping them and having the final say about what food they get to eat," she said. "I would imagine that would be difficult." Clarke says that if more men volunteered to work with these families, they could provide a more measured introduction to Western social mores. "I like being a woman to show a different way to the women who are coming, but I don't want to be forcing a North American feminism on anyone," she said.
Meanwhile, Ann Haendel has volunteered with the AJWS for three different stints in different parts of Africa over the past several years. Haendel, who is 67 years old and began volunteering after retiring from her career in government administration, feels that volunteering has helped her break through gender, age, and national barriers.
"In all three parts of Africa, in all three experiences," said Haendel, "I had the same feeling that I wasn't white, I wasn't an American, I wasn't female, I wasn't Jewish, I was just a human person who was reaching out to other human beings."
Holly Lebowitz Rossi, a Sojourners contributing writer, lives in Arlington, Massachusetts.