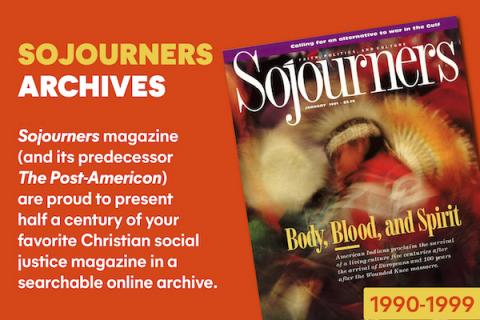 The gospel is so contrary to the way of the world that it has to be shown, not merely told. Dom Helder Camara is one who showed the way. Helder Camara was the Brazilian Catholic archbishop who became renowned throughout the world as the inspirer of Latin America's liberation theology movement. Barely five feet tall, Dom Helder never embraced the pomp and ceremony of his rank. He wore a plain brown cassock and a simple wooden cross. As a young priest he served in the ghettos of Rio de Janeiro. It was here that he first began to speak of the unjust structures of poverty, saying, "When you live with the poor, you realize that, even though they cannot read or write, they certainly know how to think." In 1955, Camara founded CELAM, the Latin American bishops' council, the first organization of its kind in the world. In 1960, during the preparatory meetings for Vatican II, Dom Helder brought to Rome the agenda of a "preferential option for the poor." He even suggested that the pope give the Vatican and all its art to the United Nations for its work with the poor, and live in a humble manner as bishop of Rome. Camara himself refused the episcopal mansion, choosing instead a modest three-room house behind the church in Recife, Brazil. When Mother Teresa asked him how he managed to maintain his humility, Camara replied that he had just to imagine himself making a triumphant entry into Jerusalem—not as Jesus, but as the ass. Dom Helder Camara died on August 27, 1999, at age 90, lying in his hammock surrounded by his closest friends. We offer these memories of Dom Helder from more of his "friends," far and wide. —The Editors
---
The Quest for Faith
Most Americans remember 1976 as the year of the national bicentennial and the election of Jimmy Carter. For me, however, it was the year my life turned upside down for good.
I was an undergraduate at the University of California at Berkeley, struggling to make sense of my recent embrace of the Christian faith. That year of tumult began a steady stream of permanently transforming encounters, discoveries and adventures: hearing Dan Berrigan do Bible study, stumbling upon the Catholic Worker movement, learning theology from radical Australian Baptists, being introduced to Dietrich Bonhoeffer and William Stringfellow and Anabaptism, meeting Sojourners, being introduced to civil disobedience and nonviolence at Jonah House.
During that year of upheaval I met Dom Helder. I knew little about him, having only just been introduced to liberation theology. But I was told he was a living saint, so went along eagerly to hear him speak on hunger and justice at Grace Cathedral in San Francisco. I was very disappointed. Dom Helder made only a cameo appearance, and when asked by the panel moderator what words he had for the gathering, the diminutive archbishop just smiled and turned his closed eyes upward. Then he lifted his frail arms in an embrace of the room full of activists, and intoned in heavily accented English: "I love everybody! Everybody! I love everybody!"
We just shook our heads, feeling shortchanged at this benign, papal-like blessing. We had been looking for something more—revolutionary. For weeks afterward we laughingly mimicked the beatific archbishop, often interrupting our intense political and theological discussions with the refrain: "I love everybody!"
Of course, as I later heard about this man's life, I felt ashamed of my ignorance. So I began to learn from Dom Helder. His uncompromising commitment to the church of the poor gave us courage to challenge our own culture of middle-class religion. His courage in the face of Brazil's military regime inspired us to take on the militarism of our own country. And his firm commitment to nonviolence, particularly his political analysis of the "spiral of violence," grounded us in a theory and practice of revolutionary struggle without arms.
I could not have sustained my quest for faith without persons like Dom Helder. I needed not just new ideas, but living examples of radical Christianity. The gospel is so contrary to business as usual in our weary world that it has to be shown, not merely told. This is why biblical faith revolves around incarnation. Only embodiment can rescue the vision of Jesus from being dismissed as fantasy, utopia, or madness.
The only other time I met the archbishop was in 1988 at a national Catholic Worker gathering at the Nevada Test Site on the anniversary of Dorothy Day's birthday. I recall that as he crossed the line onto the test site that afternoon, he lifted his eyes and his hands in just the way he had done at Grace Cathedral. This time, however, I understood and respected the gesture, grateful to have met a disciple who made my discipleship possible. —Ched Myers
CHED MYERS, a Sojourners contributing editor, is a writer, teacher, and activist based in Los Angeles.
---
Pointing Us Forward
None of the obituaries I've seen in the days following Dom Helder Camara's death come close to summoning up the man himself, truly a gentle man. His deep commitment to the poor showed not only in words but also in a personal austerity rarely seen among bishops.
I met him on various occasions but my favorite memory is arriving a little late to hear him speak in Antwerp. My son Daniel was with me—a very young fellow at the time. We entered the room, full to bursting with people who had come for the talk. Daniel spotted an unoccupied chair in the center of the front row and raced toward it at top speed. Dom Helder paused in mid-sentence, his expressive hands stopped still in mid-air, to watch Daniel's dash to the empty seat. When Daniel had found his place, Dom Helder pointed to him and said, "Voila, la future!" He was a man with a radiant smile who made anyone who happened to meet him feel completely welcome. —Jim Forest
JIM FOREST, a Sojourners contributing editor, is author of many books, most recently The Ladder of the Beatitudes (Orbis Books, 1999). He lives in Alkmaar, The Netherlands.
---
The 'Red Bishop'
When I heard the news of Dom Helder Camara's death, my heart sank. On the cover of National Catholic Reporter we placed a large portrait of his Yoda-like face with the words: "Dom Helder Camara, Lover of the poor." That said it all. More than any other Latin American bishop, Dom Helder authored the church's "preferential option for the poor."
Gary MacEoin, a longtime soul mate of Dom Helder, wrote that this most remarkable bishop "defended the use of class analysis as the central and indisputable element for understanding the social situation, insisting that one could use the insights of Marxism without becoming a Marxist. His response to those who denounced him as 'the red bishop' serves as the perfect synthesis of his worldview: 'When I feed the poor, they call me a saint; when I ask why they are poor, they call me a communist.'" —Tom Fox
TOM FOX is publisher of National Catholic Reporter.
---
On the Front Lines of Faith
The passing of Dom Helder Camara is for me a sign of the passing of a unique period in Latin American Catholic history. For a brief two decades or so, an unusual cohort of progressive bishops arose in Central and South America. Significantly, many of these bishops were not known as progressive when they were elected bishop—often they were radicalized after they were elected bishops, through the experiences of poverty and violence of their societies. If they had been known as progressive, it is doubtful that they would ever have been elected bishop.
The ruling classes of their societies and the church hierarchy hastened to try to neutralize this extraordinary phenomenon of "leftist" bishops who sided with social justice forces in their societies and in the church. These bishops made themselves the friends and implementers of the liberation theology emanating from radical theologians such as Gustavo Gutierrrez, Leonardo Boff, and Ignacio Ellacuria.
Some bishops were marginalized by the hierarchy. The hierarchy's way of dealing with others, including Camara, has been to replace them as soon as they retire with right-wing bishops who hastened to wipe out all their work. Helder Camara suffered this fate as soon as he retired. The conservative bishop who replaced him as head of the diocese of the very poor area of Recife systematically wiped out his innovative forms of ministry to the poor. For example, Camara radically transformed the seminary that trained priests for the area, rooting its theological training in grassroots ministry to the poor. His successor simply closed the seminary and fired all its teachers. He restored the conventional type of seminary far removed from the experiences of everyday life of the people. Many of the faculty of the former seminary now find it difficult to maintain support structures within the Catholic Church for their work and must look to Protestant-funded Latin American ecumenical institutes as places of work.
Does this mean that Dom Helder Camara's work in Recife has been for naught? Perhaps like the efforts of government and religion to wipe out the memory of Jesus of Nazareth by crucifying him, the effort to wipe out the memory of these true followers of the Lord in Latin America will misfire.
In the language of Latin Americans who remember the martyrs with the cry "presente!" Helder Camara, although dead, still lives. He rises again in our remembrance of him to continue to inspire followers. —Rosemary Radford Ruether
ROSEMARY RADFORD RUETHER, a Sojourners contributing editor, is Georgia Harkness professor of applied theology at Garrett-Evangelical Theological Seminary and a member of the graduate faculty of Northwestern University in Evanston, Illinois. Her most recent book is Gender and Redemption: A Theological History (1998, Fortress Press).
---
'Why is Mother Teresa Necessary?'
For social activists, who struggle against the underlying causes of poverty and oppression, Mother Teresa of Calcutta always presented a problem. Her undeniable holiness made it difficult to criticize this saint of the poor. Yet her refusal to address the systemic injustices that engender the poverty she strove to alleviate never failed to disturb those whose vocation lies precisely in confronting those structures.
Dom Helder Camara solved this dilemma for many of us more than 20 years ago at the Eucharistic Congress in Philadelphia. During the course of a conference he gave on that occasion, the archbishop—renowned as a voice for the voiceless—spoke of his desire to meet Mother Teresa. Dom Helder said that day (and I paraphrase): "I hope to have the opportunity to encounter Mother Teresa and kiss her hands in acknowledgement of what she and her sisters do for the poor of the world. However, a much more difficult and much less understood vocation is that carried out by those who ask: 'Why are the Mother Teresas of this world necessary?'"
While affirming the extraordinary charitable work done by the Missionaries of Charity, Dom Helder pointed to that other gospel demand—the work of justice. And in describing the latter as "much more difficult and much less understood," the archbishop underscored the fact that charity and justice are not the same, that both are necessary, and that those who engage in the ministry of justice will encounter misunderstanding and opposition. Surely in this latter respect he spoke from personal experience. —Joe Nangle
JOE NANGLE, OFM, is executive director of Franciscan Mission Service and a member of Assisi Community in Washington, D.C.
---
Getting to the Heart
I'll never forget a visit to Sojourners from Dom Helder Camara while he was in Washington, D.C., speaking at a conference. We got a call from Dom Helder's aides saying that, though in his mid-70s, Dom Helder felt "uncomfortable" in a big, fancy hotel and wanted to spend the afternoon in a "base community" like Sojourners. We were thrilled, and I hurried across the invisible racial and class boundaries of D.C. to pick up the diminutive and passionate prelate of the people from Recife.
Dom Helder wanted to walk the streets of inner-city Washington, D.C., and feel the life of people living there. After listening intently to my description of housing patterns that were displacing poor people for the benefit of wealthy real estate speculators and affluent homebuyers, Dom Helder shook his head knowingly. "It's the same way in Recife," the poor city in northeast Brazil where he resided. Dom Helder was called a communist because he asked why people are poor. While communism is no longer the issue it once was, the archbishop's question still generates great controversy. Asking "why" can lead you to the heart of the problem. ---Jim Wallis
JIM WALLIS is editor-in-chief of Sojourners.