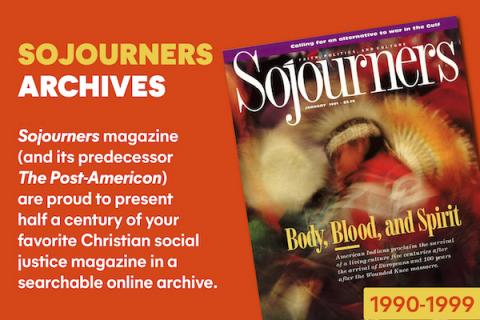 In a seventh-century cathedral on the Adriatic coast of the former Yugoslavia, a massive stone carving over the portal depicts the life of Christ. In true Balkan fashion, however, the scenes are not arranged according to time. In the first scene, Christ is baptized; midway he hangs on a cross; at the end the Wise Men gaze at him in adoration, and Mary smiles. Here, specific order is not as crucial as generating spiritual fervor. Who you were is not as important as who you are becoming. And suffering is the rough road one must take to love.
Bosnia is a spiritual laboratory, a place where spiritual hypotheses can be tested and observed. I first visited in 1996 at the end of the vicious four-year siege of Sarajevo. The question I asked then was: What makes average people in extraordinary circumstances behave as sinners or as saints? Now, during Bosnia's long post-war reconstruction period, and particularly in the aftermath of Kosovo, I ask: This is a people who had raging evil sit on them like a stalled hurricane. Is it possible for them to be born again? Initial evidence suggests that they can.
An Antidote for Fear
Vjeko Saje, project director for the Center for Religious Dialogue in Sarajevo, is a passionate, energetic man in his mid-40s. Saje was an architect before the war. He spent five years working in Baghdad for an engineering firm before NATO air strikes in Iraq sent him home to Sarajevo in 1990. Saje is Catholic, though not Croat; his wife, Azra, is Muslim. The witnesses at their wedding were Serbs. They have an 18-year-old daughter, Irma. They are a fairly typical Sarajevan family.
In 1993, Saje was assigned to dig trenches along the front lines outside Sarajevo. There were three other engineers with him a little further down the line. In a flash of mortar fire one morning, he tells me, all three were killed. He and I are silent. What is there to say?
Stories fold out of Saje like afterthoughts. We pass the cemetery where his mother is buried. "During the war, fog was our friend. The morning we buried her it was foggy, so we could go to the Catholic and Orthodox cemetery for the burial service." His mother died from a cyst that, in normal times, would have been treatable. There was nothing they could do. Saje travels through his native city like a blind guide—not the pharisaical type, but one who walks a road he knows by heart.
Saje's daughter was a teen-ager during the 1992-95 siege of Sarajevo. "She was very active and headstrong. She and her friends were involved in the marches and protests. When the mailboxes in our apartment building were marked to identify Muslims, Croats, and Serbs, we knew we were targeted and if Irma stayed in Sarajevo she would be killed. So we made arrangements for her to be smuggled out of the city through the airport tunnel."
For much of the siege, this 5 foot high, 3 foot wide passageway under the Sarajevo airport tarmac was the city's only route to the outside world. The tunnel is so long that there is little oxygen in the center section. Many people never made it to the other side. Their bodies had to be carried out on small handcarts. Irma did make it through, eventually joining Saje's relatives in Austria.
At the Center for Religious Dialogue, Saje hosts religious groups in Bosnia and takes them on the Sarajevo "Stations of the Cross"—the site of the Markale Market massacre and the breadline bombing; Sniper Alley; the Holiday Inn where the violence in Sarajevo started in 1992; the Oslobodjenje newspaper building; and the Bistrik Brewery, the main site for collecting water during the city's siege. He also drives through Republika Srpska, the area of Bosnia that was awarded by the Dayton Accords to the Bosnian Serbs—an area that has been abandoned by Belgrade because of other more pressing international problems. "I drive through there to help me deal with my fear," Saje says, "and to remind them that we still exist."
This fear still grips him at times, such as when a car door slams. But he tells jokes, his eyes sparkle with mischief, he laughs, he drinks coffee in the cafes in old Sarajevo and lets the peace soak through his muscle and into the bone. He has learned that an antidote for the corrosiveness of fear is giving up all hope for a better past. This is the beginning of a more hopeful future.
The House of Peace
In central Bosnia Franciscan Father Mijo Dzolan and Dr. Katica Nikolic are struggling to build that future by starting Kuca Mira—the House of Peace—at the Franciscan monastery in the Rama valley. It will be a place of spiritual and psychological healing for those who continue to suffer from post-traumatic stress. To date such a retreat place does not exist in all of the former Yugoslavia.
The designs for the House of Peace are completed, walls up, and windows installed. But with the funding still $150,000 short of the amount needed, Father Dzolan had to call off the builders. Despite his careful plans, donations have dried up. "We know the money is on its way to us," he says. "We just don't know where it is coming from or when it will arrive."
Both Dzolan and Nikolic have their own stories to tell, their own reasons for the House of Peace. Five days before Easter 1992, rumors spread through Rama that Serb partisans would soon start shelling from the hills. Ninety percent of the population evacuated the valley, though Dzolan and his Franciscan brothers and sisters stayed. Two months later, Dzolan appealed to the Rama community—Croat, Muslim, and Serb—via the local TV station to come back home to their valley. The entire population returned and stayed for the duration of the war, many of them often praying together in the basement of the monastery during the severe shelling of the valley and the massacres in surrounding areas.
Father Dzolan was one of the first outsiders to reach the village of Doljani after it was shelled by Serb forces, then overrun by Muslim paramilitaries. On July 28, 1993, 41 people were massacred. Twenty were old people and children who could not escape over the rugged mountain peaks. They were locked in a house, then set on fire. The others were 12- to 70-year-old men—those considered "soldier age"—who were taken out past the apple orchard and shot in the head.
Dzolan has heard hundreds of these stories. The family who lost three of their daughters during the war and found them four years later in an orphanage in Macedonia. The young Muslim man who spent part of the war in a Serb concentration camp and is now wasting away from cancer in a half-destroyed apartment. The women who come to confession to admit their despair. The men who confess their abuses. Dzolan carries their words like splinters in his heart.
Post-traumatic stress and the aftermath of war also affect Father Dzolan. His concentration is bad. He has bloodshot eyes and splitting headaches. He can't sleep at night. He has a ruptured disc in his back. "Why should I not suffer the same consequences of war as everyone else?" he says.
Thrown Together by War
Near the monastery Father Dzolan is working with two families—one Croat, one Muslim—who have been thrown together as a result of the war. They are a study in the chaos of internal refugees. According to the agreements of the Dayton Accords, all people displaced by the war were supposed to return to their own pre-war homes or towns by August 1999, or they would lose rights to their houses and access to government funds for rebuilding.
Zvonko Piplica and his wife, Mira, are Bosnian Croats. They have lived for six years as refugees in the house of Selim and Jasna Zecic, who are Muslim. The Zecics are refugees in a nearby town. Selim and Zvonko knew each other before the war. They were acquaintances; they liked each other. When they met again after the war, they shook hands so heartily that each knew the war had not destroyed their souls.
According to the law, the Piplica family should go back to their pre-war village, but there are no schools for the children, and the refugees there say they will kill them if they return. The Zecics also need to re-establish residency in their home, but first they want a good solution for Zvonko and Mira.
Zvonko and Mira both show signs of severe post-traumatic stress. Zvonko fought in the war. Two of his cousins and his brother-in-law were killed. Mira saw her brother killed; later her mother and sister died. She watched her village burn, and she was constantly terrified for the safety of her children. "Sometimes," Zvonko says, "I am immobilized with helplessness and depression. I feel I can hardly survive these attacks." All four chain smoke strong cigarettes, a hypnotizing ritual of self-medication.
Although neither family has much in the way of material goods, they have taken in their neighbor, an elderly widow who has no family or possessions. "Where there are six plates, a seventh can also come," says Zvonko. All of them are eager to work and rebuild the community. Selim wants to start an organic farm and make a small Muslim house for prayer. Jasna works with a woman's group addressing local issues.
A Healing Spirit
Each day Dr. Nikolic sees the enormous stresses put on individuals and families as a result of the war. Post-traumatic stress disorder is becoming her specialty; she served for four years as the only doctor for 294 prisoners, all suffering from severe PTSD. Nearly everyone in the Rama valley suffers in some way. In the 20 years before the war, Rama had no murders and only two suicides. As a result of the war, at least 1,500 people were killed, and there have been 24 suicides since. Domestic violence and incest have increased, mostly due to alcohol abuse.
Although Nikolic was born in Kiev in the former Soviet Union and spent her early years in Odessa, she considers herself a Catholic Croat Bosnian. She went to medical school in Belgrade, received her neuropsychiatry degree in Sarajevo and Zagreb, and has lived for 14 years in the Rama area. Her parents came to live with her in 1993 when Muslims expelled the Croats from her hometown. A Muslim woman now lives in her parents' house. The apartment Dr. Nikolic uses in Rama is owned by Muslims, who will soon return.
Despite all the problems she faced as the only doctor in Rama during the war, she never thought of leaving. For three and a half years, Nikolic worked in the war hospital and clinic. She had approximately 4,500 patients, and often worked for days without sleeping. One day she walked from the surgery room, too tired to take off her bloody shirts. She fell into a deep sleep on the floor before they came looking for her—there was another emergency. When they woke her, she didn't know who she was.
In October 1992, when the conflict between Muslims and Croats started in the Rama area, 500 Muslims were captured by Croats and held prisoner in a school. "People were so lost," says Father Dzolan. "They needed help. They were separated from their families." He came to find Dr. Nikolic to see what they could do. When she went to the school and saw her Muslim neighbors, she felt ashamed. Most of them she knew. They wanted a miracle from her. But all she could do was be with them. A week later the Muslims were released and many returned home. Her act of compassion drew Nikolic closer to Father Dzolan and the Franciscans.
Dr. Nikolic is now instrumental in working with Dzolan on programs for the House of Peace. She believes the center should be a place where "we encourage the positive spirit of healing that is innate in human beings through the use of art, music, prayer, and counseling. We must search for the small light of goodness in each other"—first by teaching people to accept themselves no matter what they did or experienced during the war, then helping them to accept others. "We have in our souls some very fine and excellent qualities," Dzolan says, "but they must be communicated. Without this kind of communication of the soul, without spiritual intimacy, our souls starve and our hearts become hard."
New Ways of Thinking
The House of Peace will have seminars and talks on these themes. Open to all ethnic groups, there will be special sessions for women or children or soldiers who had unique experiences during the war. In five years, Father Dzolan says, it will radiate a healing power much farther than the Rama valley; it will be a training center for new ways of thinking, new values and ethics.
A 15-foot-tall bronze cross towers over the entrance to the monastic enclosure. Cast in 1994, the cross is a source of spiritual power and courage for the people of Rama and beyond. The artist used folk ornamentation to tell the story of the gospel in Bosnia. It reminds Muslims, Catholics, and Orthodox of their shared spiritual values. One side depicts Christ Resurrected and the other Christ the Eternal Judge.
The ravages of war on the human psyche and spirit can lead to two different futures—taking revenge and passing hatred on to the next generation, or letting God be the judge of our enemies and the companion in our fear. "When people see this cross they understand that Jesus will be the judge of the wrongs committed, not them," says Dzolan. "This is liberation for us. We are free to begin the act of resurrection, to take up a new life. There must never be a political or ethnic agenda put onto this cross."
Father Dzolan and Dr. Nikolic believe that the creative combination of spirituality and psychology is the approach needed for Bosnia to be reborn. It is difficult for them to spend money on the House of Peace when there is so much immediate need, but Dzolan says they must look ahead for those who cannot do so right now. "We must let go of an individual destiny," says Nikolic, "and see the progress of our own soul in the destiny of others. We must learn that our future is bound together." Father Dzolan calls Dr. Nikolic the future manager of social-spiritual psychology for the House of Peace. Her dark gaze falls on him, and she smiles.
ROSE MARIE BERGER is an assistant editor of Sojourners. She traveled to Bosnia and Kosovo in July 1999 on a "reverse pilgrimage" hosted by the Ministry of Money (301-428-9560). For more information about the House of Peace in Rama, contact Fr. Mijo Dzolan at rama-scit@int.tel.hr.