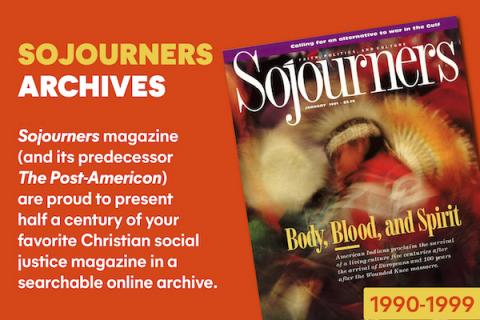 Don't be afraid to ask "dangerous" questions-that's an intern's job. Rock the boat! Do what you can to make the community thing work, and take care of yourself. Both are crucial. Be careful if you play Sojourners volleyball-they're out for blood!

-Julie Wakelee-Lynch (1987)
In 1985, on that fearful precipice of college graduation, a friend from the Catholic Newman Center handed me a copy of Sojourners.
The inside back cover featured a bold advertisement: Consider spending 1986 with Sojourners Community and ministries in inner-city Washington, D.C. In a moment of "road to Damascus"-like clarity, I knew that Sojourners was the place for me to be. Life hasn't been the same since!
Since 1985, when the first interns came from Rhode Island, Ohio, Washington, Kansas, and Tennessee to experiment with radical Christian discipleship, serve in ministry, and live in community, we have been blessed with a diverse stream of saints who have been both converted and instruments of our conversion to the gospel. They ranged in age from 21 to 60; there have been 22 men and 55 women. They were Catholic, Evangelical, Baptist, Lutheran, United Methodist, Mennonite, Christian Reformed, Assemblies of God, Presbyterian, and Quaker. They came from as far away as Germany, England, Scotland, Canada, and New Zealand, as well as California, Mississippi, North Dakota, Iowa, and New York.
In the unfolding story of Sojourners Community, our interns are the Greek chorus, always asking us the hard questions, reflecting our life back to us in contemporary ways, keeping us faithful. They bring joy, laughter, dedication, new music, dance, poetry, sweat, tears, courage, and wisdom into our life (as well as miraculous recipes involving second-hand vegetables, government cheese, and grits in bulk).
After my intern year (1986-87), I decided to join Sojourners Community, and in 1990 I inherited from Ginny Earnest the position of director of the internship program. Ginny and Lindsay and Billy McLaughlin were the program's first directors, and they set a wonderful precedent for welcoming new folks with warmth, friendship, and love. They greeted new interns with a spirit of "welcome home" rather than as strangers in a foreign place. Each intern director since then (Bob Hulteen, Susan Masters, Dawn Longenecker, and myself) has tried to follow in their footsteps, changing the dance with each new year.
Despite all of our failings, a year with Sojourners has proven to be an opportunity for the Holy Spirit to strengthen faith, clarify vision, sharpen skills, and deepen love. Interns bring with them rich backgrounds and histories and go from Sojourners taking the good Word into the wide world-to homeless shelters, AIDS ministry in Ethiopia and Colorado, medical clinics in Guatemala, high school and college classrooms, death row, parishes, senior centers, group homes for disabled adults, farming communities, and inner-city ministries. They are pastors, teachers, nurses, midwives, fathers, mothers and grandmothers, godparents, editors, journalists, publishers, artists, nutritionists, therapists, and poets. There is no portrait of the "average" intern, except a willingness to fall headlong into the Spirit and bear the wonderful love that comes to those who take that risk.
We dedicate the first 10 years of this program to Ginny Earnest, who died of cancer in 1993. As 1989 intern Laurie Tomlinson said, "She taught us about living a life of radical honesty and beauty. I miss her."