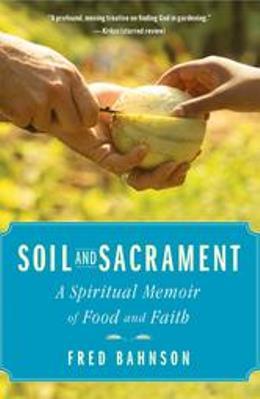 SOIL AND SACRAMENT is Fred Bahnson's story of finding God through sustainable farming. A trained theologian, he learns to best live out his faith with shovel in hand, practicing a method of permanent agricultural design principles called "permaculture."
We follow him through the liturgical year on an agrarian pilgrimage from one faith community to another, digging into the big question of how to best love his neighbor. His answers are uncovered through building relationships and healthier soil, communing with others and his Creator in the field. From jail cell to monastic cell, from a rooftop in Chiapas to his four-season greenhouse, Bahnson finds the intersection of community and solitude between the field rows. Just like the first Adam from the adamah (earth), we learn how to give more to the soil than we take away and to reverently observe the garden as fruitful and multiplying. "Human from humus"—he had me at hugelkultur. (Look it up—it's really cool.)
Bahnson begins his pilgrimage in a Trappist monastery in South Carolina during Advent, joining the brothers in prayer and mushroom-growing practices, entering the dark cold winter silence of vigils and the soil. Bahnson then flashes back to 2001, to Holy Week in Chiapas with a Christian Peacemaker Team accompanying the Mayan Christian pacifist civic group Las Abejas—"The Bees." In Chiapas we sit and eat with Bahnson on Maundy Thursday, corn tortillas and slow-cooked black beans made into holy elements, partaking of an "ancient and unnamed liturgy," eating our way into mystery. Bahson ordains the creatures of the earth as perennial ministers of the soil, notes the transubstantiation of seed and potluck as Eucharist. He writes of beginning to think of growing food as the embodiment of loving his neighbors, the journey of the liturgical calendar through the mystery of soil. The book is a slow dance, a cosmic one-turn around the sun.
I could imagine the ways of the earthy Jewish Jesus from Bahnson's visit to the Isabella Freedman Jewish Retreat Center during the festival of Sukkot. Jewish environmental leader Nigel Savage tells Bahnson the center is "a postmodern Jewish shtetl," a living taproot for faith-based food system justice mandates, prayers, and traditions. Through this book one can see a Jesus who brought healing "from the land into people through the media of soil, water, saliva, bread, fish," a Christ child birthing from farm workers' resistance and the Promised Land.
Bahnson's eco-liturgical journey traverses tens of thousands of years of tillage traditions and 450 million years of soil. True to both his theology and permaculture principles, he is focused on relationships. He beautifully quotes spiritual cultivators and practitioners of permaculture, in a way that flows more like conversations with Thomas Merton, Wendell Berry, Ellen Davis, Eliot Coleman, and Norman Wirzba. Bahnson's story is a field song of avodah, "work as worship," ora et labora ("pray and work"), and the growing of food as "the embodiment of prayer."
Soil and Sacrament is the story of communion with the Divine, the land, and one another—it is loving our neighbors, the truest sense of the Body. This book inspired me to grow healthier soil, seek the margins, and love my neighbors at the intersection of field and sanctuary. "This is my body. This is the work of human hands. Corn grown and soaked in lime and ground into masa, baked on an oil drum lid, broken for you."
Andrea Ferich, a contributor to the new book Bury the Dead: Stories of Death and Dying, Resistance and Discipleship, is founder of Eve's Garden in Camden, N.J., and executive director of the Penns Valley Conservation Association.