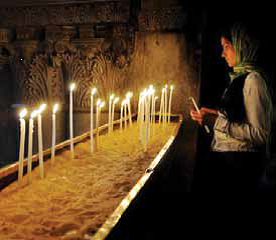 GEORGE MITCHELL, the former U.S. senator who famously brokered peace in Northern Ireland, knows the path to peace is unpredictable. "Until it happens," he said, "you can't predict with certainty. ... You can't take 'no' for an answer. ... You just have to keep at it until peace is achieved."
After five years of stalled Middle East peace talks, Secretary of State John Kerry lured Israeli and Palestinian negotiators back to the peace table in July. Sadly, my desk is littered with articles by naysayers who seem more than willing to "take 'no' for an answer" when it comes to peace in the Holy Land.
Naysayers point to the expansion of Jewish settlements and the political power of Israeli hawks, as well as the divisions in Palestinian society that convince them there is "no true partner for peace." Certainly years of disappointments and failed negotiations offer ample cause for skepticism.
But I agree with Faisal Abbas, who suggests that cynicism is a lazy option we can't afford. "Negotiations may succeed or fail to achieve peace," he writes, "but the alternative (not having these negotiations) is guaranteed to fail."
He is not alone. For every pundit preaching pessimism, I find another betting on hope. "The deal is still workable. It is still politically viable," writes Ben Birnbaum in The New Republic. He notes an increasing willingness to compromise in both Israeli and Palestinian public opinion, Kerry's tenacity, as well as Arab League support for the peace process.
Lara Friedman writes compellingly in The Jewish Journal about another reason to pursue peace: The stakes are simply too high to give up. "The current Kerry-backed peace effort is probably the last, best hope for achieving Israeli-Palestinian peace in this generation." Without it, she predicts, the conflict will play into the hands of extremists on both sides, "with devastating implications for everyone else ... mutual bloodletting." To avoid that, she says, "we must doggedly support the pursuit of peace ... refusing to allow skeptics, cynics, and spoilers to demoralize us or distract us from our goal."
I know Lara. An experienced former U.S. diplomat who loves Israel and cares deeply about Palestinians, she's an expert in policy and international affairs. I don't share her expertise, but I do share her belief that we must doggedly pursue peace. In fact, that's why I got involved in Israel-Palestine five years ago. On an educational trip to the region, I met Israelis who are committed to a secure future for their country but also want freedom for Palestinians. I met Palestinians who long for an end to the Israeli military occupation but adamantly condemn the use of violence. In this column and elsewhere, I've written about numerous Israelis and Palestinians actively working for reconciliation.
Just months ago in Bethlehem, I met with a Jewish organization that takes young American Jews into the Palestinian West Bank so they can better understand the daily reality of Palestinians living under occupation. I just read about a Palestinian college student volunteering with a Jewish organization so she can better understand the Israeli perspective and security concerns.
Too bad we so seldom hear these stories in the news. If all I knew about Israeli-Palestinian peace was the published analyses of the political peace process, I might lean toward the side of the naysayers. But when I see this deeper layer of peacemaking—this critical, grassroots layer—gaining strength day after day among Israelis, Palestinians, and a growing group of American Christians, then I bend toward hope. Ordinary people who are actively pro-Israeli, pro-Palestinian, pro-American, and pro-peace inspire me to work for peace.
To those who are also pro-Jesus, I say: Let's pray. Let's pray diligently for wisdom and humility for Secretary Kerry, Prime Minister Netanyahu, President Abbas, and their negotiating teams. Let's pray that they will be able to stand firmly against the rejectionists among their own people and lead courageously toward peace. Finally, let's pray for the grassroots peacemakers who are building a foundation upon which lasting peace can rest.
Lynne Hybels, co-founder of Willow Creek Community Church in Illinois, is author of Nice Girls Don't Change the World.