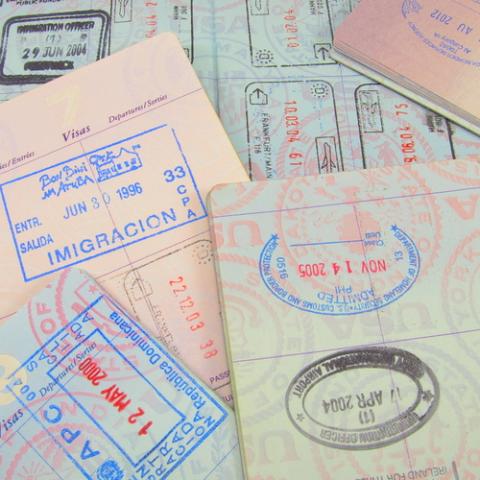 IT WOULD BE strange if any segment of the liturgical year left out the theme of migration. The Bible is riddled from end to end with the journeys of nomads, pilgrims, exiles, returning exiles, and the risky intrusions of strangers across boundaries erected to deter them.
This season's poster child for divinely inspired mobility is the lovely figure of the Moabite "alien" Ruth, who chooses to leave her own country and accompany her beloved Jewish mother-in-law when she returns as a widow to her native Judea. Ruth's story is romantic, even erotic, as she daringly slips into the arms of Boaz during the sexually charged siesta at the threshing floor. But our readings are no mere novelette. Scripture shows how much hinged on her pluck and her allure. Her great-grandson will be David, and her descendant Jesus the Messiah!
"Where would we be without immigrants?" is one of the many questions between the lines of the scriptures. The Bible has lots to say to us about the divine impulse active in migrations, and the opening of the heart to "strangers within our gates"—things guaranteed to alarm defensive nationalists of every stripe.
I remember the deep spiritual emotion that caught us all up in Boston's Faneuil Hall during my naturalization ceremony—Cambodian refugees, Vietnamese grandmothers, Salvadoran families, and all the rest of us. I think of the migration of my own great-grandparents to Russia, and the adventures that have scattered my own family from New Zealand to Mexico. How God revels in mixing us all up!

Martin L. Smith, an Episcopal priest, is an author, preacher, and retreat leader. His newest book is Go in Peace: The Art of Hearing Confessions, with Julia Gatta.

[ NOVEMBER 4 ]
What Kind of 'One'?
Ruth 1:1-18; Deuteronomy 6:1-9; Psalms 119:1-8; Hebrews 9:11-14; Mark 12:28-34
IN OUR READINGS from Deuteronomy and Mark we are summoned, as the new Israel, as followers of Jesus, to hear that "the Lord our God, the Lord is one; you shall love the Lord your God with all your heart, and with all your soul, and with all your mind, and with all your strength" (Deuteronomy 6:4-5; see Mark 12:29-31). In fact, this is something very difficult to hear. We are hard of hearing because familiarity makes it seem trite. But even if we allow ourselves to receive its actual impact, it remains emotionally problematic. The first commandment is utterly uncompromising: Only total love matches the claims of God. God requires all of us, all the time, in every circumstance. Now if God is one reality among others, one being among others, then God becomes automatically the jealous rival of every loyalty we could owe to other beings. That kind of God must divert us away from the others to claim our exclusive devotion. We are doomed to become forever torn between the exclusive claims of God and our other loves and loyalties. How can we love such a One?
The only way through the dilemma is a kind of enlightenment—a discovery that God is one, as the all-inclusive one, undergirding, permeating, and connecting all. God is not a rival of anything, but a secret presence in all things. So the second commandment is a window into one of the implications of the first. Love of neighbor and of self are all possible when we see our neighbors—and our enemies!—and our own selves as vessels of hidden divine presence. We cannot hate anyone or anything in which we sense through faith "the One God and Father of all who is above all and through all and in all" (Ephesians 4:6).
Those who embrace the challenge of social transformation inspired by the gospel need this authentically mystical spirituality that intuits the all-permeating Oneness of God. It is because God is One-in-All that we know we are being most loving as we tackle the most earthy, the most practical, details that make up well-being. We are in love with God as we see to drains and latrines, to schools, to vaccines, to micro-loans, to hospices.

[ NOVEMBER 11 ]
Self-Giving Changes Everything
Ruth 3:1-5, 4:13-17; Psalm 146; Hebrews 9:24-28; Mark 12:38-44
WHENEVER I HEAR the story about Jesus watching the widow put two copper coins into the temple treasury, I have no difficulty putting a face to her. She is completely real to me because, in the weeks immediately following my ordination more than 40 years ago, I came across a woman in my parish whose practice was identical. She was an elderly woman looking after her very old house-bound mother. They were on the rota I'd inherited of those who received communion at home. After communion, she gave me an envelope with their monthly offering, and I accidentally noticed through the cheap paper the actual amount. I was thunderstruck. She could not possibly afford that amount from their meager pensions! This was the beginning of my real training as a priest. So these gospel stories were not merely texts to be studied but pointers to realities going on all the time behind the anonymous fronts of the houses lining my neighborhood! All unawares, this woman started me off reckoning with the difference between people giving of themselves, and people allocating from what they could spare. And the usual sign was that people giving of themselves had very low profiles, while many of those who gave from surplus expected recognition and sometimes entitlement to special influence in the community.
The gospel theme casts light on the argument sustained in the letter to the Hebrews. The author is inviting us to contrast sacrificial rituals with the self-offering of Jesus on the cross. In the temple rituals, performed over and over again, the priests were offering blood, but it was not their own. Christ had nothing to offer except himself. The rituals of the temple were intrinsically excessive; thousands of animals were slaughtered. What was a routine crucifixion in comparison with these costly rituals? A miserable, poverty-stricken nothing—an insult to God, not an offering! But not so. Just one act of real self-giving changes everything.

[ NOVEMBER 18 ]
Access to the Heart of God
1 Samuel 1:4-20; Psalm 16; Hebrews 10:11-25; Mark 13:1-8

IT WOULD BE an interesting experiment to fire people's imagination in response to the letter to the Hebrews. I have never heard anyone attempt to initiate a congregation into this spirituality that pictures God's immediate presence as a sanctuary or temple, and presents the results of Jesus' self-offering on the cross in terms of a breaking down all obstacles in the way of our penetration into the inmost sanctum of God's glory. Through Christ we have immediate access to intimacy with God, and nothing on God's side bars us from approaching "in full assurance of faith" (Hebrews 10:22). It is faithless on our part to pretend that our fallibility disqualifies us. That's just a pretext for avoiding intimacy with God, since through Christ our hearts have "been sprinkled clean from an evil conscience and our bodies washed with pure water" (10:22). Our once-and-for-all baptism undermines the clever rationalizations that justify our holding back from experiencing that intimacy that has been opened up "once for all" (10:10). Sin is a refusal to experience an intimacy we have already been given.
Paradoxically, it is that experience of intimacy with God that releases us to cooperate with God's work of judgment and renewal in the world. In today's gospel, Jesus contradicts his disciple's complacent admiration for the splendors of the temple with a brusque prediction of its total destruction in the near future. The temple was the central bank and the headquarters for taxation as well as a religious sanctuary. God's judgment was to fall not only on the liturgical system but the national financial apparatus. Nothing would be spared, if the people refused the last chance to repent that Jesus had been mandated to offer them. What kind of spirituality will be robust enough to free us to participate fully in God's warning and summons to our own world?

[ November 25 ]
Every Eye Will See Him
2 Samuel 23:1-7; Daniel 7:9-10, 13-14; Revelation 1:4b-8; John 18:33-37
THE LITURGICAL YEAR reaches its climax with a Sunday that in modern times has come to focus on the theme of the kingship of Christ—a theme that is fraught with irony since the sovereignty of the Crucified One is exercised in ways that are totally foreign to the practices of human power-brokers and dictators. In the extract from John of Jesus' trial, Jesus does not claim the compromising title. Instead he says, "You say that I am a king." He claims to wield authority only as witness to the truth. His lordship is one of uncovering and disclosing what the powers-that-be need to conceal in order to subject and exploit men and women. In Greek, the word for truth is aletheia, which signifies un-hiddenness. (The mythic river of forgetfulness, Lethe, derives from the same root.) Truth is an event in which actual reality is allowed to come forth out of hiding. And in the supreme vulnerability of the cross, the reality of God's sublime, suffering, nonviolent love stands out before our eyes, no longer obscured by the smoke-screen of human projection.
The revelation of the cross is not some strange, erratic exception in the history of God but the disclosure of what has always been and will always be true. So in the majestic opening of the subversive tract we call the book of Revelation, it is declared to express the very being of "the one who is and who was and who is to come" (Revelation 1:4). It is the truth spelled out by the entire alphabet of divine meaning, from Alpha to Omega. As such it is ultimately inescapable. Every human being must eventually see the wounded Chosen One "coming with the clouds" to God (verse 7), and see the revelation of divine self-giving proved and vindicated. "All the tribes of the earth" must eventually wail in horror as the veil is torn away, and they realize what suffering human beings have inflicted—through their apathy, violence, and exploitation—on the crucified love of the Creator.

"Preaching the Word," Sojourners' online resource for sermon preparation and Bible study, is available at sojo.net/preaching-the-word.
Image: Passports, cvm / Shutterstock.com