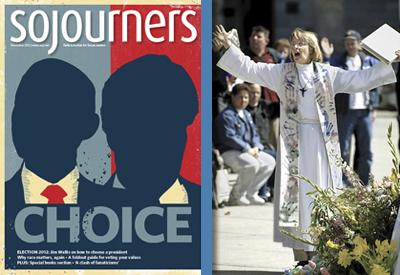 EXIT THE PARK STREET T stop in Boston on a Sunday afternoon. Turn your back on the spire of the historic Park Street Church, and you're apt to see a circle of people—mostly homeless women and men, along with visitors from various walks of life—singing. In the center of the circle is an altar. This is Common Cathedral, an outdoor "street church." Each Sunday at 1 p.m., in sunshine, rain, or snow, people gather, 50 to 100 strong, next to Brewer Fountain on Boston Common. There, they witness love in a church without walls.
Since the church's founder, Episcopal priest Deborah Little, first celebrated and shared Communion with a handful of "unhoused" men and women on the Common on Easter 1996, thousands have stood in that circle: sisters and brothers from the streets, visiting guests from suburban churches, seminarians, curious tourists, and others. From the passion and calling of one woman of faith who wanted to do church differently, Common Cathedral and the larger organization to which it belongs, Ecclesia Ministries, have grown to an international movement. Ecclesia has helped inspire more than 200 street ministries with outdoor congregations all around the U.S. and as far as Brazil, Australia, and England.
The fact that most people haven't heard of Common Cathedral, Ecclesia Ministries, or Deborah Little may be a sign of bad marketing—or one of the great gifts of this movement and its founder.
It all started with one woman having the courage to say "yes" to the call God had for her life. Two decades ago, as Little recalled in a sermon she preached in 2010 in Brazil, "the living bread appeared to me as a homeless woman. She was sitting on the steps of my apartment building. In an instant, I knew I was to make my home with her and others who lived on the street." It took Little around six years to answer that call, but finally she quit her job as the director of communications for Harvard Law School, went to seminary, and got ordained. "I did this so that I could take the church outdoors to people who cannot or are not welcome to come inside—the gifts of the church for people outside its walls," she recounted. "Jesus said if you want to grow in love, if you want to meet me, go care and be with the poor."
When I first visited Common Cathedral more than a decade ago, I remember thinking that Little was not who I'd imagined she would be. I'd thought that the pastor of a street church would look a bit more street savvy, a little tougher. Instead, I saw a kind-looking woman of medium height with dirty blond hair. Her glasses round out a face that reveals both sincerity and simplicity.
She differed from my expectations in other ways. I was expecting John the Baptist: a fringy, loud figure, warm but a little scary, calling out the institutions in our society that are causing and sustaining homelessness. Instead, there stood Debbie the Episcopalian, with a middle-class, "don't make a scene" manner. But she, Common Cathedral, and the many other street churches that have emerged over the last several years have indeed made a scene—a deeply liberating one.

IT IS A subversively prophetic act to set up an altar in the midst of a circle of homeless people, surrounded by a city's churches and business offices. In the worship service Common Cathedral holds, there are also two intentional practices that have been, from my first visit years ago, especially powerful to me. The first is the time of testimony provided for anyone who wishes to share how God has worked in his or her life. Like other homeless men and women in our society, the church's members have too often been silenced and left without a voice, as when, for example, panhandlers who ask for spare change see person after person walk by, not even acknowledging their humanity. To allow congregants, particularly these ones, to speak offers a lesson for many of us who worship within walls.
The second powerful worship practice is the serving of Communion. The first time I took Communion at Common Cathedral, it was from Little's hand; she went around the circle giving each person a piece of bread. As I stood with my hands opened upwards, I was aware that I was in the same posture that many panhandlers use as they ask for help in getting something to eat. Looking at the man next to me, I thought of German reformer Martin Luther's last written words, "Wir sind bettler. Hoc est verum," which means, "We are beggars: This is true."
Though there is much about Common Cathedral and other street churches that might be described as prophetic, they are not simply demonstrations, acts meant to send a message. They are churches, loving and growing as communities. In more ways than may be apparent, they are similar to their suburban counterparts as, together, their members celebrate the joys of life and grieve the tragedies, welcome new members, and bury old friends.
Over time Common Cathedral has grown from just a weekly service to a broad-reaching ministry with Bible studies, an arts program, a film screening program, legal and medical counsel, a hospital visitation program, and more. Hundreds of women and men on the streets of Boston, and thousands more around the world, wear on their necks the distinctive bronze crosses Ecclesia gives to people who share its vision of faith community. The crosses—designed by sculptor and Ecclesia Boston supporter Rev. Liz Hall—are strung on shoelaces and never sold, but always given with a blessing.
Over the last several years, Ecclesia has transitioned from a small ministry serving the unhoused living in downtown Boston to an international movement bringing the love of God and the practice of the church out into the streets. Ministers from a broad range of denominations, from cities around the U.S. and the world—from Asheville, N.C., to Columbus, Ohio, to cities such as Boston, Philadelphia, San Francisco, Atlanta, Rio, London, and dozens of others—have been inspired by the church in Boston Common to discern their own calls into street ministry. Potential and current street ministers visit Ecclesia's "Come and See" training weekends, engage and encourage one another on its Street Church email list, and hold each other in prayer.

A FEW YEARS ago, Little decided that it was time for her to resign from being the leader of Ecclesia and minister of Common Cathedral. The ministry is now headed by Rev. Kathleen McAdams. Little is now the missioner of Ecclesia Ministries, its primary mentor of ministers interested in launching a street church in their own cities. She and the team at Ecclesia mentor, affirm, and support new street ministers as they attempt to be faithful to their own callings.
"As soon as I figured out how to do this, I knew it was time to give it away," she told me when we talked last summer. Holding things lightly and giving things away as you go along has been one of the marks of her ministry. It's a lesson that she shares with potential street ministers: The best things are meant to be shared, not used as a means to power, wealth, or influence. Instead of hoarding power, she has chosen love. Love is not held captive by ambition. Love is free. Love is, perhaps, homeless.
If you are in any of the cities that have Ecclesia affiliates on a Sunday afternoon, go and see for yourself. See what a street church looks like. Maybe you too will meet Jesus in the poor, as Little and street ministers nationwide have. And maybe, as you grow in love, you too will learn to give it all away.

Charles L. Howard is chaplain at the University of Pennsylvania. He is editor of The Souls of Poor Folk, an essay collection and multimedia project raising awareness about poverty, and the author of The Awe and the Awful, a collection of poetry.