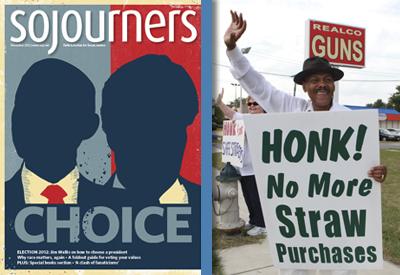 ON A WARM evening this June, a group of faith-based activists stood outside Realco Guns Inc. in the Washington, D.C. suburb of District Heights, Md., with signs asking drivers to honk in favor of ending gun violence. Almost every driver passing through rush-hour traffic obliged. Supporters, many waving and cheering from open windows, varied in age, race, and car model. Protesters estimated they heard 350 honks that day, more than twice that of their first protest exactly a year before.
"One out of every eight guns that Realco has sold has ended up in crime," protest organizer Rev. James E. Atwood told Sojourners. He and his team are part of Heeding God's Call, an ecumenical movement raising awareness about gun violence in the United States.
Atwood was citing a 2010 investigative report by The Washington Post. The report, which drew on state databases and local police evidence logs, showed that during the 18 years prior, police recovered more than 2,500 Realco guns, including weapons linked to 86 deaths and 300 non-fatal shootings, assaults, and robberies in the Washington, D.C. area. Many of the guns involved were purchased by so-called "straw buyers" and then passed to third parties—often people who, due to criminal records or history of mental illness, were barred by law from buying firearms.
One reason the Post report is valuable is that, since 2003, the federal Bureau of Alcohol, Tobacco, Firearms, and Explosives (ATF) has been prohibited by Congress from sharing similar information from its firearms trace database (except with authorities working on specific crime cases). Before the data blackout, a 2000 report indicated that a handful of U.S. gun retailers—1.2 percent of around 83,000 registered businesses—had ties to nearly 60 percent of the crime guns police traced to an active dealer.
That's where Heeding God's Call comes in. The three-year-old movement has been spreading across the Eastern Seaboard—where illegal gun running is rampant—and is starting a new campaign in the Southwest along the U.S.-Mexico border. The organization's main mission is to raise awareness about gun violence and convince gun shop owners to sign a 10-point code of conduct, called the Responsible Firearms Retailer Partnership, aimed at preventing sales to straw buyers and other problematic activity.
The code, created by the Mayors Against Illegal Guns coalition, asks retailers to take measures such as videotaping the point of sale of all firearms transactions, implementing employee-responsibility training programs, and participating in a computerized gun-trace log-and-alert system so that the store can refuse to sell guns to buyers whose purchases repeatedly wind up in police custody.
In April 2008, Wal-Mart, the nation's largest gun retailer, was the first to sign the code of conduct. Other gun sellers, including Realco, have refused, and the National Rifle Association has not endorsed it. Neither responded to Sojourners' requests for comment.
If implemented, the code might not have prevented mass shootings, such as occurred this year in Colorado and Wisconsin. But for some Americans of faith, it's a safe place to start a broader dialogue about the nation's current gun laws, the screening process for buying a gun, and what circumstances might justify owning one.

"WE ARE NOT opposed to all guns; we are opposed to illegal guns," said Atwood as he stood outside Realco in June. "We are not opposed to the Second Amendment; we are opposed to the violence that is caused when violent people, felons, domestic abusers, terrorists, people who are adjudicated or mentally ill get their hands on guns."
In fact, some of Heeding God's Call members are gun owners themselves. Atwood, an avid hunter, is one of them. However, he became acutely aware of gun violence after living as a missionary in Japan during the 1970s, where he noticed that, due to strict gun laws, gun-related deaths were practically unheard of. Back in the United States, gun violence was claiming tens of thousands of lives each year. After a member of his congregation was shot in a botched mugging by a teenager with an illegal gun, Atwood started organizing against gun violence.
For Cherie Ryans of Philadelphia, participation in Heeding God's Call is even more personal: Her 18-year-old son, Terence Ryans, was a gun-violence victim. In summer 1990, after Terence and his best friend, Darren Norwood, agreed to give two acquaintances a ride home, a group of armed men surrounded them and opened fire. The shooters were looking for the ride seekers, but their bullets killed Ryans and Norwood instead. Philadelphia police spokesperson Jillian Russell told Sojourners that, although the gun used (believed to be a TEC-9 assault weapon) was never recovered, it was likely illegally owned, given the circumstances of the shooting.
Terence Ryans was a student at Cheyney University, interested in criminal justice. His mother, who believes he would have been working to prevent gun violence if he had survived, recounts his story at Heeding God's Call vigils and also lobbies for safer gun laws in Pennsylvania and on Capitol Hill.
She expects this year's mass shootings in suburban settings may prompt her audiences to pay closer attention. She tells them: "Don't think that, because you live in this neighborhood, this won't happen to your son or daughter. My rights were violated because somebody else had a right to not use common sense, and the people who had the common sense to prevent that didn't use it."
By "somebody," she doesn't just mean the shooter: She means the gun shop retailers, politicians, and members of the public who aren't actively pushing for a safer society.

HEEDING GOD'S CALL was inaugurated at a January 2009 gathering hosted by Philadelphia's historic peacemaking churches—Mennonite, Quaker, and Church of the Brethren—looking for a domestic peace campaign that would unite a broad cross-section of American congregations. Opposing gun violence was an obvious cause.
"It's a real problem that confronts all of us," said founding member Rev. J. Fred Kauffman, the Philadelphia program coordinator for the Mennonite Central Committee.
The same month as the gathering, a group of religious activists, headed by Kauffman, held a vigil outside Colosimo's Gun Center in Philadelphia. In a 2006 report by the Brady Center to Prevent Gun Violence, Colosimo's was ranked among the U.S.'s top five gun stores linked to crime scenes. Protesters asked the owner to sign the code of conduct; several walked into the store to make their petition. When store clerks asked them to leave, they stayed and began praying. Their move resulted in several arrests.
"In the holding cells it was amazing to me that the guards were so supportive," said Kauffman. "It was really an affirmation that this was a cause worth fighting for."
The action helped fuel an already ongoing federal investigation into Colosimo's, which ultimately led to its closing. That inspired other East Coast congregations to take similar actions under the Heeding God's Call banner. The group now has the grassroots participation of some 100 U.S. congregations, encompassing not just the historic peace churches but also Pentecostals, Catholics, mainline Protestants, Jews, and Muslims.
Though the gun shop code of conduct might not have prevented this year's mass shootings, the movement has not remained silent on them. On August 6, a day after the shooting that killed seven, including the gunman, at a Sikh gurdwara in Wisconsin, Heeding God's Call leaders responded with a press release asking the public to think about how to move beyond prayer and into direct activism.
"Americans believe that houses of worship should be places of safety and refuge ... But as long as we allow people intent on mayhem to gain guns with ease, often illegally, houses of worship will be as dangerous as many neighborhoods and communities are now in our country," Rev. Belita Mitchell stated in the press release.
Mitchell knows all about dangerous neighborhoods. She is a pastor at First Church of the Brethren and a local Heeding God's Call coordinator in Harrisburg, Pa., which has an annual violent crime rate of 16 per 1,000 inhabitants, among the highest in the nation.
She leads prayer vigils at local murder sites, inviting victims' loved ones to speak. "When you come face to face with the families of victims, it really does put a more personal skew on it," she said.
She feels this public witness is especially important in a community where many of the victims are young men of color between the ages of 17 and 35. Without such testimony, the American public can easily chalk them up as nameless inner-city statistics.

IN DECEMBER 2010, a group of 75 ministers and lay people associated with Heeding God's Call gathered at Clyde's Sport Shop near Baltimore, another store with major ties to straw purchases and crime scenes. Protesters prayed and sang hymns in between speeches by parents who have lost children to illegal guns.
Their solemn vigil met unprecedented resistance. Across the street, a group of counterprotesters rolled in an armored tank, set up a hot dog stand, and began singing "God Bless America." "It was a very interesting juxtaposition," said Deb Milcarek, a reconciliation associate for the Presbytery of Baltimore.
That kind of pushback is the reason Heeding God's Call maintains a much narrower grassroots mission than groups such as Faiths United to Prevent Gun Violence and the Brady Campaign to Prevent Gun Violence, which lobby to enact stricter gun laws.
"A significant portion of the faith community in the United States is concerned about gun violence but doesn't know what to do about it," said Bryan Miller, the executive director of Heeding God's Call. Miller's brother, an FBI agent, was killed in 1994 by a gunman on a rampage in a Washington, D.C. police station.
Miller said people can agree on the proposals offered by Heeding God's Call. "We focus on gun shops and murder site witnesses. We're determined not to dilute our effort," he said.
Milcarek, of the Presbytery of Baltimore, couldn't agree more.
"If you're addressing legislation, you're up against the National Rifle Association, the most powerful lobby in the country," she said. "Heeding God's Call was one handle we could grab on to and get congregations involved. This is about addressing retailers to not sell guns to bad guys."
Faiths United to Prevent Gun Violence national coordinator Vincent DeMarco has watched many Heeding God's Call members start with witnessing and vigils and move into lobbying as they figure out which gun- law issues they feel comfortable addressing. "Everyone has got their role," he said. "It's a seamless web of faith advocacy."
Retired ATF officer and Heeding God's Call consultant Joe Vince is not convinced the code of conduct is effective enough in and of itself. However, he does believe it's a tool for helping the American public see that federal gun laws have been virtually gutted in recent years. "They're really insufficient," he said.
Currently, registered gun shop owners are required to conduct background checks with the FBI and wait three days for an answer. If the FBI cannot find evidence to prevent the sale in that time period, then the purchaser is considered in good standing. Vince said this leaves little time for thorough research, especially if those three days overlap a weekend. That is just one of the red flags he sees with the current system. Another is that anyone can buy or sell a gun at a trade show without going through a background check.
Heeding God's Call leaders don't claim to have all the answers, but they say there's never been a better time for Americans of faith to join a dialogue to seek solutions. As Bryan Miller put it, "We hope that this is a spark. It's a call. It's in our name."

Julienne Gage is a Washington, D.C.-based freelance journalist and producer.