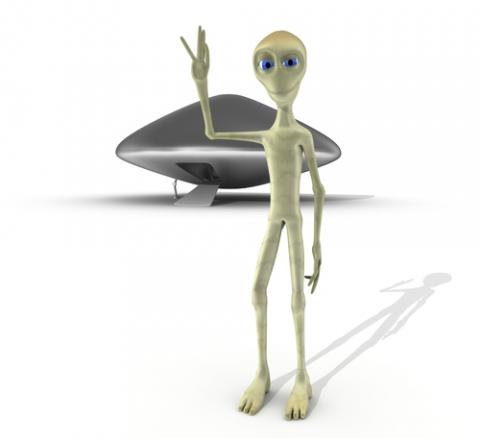 THE SKIES LOOK different to me these days. The soft and tranquil clouds of my youth that often reminded me of cute Disney characters—a misty Dumbo drifting languidly overhead—have mostly been replaced by dark and threatening formations, more reminiscent of Disney's lesser-known films, such as Godzilla vs. The Little Mermaid: This Time It's Personal. More specific, the violently roiling skies of late are like a scene from Steven Spielberg's War of the Worlds, where intense storm clouds heralded an alien invasion.
Which is why I always carry a prepared speech of surrender in my backpack, in case I need to immediately declare loyalty to a superior race. Although, so far, the alien presence has been pretty unimpressive, consisting mainly of crude, humanoid Kardashians attempting to assimilate quietly. One hopes that when the next prototypes arrive, they will better conceal the vaguely reptilian features of their planet's indigenous life forms. Not to mention vice presidential hopeful "Paul Ryan," whose hairline displays the telltale widow's peak once thought to be a unique facial characteristic of earthly vampires, until NASA rovers spotted it on a rock on Mars. (Mars reportedly privatized its health care for seniors decades ago, and just look at the place now: not an elderly person in sight.)

BUT WHAT WAS I talking about? Oh yes, the weather. The typical forecast this summer included phrases such as "hurricane-force winds," "damaging hail," and "start hoarding toilet paper." Of the four mature trees in our yard, only one remains, having survived repeated gale-force winds through pluck and attitude, although having a trunk the circumference of a grain silo probably helped. (I could never get my arms around it for a hug, back when I used to do that sort of thing.)
This new meteorological normal reflects the changes occurring in the environment, you know, that thing that some believe is naturally affected by the natural cyclical changes of nature, naturally. So, if you follow the logic, melting ice shelves will eventually re-freeze, probably in a few weeks, in time for another white Christmas in Greenland. (Although, with "green" in their name, why wouldn't they welcome the loss of a couple glaciers? You can't grow a good lawn on those things anyway.)
More astute and thoughtful observers, however, blame the recent weather on lack of prayer in schools, forced immunizations, and homosexuals. To those who don't see a connection, I simply remind you that when a butterfly flaps its wings on one side of the world, another small Pennsylvania town reaps the benefits of natural gas exploration. And if the water tastes funny, well, then, that's just a bonus.
Were I a lesser man—not known for an almost Christ-like love of my fellow citizens—I might note that the extreme droughts, violent tornadoes, and an epidemic of virus-carrying mosquitoes are mostly plaguing politically conservative states. These states have been represented by politicians who don't believe in climate change—or, for that matter, evolution, regular check-ups, or most of what Jesus said in the New Testament. (They've searched in vain for Jesus' guiding words in the Old Testament, but finding none, they're going with Lamentations.)
On the other hand, these same politicians do believe strongly in American exceptionalism, although it turns out that means America makes a lot of exceptions, like to voters who don't have photo IDs. Who knew?
Be that as it may, I have always taken great strength from a message I once saw on a bumper sticker: "Take care of creation and creation will take care of you." Admittedly, it was on the bumper of a large, gas-guzzling SUV, but you have to have a big bumper for a message like that, on account of all the words.

Ed Spivey Jr. is art director of Sojourners.
Image: Alien and UFO, santi_madrid / Shutterstock.com