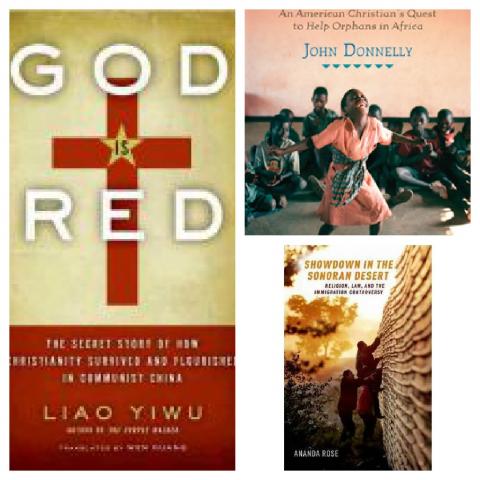 EVEN IN AN age of ever-faster news cycles and shorter word counts, some journalists still find ways to dig deep into research and reporting to bring history to life and lift up voices that might otherwise be unheard. Here is an eclectic mix of nonfiction works on issues and people that matter.

Can those who commit violent crimes ever truly be rehabilitated? What happens to them once they're out of prison? In Life After Murder: Five Men in Search of Redemption (PublicAffairs, 2012), Nancy Mullane follows her subjects from prison to welcome-home parties and beyond. While never minimizing the crimes her subjects have committed, she portrays their full, complicated humanity. Moving insights about the ongoing spiritual, emotional, and practical work of accepting responsibility for great wrongs and rebuilding a life after prison are framed by reporting on the convoluted, expensive prison and parole policies of California.

You might not expect gripping drama from a writer specializing in U.S. Supreme Court history, but that's what Gilbert King's Devil in the Grove: Thurgood Marshall, the Groveland Boys, and the Dawn of a New America (Harper, 2012) delivers. Long before he became a Supreme Court Justice, Thurgood Marshall was an NAACP lawyer who risked his life travelling to the Jim Crow South to defend African Americans accused of capital crimes. Devil in the Grove describes his efforts to save a black citrus picker from the electric chair in a Florida county where the Klan and law enforcement were brutally intertwined—and brings alive an era of domestic terrorism against people of color in the not-distant-enough past.

In an effort to better understand those affected by the U.S. immigration crisis, poet and journalist Ananda Rose traveled to the Arizona-Mexico border and interviewed migrants, religious activists, humanitarians, vigilantes, Border Patrol agents, ranchers, and many others. She relates these diverse stories, analyzing the ideological and religious undercurrents they reveal, in Showdown in the Sonoran Desert: Religion, Law, and the Immigration Controversy (Oxford University Press, 2012). While Rose's beginning and ending point alludes to sympathy for those who argue for compassion for immigrants, the range of perspectives included helps the reader understand the passions on all sides.

The author of God is Red: The Secret Story of How Christianity Survived and Flourished in Communist China (HarperOne, 2012), Liao Yiwu, is not himself a believer. A dissident who was once imprisoned for four years for writing a poem about the Tiananmen Square protests, Liao became fascinated by the passion and optimism of Christians as he was researching a project on people who live in the margins in China. These 18 loosely linked essays and interviews give moving glimpses into the lives of a few of the estimated 70 million Chinese Christians, including examples of profound courage under ongoing persecution. God is Red, translated by Wenguang Huang, has just been released in paperback.

Why do some people, when plunged into a morally compromising situation, refuse to do what they think is wrong, even at risk of reputation, career, or their lives? In Beautiful Souls: Saying No, Breaking Ranks, and Heeding the Voice of Conscience in Dark Times (FSG, 2012), author Eyal Press explores the psychology of resistance through the stories of four very different people: A Swiss police captain who in 1938 defied orders and let Jewish border-crossers stay in Switzerland; a Serb in Vukovar in 1991 who saved the lives of numerous Croats; an elite Israeli soldier who refused to serve in the Occupied Territories; and a financial-industry whistle-blower.

Over the past decade, thousands of Western Christians, possessing faith and vision but not necessarily practical knowledge or humility, have gone to Africa to start or work at ministries in response to the AIDS epidemic. In A Twist of Faith: An American Christian's Quest to Help Orphans in Africa (Beacon Press, 2012), John Donnelly explores this broader phenomenon through the experience of one "do-gooder," David Nixon, a devout carpenter from North Carolina who seeks to help orphans in Malawi. An informative look at the mixed effects of good intentions abroad, and a moving story of a sincere Christian learning hard lessons about how to best serve across cultural divides.

Deb Richardson-Moore's first career was in journalism. She puts those writing skills to fine use in The Weight of Mercy: A Novice Pastor on the City Streets (Monarch Books, 2012), a memoir of the first few years of her second vocation. Richardson-Moore was just a notch shy of 51 and from the comfortable side of town when she preached her first sermon as pastor of the Triune Mercy Center, a church that ministers to people who are homeless in Greenville, South Carolina. She describes well the heartbreak, frustration, and occasional triumph specific to accompanying those struggling with addiction; the growth of an unorthodox, mixed-class congregation; and her own doubts and fears along the way.

Two books first published in hardcover last year and recently released in paperback look at matters of faith, conscience, and nonviolence during World War I. Journalist Louisa Thomas writes about her great-grandfather, Norman Thomas, a Presbyterian minister and pacifist when the war began, in Conscience: Two Soldiers, Two Pacifists, One Family—A Test of Will and Faith in World War I (Penguin Books, 2012). The book is an interesting account of the inner turmoil of a family wrestling with diverging convictions and the outer turmoil of a country undergoing profound societal changes in the midst of war.
In To End All Wars: A Story of Loyalty and Rebellion, 1914-1918 (Mariner Books, 2012), Adam Hochschild details the robust struggle in Great Britain between those who thought the war was righteous and necessary and those who thought it was evil and foolhardy—the latter included 20,000 conscientious objectors, more than 6,000 of whom were jailed for refusing alternative service. An informative history of those at all levels of society who, for reasons moral, religious, and practical, resisted the march to a war that proved to be a global cataclysm.

Julie Polter is an associate editor of Sojourners.