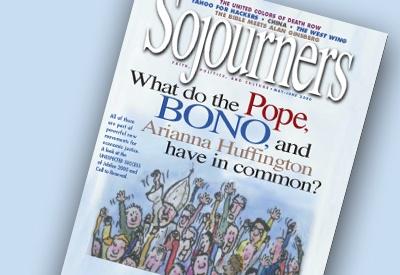 You'd have to go back a long way to find this much church unity—maybe not to the first Pentecost, but a long way, to be sure. Churches in this country, it seems, have been known more for what has divided them than for what brings them together.
But there's evidence that's changing. Christian leaders representing 60 Catholic, evangelical, mainline Protestant, and African-American churches—along with major church-based organizations—gathered on the East steps of the U.S. Capitol in February around a commitment and promise: ending poverty in America.
With the launch of Call to Renewal's Covenant and Campaign to Overcome Poverty, American church leaders are saying that poverty is no longer a bipartisan political tool but a top-priority nonpartisan issue. "The story today is very simple," observed Sojourners editor Jim Wallis, convener of Call to Renewal. "In a time of record prosperity, the poor are being left behind, but the churches are being drawn together. Today we are launching a Covenant that can change our lives and a Campaign that can change this country."
The Covenant begins with a confession: "The persistence of widespread poverty in our midst is morally unacceptable. Just as some of our religious forebears decided to no longer accept slavery or segregation, we decide to no longer accept poverty and its disproportionate impact on people of color."
Joining Wallis on the Capitol steps were John Carr, representing the U.S. Catholic Conference; Rich Cizik, of the National Association of Evangelicals; syndicated columnist Arianna Huffington; Rev. Wallace Charles Smith, representing the Progressive National Baptist Convention; Rev. Bob Edgar, general secretary of the National Council of Churches; Sharon Daly, representing Catholic Charities USA; Mark Publow, of World Vision; and David Beckmann, president of Bread for the World.
The Covenant launch at the Capitol comes after five years of Call to Renewal's work to bring Christian leaders together on the issue of overcoming poverty. In December 1995, 55 religious leaders were arrested while praying in the Capitol rotunda during the votes on welfare reform. They called on Congress to view the budget as a "moral document" and to make just legislation for America's poor. This signaled a new Christian voice in the media landscape—an alternative to what some considered the "uncompassionate conservative" message of the Christian Coalition.
In 1997 Call to Renewal convened a "Christian roundtable" to build trust among churches and organizations that had not historically worked together—such as the National Council of Churches and the Family Research Council. Church leaders met, shared their views on practices and policies, and prayed together. While they were aware of differences in other areas, a common conviction emerged around the church's special obligation to those in poverty.
Call to Renewal has continued to invigorate the work of grassroots organizations in working with the poor and to put poverty on the agenda of some organizations missing it before. For example, the Christian Legal Society—a conservative evangelical legal aid agency—after working with Call to Renewal now provides pro bono legal service for poor people and has developed a training manual for its attorneys.
All of Call to Renewal's previous work has set the stage for the February launch of the Covenant document that begins, "We are Christians from diverse theological and political backgrounds who have come together around the biblical imperative to overcome poverty. Our faith calls us to care for the widow and orphan, to welcome the stranger, and to act in justice and compassion for those Jesus called 'the least of these' who are members of my family."
Signers pledge to mobilize and focus the moral energy of their own faith communities and organizations to lead a movement to overcome poverty. They will promote goals that a good society should achieve and that every sector of society can work to accomplish:
a living family income for all who responsibly work
affordable, quality health care for all, regardless of income
schools that work for all our children
safe, affordable housing
safe and secure neighborhoods
family-friendly policies and programs in every sector of society
full participation by people of all races
The Covenant states, "Each of these goals is a moral priority for us. How we achieve them should be a subject of a new dialogue among every sector of society. We are not committed to any particular ideological method or partisan agenda to achieve these goals, only that they be achieved."
BUT CALL TO RENEWAL recognizes that while churches must do their part, they can not do it alone. The Covenant also calls for a movement that is interfaith and includes active engagement from all sectors of society—government, business, labor, the nonprofit sector, and philanthropy. It is through these crossover creative partnerships that a comprehensive vision, concrete actions, and effective policies can be put in place.
The February 16 rally followed Call to Renewal's fourth annual national summit (see "Poor No More," p. 46), at which more than 500 people from churches and faith-based organizations around the country gathered to strategize how to take the churches' work on poverty to a new level—in particular, how the lessons learned on the ground can be translated into policy initiatives.
One specific priority is to hold local and national political candidates accountable for finding solutions to poverty. At all levels, CTR believes, candidates for public office should be questioned and challenged on their commitment to economic justice.
As Rev. Bob Edgar said at the Capitol, "In this unfolding conundrum of life and history, there is such a thing as being too late. However, it is not too late for people of a broad spectrum to say we want no child in the United States to go to bed hungry. No child to live in poverty. No child to be part of a family whose parents, working hard, are not making a living wage. Let's help people out of poverty, let's focus on children, and let's covenant together to work aggressively to make sure that this year, at this time, it's not too late to be about this Covenant." In a society where the economic news is dominated by stories of record prosperity and rising inequality, overcoming poverty is a fundamental moral and religious issue.
DUANE SHANK is executive assistant and director of outreach at Sojourners.
An Army of Faith
With this Covenant we hope those front-line troops who are already working with the poor will be reinforced through the awareness of other churches who aren't, frankly, engaged today. We hope that those front-line ministries and churches already working in neighborhoods around our country can be reinforced, so that we have an army of people of faith committed to their biblical responsibility to serve the poor. —Mark Publow, World Vision
A Nickel Per Day
We know from census data that 31 million Americans are in households that struggle to put food on the table. We know that it's possible to cut hunger in half for about a nickel per day per American. We're not asking for the moon when we ask to cut hunger in half, or when we ask to overcome poverty. —David Beckmann, Bread for the World
The Only Litmus Test
This is the only true litmus test of public morality—where do you stand on the issue of poverty? There are many litmus tests of private morality, but politics is not about private morality. Stop asking politicians whom they're sleeping with and start asking what are they doing for the poor. Make it inconceivable for a presidential debate to go on for an hour and a half without mentioning the greatest crisis facing this country. This truly has to be a new beginning for the coverage of politics, and the coverage of what matters to this country—otherwise we will truly become two nations. —Arianna Huffington, columnist
A Winnable War
For evangelicals, there is no way that we can say we are committed to the authoritative Word of God, inspired scriptures, unless we are committed to the cause of the poor. As a conservative, I heard Ronald Reagan in 1983 give the "evil empire" speech to our National Association of Evangelicals. Today I would say there is a war to be fought in our own country that is winnable and that we evangelicals have to join. —Rich Cizik, National Association of Evangelicals
Find the Cost of Freedom
Freedom is never free—there is a price tag to liberation. It's not something that began with the sacrifices of Dr. King. It began when Moses said to an oppressive pharaoh, "Let my people go." The price tag of liberation for the children of Israel was the hot pursuit of a bloodthirsty pharaoh, but rather than yield to the violence of the Egyptian slaveocracy, they chose instead the freedom that only God could provide. We have gathered here today to say that our voices will not remain silent. And if freedom costs, we're going to pay the price! —Rev. Wallace Charles Smith, Progressive National Baptist Convention
What's New
What is new about this Covenant is not just who makes it, but what it says. It's not ideological; it's not partisan. We have pledged here to look at all legislation and all proposals by two criteria. First, what would this do to the common good, recognizing that the common good depends on uplifting the poorest people among us. Second, what will this do to the poor, and how will the poor participate better in our society because of those proposals? —Sharon Daly , Catholic Charities USA
Leaders who have affirmed the Covenant and Campaign include: Gordon Aeschliman, Target Earth; Tom Allio, Diocese of Cleveland; David Beckmann, Bread for the World; Rebecca Blank, University of Michigan; Paul Bollwahn, Salvation Army; Peter Borgdorff, Christian Reformed Church; Jeffrey Brown, Ten Point Coalition; Daryl Byler, Mennonite Central Committee; Bart Campolo, Mission Year; Tony Campolo, Eastern College; John Carr, U.S. Catholic Conference; Rich Cizik, National Association of Evangelicals; Sharon Daly, Catholic Charities USA; Vin DeCola, Jesuit Volunteers International; Yvonne Delk, Harvard Fellow; John DiIulio, Manhattan Institute; Kathy Dudley, Dallas Leadership Foundation; Marian Wright Edelman, Children's Defense Fund; Bob Edgar, National Council of Churches; James Forbes, Riverside Church; Leah Gaskin Fitchue, Interdenominational Theological Center; Lee Freshour, Assemblies of God; Millard Fuller, Habitat for Humanity International; Welton Gaddy, National Interfaith Alliance; Marshall Ganz, Harvard University; Wayne Gordon, Christian Community Development Association; Wes Granberg-Michaelson, Reformed Church in America; Frank Griswold, The Episcopal Church; Cornell Haan, Mission America; Richard Hamm, Christian Church (Disciples of Christ); Steve Hayner, InterVarsity Christian Fellowship; Arianna Huffington, columnist; Bud Ipema, Council of Leadership Foundations; Dennis Jacobsen, Gamaliel National Clergy Caucus; Ted Keating, Catholic Conference of Major Superiors of Men; Clifton Kirkpatrick, Presbyterian Church (USA); Skip Long, National Jobs Partnership; Michael Mata, Claremont School of Theology; George McKinney, Church of God in Christ; Grant McMurray, Reorganized Church of Jesus Christ of Latter Day Saints; Calvin Morris, Community Renewal Society; Mary Nelson, Bethel New Life; Ron Nikkel, Prison Fellowship International; Glenn Palmberg, Evangelical Covenant Church; Tom Pelton, March for Jesus; Wendell Primus, Center on Budget and Policy Priorities; Laurence Ressler, National Association of Christians in Social Work; Eugene F. Rivers, National Ten-Point Leadership Foundation; John Robb, Christian Legal Society; Ron Sider, Evangelicals for Social Action; James Skillen, Center for Public Justice; Wallace Smith, Shiloh Baptist Church; Richard Stearns, World Vision; Melvin Talbert, United Methodist Church; Ronald Thiemann, Harvard Divinity School; Harold Dean Trulear, Public/Private Ventures; Jim Wallis, Sojourners; Daniel Weiss, American Baptist Churches; Diana Jones Wilson, The Rural Center. Organizations listed for identification only. To join, contact Call to Renewal at 1-800-523-2773 or www.calltorenewal.com.