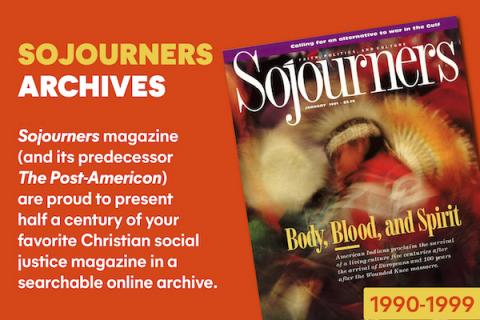 Differences around moral issues in the life of the church have always posed a threat to its practice of mission and to the unity intended by God in the body of Christ. Currently, the most severe threat is presented by differences over the church's response to homosexual persons.
No issue today has as much potential to spawn divisiveness, mistrust, gossip, suspicion, and conflict as this one. No issue has more capacity to confuse our focus, drain our energy, injure our fellowship, and divert our mission as this one. No issue can so easily demoralize our meetings, paralyze our process, fuel our anxiety, and cripple our confidence as this one.
This is exactly what has happened in several denominations and church bodies. But it need not be so. And for the sake of our common calling in Christ, it must not be so. The church's focus, convictions, passion, and commitments must be persistently centered on mission—on God's mission in this world. That must remain in the forefront of all the church's deliberation and the focus of its energy and effort. This, I believe, is what the vast majority of Christians, across theological and denominational lines, would desire.
Unfortunately, the polarized politics and practices of the culture in which we live often have co-opted the church. We fall victim to those who manipulate "wedge issues" for political advantage. Small numbers with shrill voices on both extremes of this question come to dominate debate and control the agenda. The civil sentiments of the broad majority are subverted. As a result, church bodies merely mirror society's politics in their debate of questions of homosexuality. The question is whether the church can become countercultural in its style and method.
Like most other denominations, the one I serve, the Reformed Church in America, has thoroughly addressed the question of homosexuality in the work of our governing bodies. For us, the matter was first raised in 1974. Discussion led to a major paper, "Homosexuality: A Theological and Biblical Appraisal," received by our General Synod in 1978. This was followed by "Christian Pastoral Care for the Homosexual" in 1979. In 1990 the General Synod approved a statement summarizing the positions of the 1978 and 1979 papers: "To adopt as the position of the Reformed Church in America that the practicing homosexual lifestyle is contrary to scripture, while at the same time encouraging love and sensitivity towards such persons as fellow human beings."
In 1994, the General Synod, pushed to take a decisive—and what would have been a deeply divisive—vote on this issue, chose another course. It instead repented for its insensitivity to this entire matter, expressing its "desire to reflect the love of Christ to homosexual persons." It further called for "a process of repentance, prayer, learning, and growth in ministry" guided by its previous statements, and requested a study guide for use in RCA congregations. Further, it urged ongoing reflection concerning how "persons of homosexual orientation have suffered wrongly in our churches and in our society," and a collection of "models of ministry" in the church that are in harmony with the RCA's statements and study papers.
IT IS IMPORTANT to note this 25-year history for two reasons. First, most church bodies, like the Reformed Church in America, have carefully studied, deliberated, and clearly spoken on the question of homosexuality. Little will be accomplished by simply repeating and duplicating such legislative actions.
Second, in our case as in others, the General Synod has called the church to a process of "repentance, prayer, learning, and growth in ministry." To this we have failed to adequately respond, as have most other denominational bodies. It is almost always far easier for legislative bodies of our denominations to debate rather than discern. Often the matter left unresolved in our life is how we respond pastorally to the real-life challenges that people who are gay or lesbian face in our churches and institutions. Here is where we need to repent, pray, learn, and grow.
In the end, these matters cannot be resolved by continual resolutions, debates, and votes at legislative assemblies. They require pastoral discernment rather than political deliberation. A more helpful context for these discussions is in the meetings of elders or parish councils in local congregations and in the pastor's study of those churches.
We need not expect completely uniform answers as those in local Christian communities commit themselves to biblical study, pastoral wisdom, theological reflection, personal sharing, ongoing dialogue, and earnest prayer. Such is the case around other ethical questions rooted in the nature of human life and sexuality. But we can expect well-informed, shared, faithful responses that grow out of our covenant with one another and our mutual commitment to the one head of the church, Jesus Christ.
THE CRUCIAL QUESTION becomes this: What is the status of such differences in the church's response to homosexuality? Are these matters fundamental to our fellowship as Christians? Do they define the heart of the church? Do they speak to the essence of our faith in Jesus Christ as Lord and Savior? Do they strike at the core of what we confess as historic Christian faith?
From its beginning and throughout its history, on many different issues, the church has sought clarity around the following question: When do differences demand division, and when do differences require discernment and dialogue? In classic theological language, when is an issue a matter of "status confessionis"? In other words, when is the church's "confession" at stake, meaning the core definition of Christian faith? A decision to view a matter as having status confessionis means it becomes a decisive litmus test for determining who is regarded as part of the Christian community and who is outside the company of the historic Christian faith.
Generally in the church's history it has been critical theological questions that have taken this status—the Trinity, the incarnation, the resurrection, or God's redemptive work in Jesus Christ, for example. One's position on gun control does not rise to this level.
Should our position on homosexuality be elevated to this status? A small minority on both ends of the spectrum in the debate argue that it should—that the church must condemn any and every expression of homosexuality in church and society, or that unconditional acceptance of homosexuality is a gospel imperative.
The great danger to the church today is in elevating either of these extremes to an absolute article of faith. For then we make this the criteria of who belongs to the church and who does not; who belongs to God and who does not; whom we can have communion with, and whom we cannot; whom we can pray with, and whom we cannot; whom we can confess our faith with, and whom we cannot. The church's differences over the issue of homosexuality are not of that nature. Making them so is a sectarian surrender to the polarizing politics of our culture.
At the same time, there must be no desire to minimize those differences. They are serious and important, inviting dialogue and yearning for discernment. In my judgment, the overall biblical perspective is that humanity was created by God as male and female, ideally intended to be joined in life-long covenanted partnerships of fidelity, intimacy, and fruitfulness. Of this, I think there is little real dispute. But beyond this basic view, there is a considerable range of perspectives concerning the nature of human relationships, the purpose of sexuality, the gift and role of celibacy, the role of genetics and culture in sexual orientation, and similar matters. With this comes the interpretation of specific biblical texts as well as over-arching biblical imperatives and the hermeneutics that underlie particular conclusions. Finally pastoral practice as well as ongoing psychological and scientific findings contribute to the church's search for living truth.
THE CHURCH'S CHALLENGE is to provide a faithful and helpful framework for the theological dialogue and pastoral discernment in local situations that is so necessary. This is certainly not without precedent. The church in New Testament times learned to deal pastorally with issues such as circumcision, meat offered to idols, and conduct at the Lord's table. In more recent times, the role of women in the church, divorce and remarriage, and the gospel's call to the poor have been potentially divisive issues which, in general, are finding safe places in the church for faithful reflection and response. In most cases, these have not become matters raised to the lofty level of status confessionis, with charges of heresy and betrayal of the Christian faith.
How can a similar path be charted around the issue of homosexuality? In general, the church needs approaches that "de-politicize" this question in its life. In some cases, churches nearly torn asunder need to create "demilitarized zones," enabling climates where more light rather than heat can be generated around the issue. This means places of prayer, first and foremost, and safe spaces for faithful reflection and personal sharing, expecting the discernment of God's Spirit in the midst of our biblical study and pastoral care.
We faced this challenge in the Reformed Church in America at our General Synod last year. Conflict had threatened to erupt into divisive recrimination over a matter at one of our theological seminaries. Instead, the synod chose this course of action recommended to them:
First, let us stay on course in our commitment to implement our Statement of Mission and Vision. Let's keep the main thing the main thing.

Second, let us make a commitment over the next two years to intentional reflection and shared discernment in our various assemblies to the pastoral challenges raised by homosexuality.

Third, let us covenant in this period to refrain from deliberative debate in the General Synod over policy issues related to homosexuality, as we have already addressed these matters thoroughly in the course of the last 25 years. This sabbatical from political debate will give space for the discernment on pastoral issues which we need. Further, it will keep the focus of General Synod on our outward mission as we enter the 21st century.

Fourth, let us urge all commissions, agencies, and institutions related to the General Synod to refrain from taking any action during this period which would be in obvious contradiction of our stated position, as expressed especially in 1978, 1979, 1990, and 1994.

In order to follow where God is calling us together in mission, we need to make these commitments.
Other denominations have moved in similar directions. The Presbyterian Church (USA), which has suffered from severe and ongoing conflicts around this question, adopted a "sabbatical" from further legislative and juridical actions. It urged this stance on all its bodies, and those in the church from various perspectives have been responsive.
We are also learning how to model dialogue between official church bodies that hold differing views on this question. The United Church of Christ has taken a clear stance affirming the role of homosexual persons in the life and ordained ministry of their denomination. That stance differs obviously from the official position of the Reformed Church in America and many other denominations. But out of a common reformed tradition, and because of these clear differences, our two denominations entered into an intentional two-year period of dialogue.
This process did not change the positions that we each officially hold. But it did clarify the nature of those differences and challenged each of us to ongoing faithfulness to our understanding of God's truth and the inspiration of God's Spirit. As the Reformed Church participants wrote at the end of this experience, "The constructive dialogue amid the diversity of our positions is a perpetual witness to our commitment to the one body of Christ, our common baptism, and our love for Jesus Christ."
When Paul wrote to the church at Corinth about its factions and conflicts, he reminded them powerfully that all were members of one body and thus of each other. For the first 11 chapters of 1 Corinthians, he provides his instruction and advice on a wide number of problems threatening to divide this young and fragile church. But then, in chapter 12, he declares, "As it is, there are many members, yet one body. The eye cannot say to the hand, 'I have no need of you,' nor can the head say to the feet, 'I have no need of you'" (1 Corinthians 12:20-21).
Whether in congregations, denominations, or ecumenical bodies, this biblical advice from Paul's letter is well worth heeding as we consider present differences over the church's response to homosexuality. Whatever else we may say, we must not say that we have no need of one another, for that is to sever what God intends to be whole.
Wesley Granberg-Michaelson, formerly on the staff of the World Council of Churches, was a contributing editor of Sojourners, served as general secretary of the Reformed Church in America, and chaired the board of Call to Renewal when this article appeared.
The RCA has produced a five-session study guide on the church and homosexuality, Homosexuality: Seeking the Guidance of the Church, designed for use in congregations and small groups. It is available for $7.95 from the RCA Distribution Center, 1-800-968-7221; travarca@iserv.net.