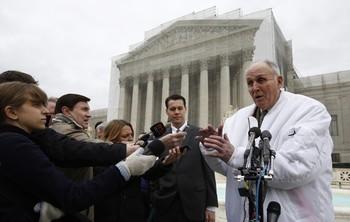 IF THEY HAD met, Aaron Swartz and Vernon Bowman probably wouldn't have hit it off. The 26-year-old Brooklyn, N.Y. computer whiz and the 75-year-old Indiana grain farmer might have been from different planets. But they were brothers-in-arms in a historic struggle over the shape of the 21st century economy and culture. Each, in his own way, has challenged the iron, unyielding hegemony of copyright law that increasingly protects permanent, private, for-profit ownership of artistic creations, scholarly research, and the very processes of life itself.
Aaron Swartz won't be around to see the outcome of this struggle.
Swartz was a successful internet innovator who used his wealth and position to promote "free information." In 2008, he wrote a program that was used to liberate thousands of public-domain federal court records from a site that was charging 10 cents per page for their use. More recently he used his access to the M.I.T. computer network to execute a massive robo-download of millions of scholarly articles from the subscription database JSTOR. The idea was to make the scholarship available free.
After he was caught, JSTOR reached a civil settlement with Swartz that included his surrender of the hard drives containing the articles and then treated the case as closed. But federal prosecutors decided to throw the book at Swartz. He was under a felony indictment for computer fraud and facing a possible 35-year prison sentence. Finally, in January, Swartz, who had a history of depression, killed himself. His parents blamed overzealous prosecutors for his death.
Presumably, Vernon Bowman will still be around when the U.S. Supreme Court rules on Monsanto's lawsuit against him. Monsanto is the chemical giant that makes the herb-icide Roundup and the genetically modified seeds that render corn, soybean, and cotton plants "Roundup Ready," meaning farmers can spray a field indiscriminately and kill the weeds without harming the crop. Of course, Roundup Ready plants yield a new generation of Roundup Ready seeds. So Monsanto's business model depends on forcing farmers to abandon the millennia-old practice of saving part of each crop as seed for the next. Most farmers have meekly submitted to this extension of copyright over living organisms and their offspring, in perpetuity.
Vernon Bowman is no revolutionary. He bought Monsanto seeds every year for his main crop. But he also wanted to work a second crop of soybeans that wouldn't be economically viable if he bought Monsanto seeds. So, instead, Bowman bought some locally produced soybeans for seed. Since almost all Bowman's neighbors used Roundup Ready seeds, these soybeans had Monsanto's genetic modification. But they were also Bowman's private property, bought and paid for, so he thought he had every right to plant them. Monsanto didn't see it that way and went after the Hoosier for $84,000.
Bowman's pro bono lawyers took the case all the way to the Supreme Court. But unlimited ownership rights over "intellectual property" has become an indispensable foundation of the 21st century corporate state, and, during oral arguments in February, even the "liberal" justices seemed mostly sympathetic to the corporate goliath.
The idea that some things—knowledge, art, nature—might constitute a common heritage available to all humanity has, in our day, become a dangerous one. Apparently, that idea is what made the feds pursue Aaron Swartz. In 2008, Swartz authored a "Guerilla Open Access Manifesto," and according to reports from Wired and The Huffington Post, prosecutors were "very focused" on the manifesto and were planning to use it as evidence against him.
In that document, Swartz wrote, "Large corporations, of course, are blinded by greed ... And the politicians they have bought off back them, passing laws giving them the exclusive power to decide who can make copies. There is no justice in following unjust laws. It's time to come into the light and, in the grand tradition of civil disobedience, declare our opposition to this private theft of public culture."
Amen.
Danny Duncan Collum, author of the novel White Boy, teaches writing at Kentucky State University in Frankfort.