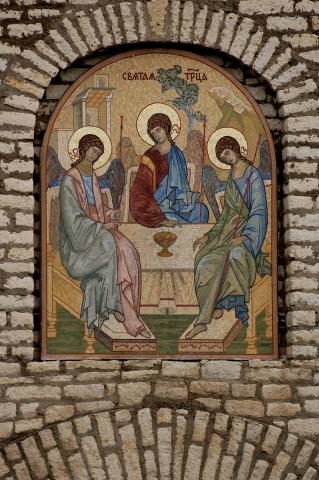 I WAS BROUGHT UP up on stories of my family's emigration to Russia from England in the 1850s and of the three generations we lived there and intermarried. My grandparents fled the upheavals of revolution in 1917, returning to England. Having drunk deeply from the springs of Russian spirituality, it is second nature to me to hear the scriptures with Russian ears. As Eastertide culminates at Pentecost (rounded out in the wonderful coda of Trinity Sunday), I find myself murmuring as a mantra the great injunction of St. Sergius of Radonezh, "Beholding the unity of Holy Trinity, to overcome the hateful disunity of this world!" The doctrine of the Trinity is no mere antiquity, but a beacon pointing to the future that God desires for the world. In the Trinity, "hateful disunity" can be transformed into life-in-communion; our life together as human beings incarnating our identity as ones made into the image and likeness of God. I will find myself doodling on my notepad the provocative claim of the Russian lay theologian Nikolai Fedorov: "Our social program is the dogma of the Trinity."
Taking in again the Trinitarian grammar of our prayer and faith, I will find myself reinvigorated for the task of forging a spirituality that, as a great Anglican priest Alan Ecclestone wrote, "takes its Trinitarian imagery more seriously than ever before, relating the creativity, the humanizing, and the unification of [humankind] in one growing experience of mutual love." This from a man who was a passionate political activist writing from the thick of gritty urban politics, not from an ivory tower.
Martin L. Smith, an Episcopal priest, is an author, preacher, and retreat leader.
[ May 5 ]
What We Carry Into Zion
Acts 16:9-15; Psalm 67; Revelation 21:10, 22-22:5; John 5:1-9
"You can't take it with you" is the rueful cliché we trot out when we think of death as a portal through which nothing can pass except disembodied souls en route to heaven. These glorious passages from Revelation give us a lever for dislodging this bleak and unscriptural idea. Picking up an eschatological theme from the Hebrew scriptures, which envisaged the gentiles bringing to a renewed Zion all the riches of the world, the visionary of Patmos pictures the heavenly city, the New Jerusalem, as a point of convergence into which all of us will bring our achievements, the fruits of our co-creativity with God. "The nations will walk by its light, and the kings of the earth will bring their glory into it. Its gates will never be shut by day—and there will be no night there. People will bring into it the glory and honor of the nations" (Revelation 21:24-26).
This great vision of the fullness of God drawing into eternal fulfillment all that is good in human endeavor and achievement is a lynchpin of the spirituality of the French Jesuit theologian Pierre Teilhard de Chardin. Perhaps the best unfolding of the implications of this scripture is found in his classic The Divine Milieu. A grasp of the mystery that somehow God is going to confer the resurrection of the body on our actions and creations is, for this great scientist and mystic, a thrilling incentive to use all our gifts to the full.
"I desire it," writes Teilhard de Chardin, "because I love irresistibly all that your continuous help enables me to bring each day to reality. A thought, a material improvement, a harmony, a unique nuance of human love, the enchanting complexity of a smile or a glance, all the new beauties that appear for the first time, in me or around me, on the human face of the earth—I cherish them like children and cannot believe they will die entirely in their flesh. If I believed that these things were to perish forever, should I have given them life? ... Show all your faithful, Lord, in what a full and true sense 'their work follows them' into your kingdom ..." (Revelation 14:13).
[ May 12 ]
The Fire of Desire
Acts 16:16-34; Psalm 97; Revelation 22:12-14, 16-17, 20-21; John 17:20-26
The building of a contemporary spirituality that is both authentically feminist and robustly virile requires a passionate reinstatement of desire, eros, to the central place it once had and then lost because moralism debased it by making it refer almost exclusively to lust and greed. If we were faithful to scripture, divine desire would be reinstated as the central theme of the gospel, which is God's intervention to arouse our repressed and disowned desire for union with the divine. The book of Revelation ends in a climactic paean to "the Alpha and the Omega, the first and the last" (22:13), a magnificent evocation of longing, of the desire of bride for bridegroom and bridegroom for bride. "The Spirit and the Bride say 'Come.' And let everyone who hears say, 'Come.' And let everyone who is thirsty come. Let anyone who desires take the water of life as a gift" (22:17).
Desire is the central theme of the great prayer of Christ that brings the Last Supper to its climax in John's gospel. The overarching motive of Christ has been to draw all things to himself, and he now contemplates the unfolding over time of his desire to bring all who are drawn to him into union with God through intimacy with himself. He pours out his heartfelt desire from the core of his being to his Loving God: "I ask not only on behalf of these, but also on behalf of those who will believe in me through their word, that they may all be one ... I desire that those also, whom you have given me, may be with me where I am, to see my glory, which you have given me because you loved me before the foundation of the world" (17:20-21, 24).
[ May 19 ]
God's Plan B?
Genesis 11:1-9; Psalm 104:24-34, 35b; Acts 2:1-21; John 14:8-17, 25-27
If we paid more attention to the legend of the Tower of Babel that the church reads as part of our celebration of Pentecost, we might be less prone to trivializing this feast as the "church's birthday party." What uncanny insight the sages of Israel had in telling a story of God's profound ambivalence about human technology and systems of communication! As humanity migrates, it develops a technological breakthrough on the plain of Shinar: the construction of a skyscraper, an achievement impossible without a unified political power to commandeer the skills of the masses. But God can tell that the political integration essential for the project is fraught with terrible potential for oppression and inhumane defiance of God's plan for a commonwealth of equals. So God halts the project and scatters humanity into a plethora of tribes with multiple languages. If this drastic disintegration is what it takes to undermine the bogus unification imposed by technocrats and dictators, so be it.
The story of Pentecost is a drama that discloses that God's "plan B" (of scattering humanity into communities separated by innumerable linguistic and other obstacles) is not, and was never intended to be, God's final word on the human condition. The coming of God's reign draws scattered peoples from every corner of the earth into a union of mutual comprehension and reciprocity. Now those whose differences seem intractable discover a common source of unity in a God, who delights in diversity and inspires empathy, who revels in pluriformity and energizes collaboration. The Spirit is given to bring a unity that flowers as an expression of koinonia, communion, among those who have seen in Christ the costliness of truthfulness and self-giving—not one coerced by political elites.
In John 14, Jesus warns the disciples that the world does not know and cannot receive the Spirit. What the Paraclete brings is the antithesis of the deceit used by all power elites to manipulate and disempower the people they want to exploit. Jesus announces peace, but it is not the peace that the world gives. It is the polar opposite of the passivity that oppressors want to inculcate. The peace of God is sustained only by prolonged and passionate struggle against the forces that disintegrate the human family and foment mutual suspicion and aggression.
[ May 26 ]
Boasting in What's to Come
Proverbs 8:1-4, 22-31; Psalm 8; Romans 5:1-5; John 16:12-15
Our New Testament readings for this Trinity Sunday are really an extended meditation on life lived to the full in hope. Once Paul has established that life is a gift of peace with God through our Lord Jesus Christ, justified by faith and having access to intimacy with God through grace, he doesn't permit any sense that we can simply rest in this condition. Life is now oriented to God's future. Our energy and sense of identity derive from what is still to come: "We boast in our hope of sharing the glory of God" (Romans 5:2). Life in Christ then is not one of quiet assurance, contented in our justification. Instead, life is fraught with struggle as we cooperate with the Spirit in growing into our new personhood through suffering inner and outer conflict. "Suffering produces endurance, and endurance produces character, and character produces hope, and hope does not disappoint us, because God's love has been poured into our hearts through the Holy Spirit that has been given to us" (5:3-5).
The same orientation toward the future is central to the passage from the last discourses of Jesus in John's gospel. Jesus calmly assures the disciples that the process of imparting the truth, which he knows and embodies, is radically incomplete. They are incapable of taking in any more until his death, resurrection, and ascension have opened up a totally new relationship with God. "I still have many things to say to you, but you cannot bear them now" (16:12). Once the disciples have received the Advocate Spirit, then they will be open to the ongoing revelation of who Christ is—and who Christ is becoming—in and for the world. Then they will learn how they are to live in company with Christ as history unfolds change after change. "When the Spirit of truth comes, she will guide you into all truth. She won't speak on her own initiative; rather, she'll speak only what she hears, and she'll announce to you things that are yet to come" (16:13, The Inclusive Bible).
Preaching the Word, Sojourners' online resource for sermon preparation and Bible study, is available at sojo.net/ptw.
Image: Icon of the Trinity, Abramova Kseniya / Shutterstock.com