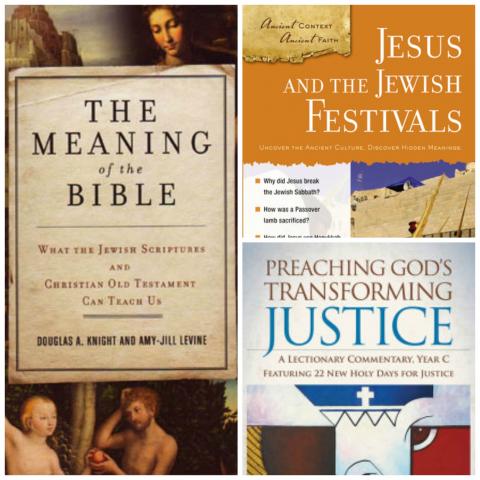 Preaching God's Transforming Justice, edited by Dale P. Andrews, Dawn Ottoni-Wilhelm, and Ronald J. Allen, is a lectionary commentary series from Westminster John Knox Press that helps preachers better proclaim the biblical call to be agents of God's love and justice in the world. Embodying that mission in a small but key way, the 90 contributors include close to equal numbers of women and men and represent significant ethnic and racial diversity. Each volume provides commentary for all the year's lectionary days, plus essays on 22 "Holy Days of Justice," from World AIDS Day to Children's Sabbaths. The first two volumes, for Years B and C, are already available. The Year A volume is due for release in August.

The Revised Common Lectionary's readings for each Sunday—four selected scriptures, generally one each from the Psalms, the rest of the Hebrew Bible, the epistles, and the gospels—are heard by millions of Christians each week. Timothy Matthew Slemmons, an assistant professor of homiletics and worship at the University of Dubuque Theological Seminary, has been captivated by what isn't heard. In Year D: A Quadrennial Supplement to the Revised Common Lectionary (Cascade Books), he argues for an expansion of the lectionary in order to present a fuller portrait of God's revelation. It includes a proposed one-year set of readings that does not shy away from many difficult texts, including from the Psalms and prophets.

Prolific Catholic writer Megan McKenna asserts that, through centuries of shifting church institutions and power struggles, many Christians "have been and still are resistant to the Word of God in the gospels and have become adept at using the gospels to subvert Jesus' revelation of God among us." In Like a Hammer Shattering Rock: Hearing the Gospels Today (Image), she outlines a method for hearing the Word afresh by reading it aloud in small groups. McKenna then examines each of the gospels in turn, looking at what good news it brought in the era it was written and what good news it might hold for us today.

The Meaning of the Bible: What the Jewish Scriptures and Christian Old Testament Can Teach Us (HarperOne) is a comprehensive, thematic look at the Hebrew Bible, bringing historical context, literary appreciation, and theological understanding to bear on topics ranging from law and justice to chaos and creation, from the divine to politics and economy. The authors—Douglas A. Knight, professor of Hebrew Bible and Jewish studies, and Amy-Jill Levine, professor of New Testament and Jewish studies, both at Vanderbilt University—succeed in communicating academic rigor through accessible writing.

It's worth noting that Levine is also co-editor (with Marc Z. Brettler) of another volume bringing rich historical and cultural context to scripture, The Jewish Annotated New Testament, released in 2011 by Oxford University Press.

In Jesus and the Jewish Festivals, Gary M. Burge, professor of New Testament at Wheaton College, explains how Jewish religious festivals were celebrated in the first century and how this cultural context is referenced in Jesus' teaching. This is a volume in Zondervan's Ancient Context, Ancient Faith series, which offers informative and easy-to-read historical-cultural overviews framed by abundant photographs and art.

In 1972, a repackaging of the Bible aimed at young people and called The Way became a best-seller. The introductions and other writing connected scripture to contemporary life, and the book was filled with artful black and white photography. Now it's common to repackage the Bible for various demographic groups, teasing out "relevance" for every niche. But in 1972 it was a fresh and revolutionary approach.

Last year Tyndale House Publishers issued a revival of The Way—now in the New Living Translation (the original was The Living Bible translation) and with completely fresh writing, photographs, and even QR Codes for accessing videos that introduce each Bible book. It's suitable for 21st century hipsters instead of groovy '70s Jesus hippies. Like the original, it may one day seem quaint or dated, but for now it works as a sincere and understated alternative presentation of the Holy Word.
Julie Polter is an associate editor of Sojourners.