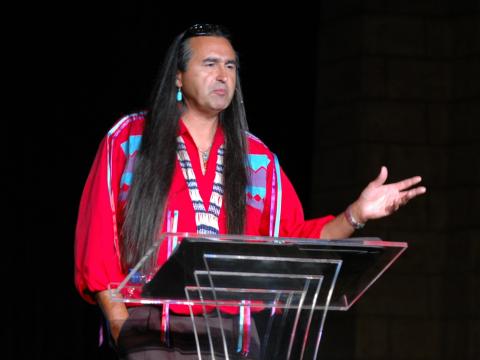 ALL EYES WERE fixed on Richard Twiss, the Lakota/Sioux co-founder and president of Wiconi International, who stood center stage at the 2011 Christian Community Development Association conference.
Twiss pulled no punches as he told the truth about the church's role in colonization: The global genocide of indigenous peoples and the eradication of indigenous cultures by requiring people to cut their hair, leave their families, forsake their languages, and forswear their drums. Coaxed to convert or be damned, indigenous people exchanged their own culture for guitars and mission schools in order to be "Christian."
On Feb. 9, 2013, Richard Twiss passed to the other side of life. For many he was a key voice for indigenous people finding a way to reclaim their culture while keeping hold of Christ. While Twiss was a primary voice of the movement, he was also a member of a larger circle of indigenous leaders, each of whom has played his or her part to establish and spread the good news of cultural reconciliation after "500 years of bad haircuts," as Twiss liked to put it.
Twiss had enormous impact on the indigenous "contextual ministry" movement. "Contextualization means to present the good news of the shalom kingdom of Jesus Christ in a way that people can understand and relate to in their own cultural context," explained Randy Woodley (Keetoowah Cherokee), distinguished associate professor of faith and culture at George Fox Evangelical Seminary.
From the time the Europeans hit Plymouth Rock, Woodley said, there have always been individuals who did not require indigenous peoples to forsake their culture in order to be Christian, but for centuries they were in the minority.
Toward the end of the 20th century, several streams of people were decrying what they saw as the contradiction, even hypocrisy, in European missionary tactics: While European missionaries saw fit to transform bar songs into hymns in Europe, they tended to demand that indigenous peoples become Anglicized in order to become Christian, according to Terry LeBlanc (Mi'kmaq/Acadian), director of My People International and chair of the North American Institute for Indigenous Theological Studies.
By the early 1990s, said Woodley and LeBlanc, the core question for many indigenous peoples was clear: "Why is European culture uniquely predisposed to Christian faith?"
In 1996, Twiss and LeBlanc attended the first World Christian Gathering of Indigenous Peoples. "It was the first time that we felt global affirmation that it is in fact okay to be authentically indigenous and authentically Christian," LeBlanc said.
"RICHARD HAD such a unique way of framing things," Woodley remembered. "He could take a complex concept and simplify it for the masses. He was one of the best communicators in all Christianity."
Twiss' commanding presence made him a natural lightning rod for opposition, which came in the form of charges of heresy and syncretism from fundamentalist indigenous leaders. Yet, just as Twiss spoke for a community of indigenous leaders, that same community defended the indigenous "contextual ministry" movement from the charges, engaging in a series of dialogues with those who had expressed opposition. The conclusion within mainstream evangelicalism was that the movement was indeed theologically orthodox.
According to Woodley, Twiss was just beginning to find his voice, and it was costing him: "Now he was talking about colonialism, genocide, and restitution. White folks don't want to hear that," Woodley said. At the time of his passing, Twiss had recently finished his book, Rescuing Theology from the Cowboys: An Emerging Indigenous Expression of the Jesus Way in North America (available at wiconi.com).
"I saw Richard come into a maturity in his message," Woodley said. "He showed he was willing to step out for what he believed in and for what he had come to realize America needed to hear right now. He was willing to pay the cost."
Lisa Sharon Harper is director of mobilizing at Sojourners.