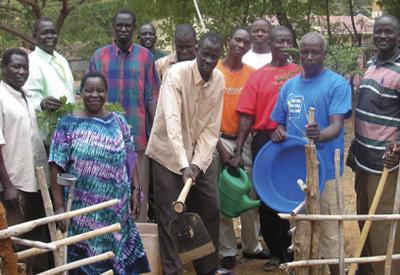 God turns a desert into pools of water, a parched land into springs of water. And there God lets the hungry live ... they sow fields, and plant vineyards, and get a fruitful yield. By God's blessings they multiply greatly. -- Psalm 107:35-38
Once a week, the students at Bishop Gwynne Theological College in Juba, South Sudan, gather under the guava tree in the courtyard for an unusual sort of seminary lesson -- its focus is agriculture. In between learning about the martyrs of the early church and biblical source criticism, the students also learn about soil nutrients, photosynthesis, irrigation, pest control, and more. South Sudan, a poor region on the verge of independence after decades of conflict with the regime in the country's north, has incredible agriculture potential. The students at Bishop Gwynne are part of the church's broad effort to help the country realize that potential.
Robin Denney, a 29-year-old American missionary serving as an agricultural consultant to the Episcopal Church of Sudan, teaches the classes at Bishop Gwynne. On this day, she's discussing mulching. If farmers take discarded plant material and cover their fields with it, it will not only will prevent the growth of weeds, but also return nutrients to the soil as the mulch decomposes. She takes her class of 30 students out to the demonstration garden and points to the planting of sorghum, a staple grain in the region. The rows that have been mulched are taller and healthier-looking than those that haven't.
Denney puts the students to work on the garden. There's weeding to be done and new rows of tomatoes to be planted soon. A papaya tree planted a few weeks earlier has grown quickly but has unfortunately turned out to be a male -- that is, not fruit-bearing -- tree. Denney gathers the class around and explains that one male tree can pollinate several females; there's another male already growing nearby. "But," she says, "if you shock the male it will sometimes re-grow as a female." She pulls out her shears and quickly snips the plant halfway up its stalk. "The truth is," she says, "when it comes to papaya, the males are fairly useless." The all-male class laughs nervously, but Denney is already cutting the stalk into smaller pieces and letting it fall to the ground. "But you can always use it as mulch!" she adds before turning to the next part of the lesson.
Nearly 99 percent of South Sudanese participants in a January referendum voted to secede from the northern government; the formal declaration of independence is planned for July 9. The vote was the culmination of a lengthy peace process that followed a two-decade civil war in which more than 2 million people died and millions more were made refugees. Even as Southerners eagerly prepare to take charge of their own country, significant obstacles remain. More than 90 percent of the population lives on less than a dollar a day. The southern regional government already struggles to administer an area, slightly smaller than Texas, that often lacks critical infrastructure such as hospitals, schools, and paved roads. An Oxfam report concludes that a teenage girl there has a greater chance of dying in childbirth than of completing primary school.
Oil currently provides almost all of the South's revenue. Because most productive oil fields straddle the north-south border, there's concern that a struggle for control of the oil could spark another war, but there are other options. "Agriculture is a sector where the current yield ratios are really abysmal, compared to what could be," the World Bank's vice president for Africa, Obiageli Ezekwesili, said on a September visit to Juba. "South Sudan has every capability to embark on the right course of agricultural growth strategy that would enable it to be the supplier, not the importer, of food." Ezekwesili is not the only development official to see South Sudan's potential; the country has long been seen as a potential breadbasket for the Arab world. But many people who knew how to farm were killed during the war, and their fields were destroyed. Returning refugees depend on food aid. Most of the fruit and vegetables in the South are imported from Uganda -- on old trucks over bumpy dirt roads -- and sold at exorbitant prices.
Archbishop Daniel Deng Bul leads the Episcopal Church of Sudan, one of the country's largest churches. In a church whose members are dependent on aid and without the luxury of a salaried clergy, it's clear to him that teaching priests about agriculture has several benefits. "They'll teach the people agriculture so that the people can feed themselves and give to the church," he told Sojourners. "We don't want our people to be burdened by priests. We want the priests to be tentmakers, like Paul, and support themselves with agriculture."
Ellen Davis teaches Bible and practical theology at Duke Divinity School and has written widely on the connection between the Bible and environmental themes. On her first visit to Sudan, soon after the preliminary peace agreement was signed in 2004, it became clear to her that agriculture needed to be a major focus of the church's work: "Obviously, the system was broken. The skills had been lost. It has to be what the church is doing." The church occupies a unique place in South Sudanese society. While precise figures are hard to determine, more than 90 percent of Southerners are thought to be Christian, following a period of rapid church growth during the war. As a result, "the church functions as the major NGO [non-governmental organization]," Davis says, and can provide social services in a way the weak government cannot: "They are present in every village, they are respected, and, more to the point, are trusted by people who would not necessarily trust the government."
Many Sudanese priests were ordained during the war, when bishops sought simply to sustain the church in the face of the conflict's total devastation. Only a small fraction of South Sudanese priests will ever be able to receive formal theological training, as do the students at Bishop Gwynne. But the church wants agriculturalists in all its dioceses. To understand how it's doing that, one has to drive several hours down a bumpy dirt road from Juba to Yei, a mid-sized town not far from the border with Uganda.
Robin Denney has come here one weekend to visit a dozen students at the government-run Crop Training Centre. The center's large demonstration farm is growing some of the many crops that can thrive in different parts of Sudan -- coffee, pineapple, cassava, bananas. The students, both lay and ordained church members, represent 11 Episcopal dioceses. "This is the next step forward for us in agriculture," Denney tells them. She explains how it is the church's vision to have a network of diocesan agricultural coordinators across South Sudan.
Gabriel Chol, a young priest from the diocese of Rumbek in the center of the country, is beginning the training. "All over the country," he says, "there is land. But there are no trained people to work the land and no trainers. We will be the trainers." Justin Hete is another young student trying to start his life again after the war. He says he can grow plenty of subsistence crops in his community, but doesn't know what to do with the surplus. "People in my village don't know how to sell them. I'm taking marketing here."
The Episcopal bishop of Yei is Hilary Luate Adeba. His diocesan compound is perpetually buzzing with activity. There are schools being built, clinics being run, and a diocesan guesthouse that hosts a steady stream of international development workers. But Adeba has made agriculture a priority. The trucks full of expensive food from Uganda pass through Yei. "It's silly," he says. "We could be growing fruit and vegetables here. It is good soil."
Yei also hosts a model for the kinds of project the students could work on when they return home. Just outside town, the church owns several dozen acres of uncultivated land. Denney is working with Adeba and others to begin a teaching farm there that would allow local residents to grow their own crops while also learning improved techniques. The soil is dark, rich, and fertile, but grown over with trees and tall grasses. Clearing and claiming the land will take time -- but the church is committed to the project. It is yet one more small step in working toward sustainability and alleviating poverty.
Back at Bishop Gwynne Theological College, Denney also teaches a class to students who are farther advanced in their degrees. They discuss teaching techniques and how to write grant applications for equipment and supplies. In addition to talking about the needs and shortages they confront, Denney encourages them to think about the resources they already have. One student recalls how, during the height of the war, the mothers' union in his diocese planted two plantations of teak trees from wild seedlings. The trees kept on growing through the war and in just a few years will be harvested, generating substantial revenue for the church. All it took, Denney notes, was an investment of time. The women already knew how to recognize teak seedlings.
The students also want to talk about why it's important for the church to be involved in agriculture. For Richard Nzeme, a priest from the Diocese of Yambio in the west, interest in agriculture stems from God's creation of the world. "I want to teach that the land has been given to us by God," he says during class. "It is given to us to take care of it and give back to God." Another student from a neighboring diocese, Yosefate Datiro, notes that even something as basic as mulching is countercultural in Sudan. Most farmers he knows like to keep their land clear of other plants. Denney tells him that this is typical of farms in southern Sudan. "Over time the leaves become smaller and more yellow and just don't do very well," she explains. "In a farm of somebody who takes their work seriously as a person who is called to be a steward of the land, you see mulches on top of the soil and you see larger plants with larger leaves, darker green in color, more variety of plants."
Nzeme, Datiro, and the other students in this class are preparing for graduation. They're eager to return to their dioceses and homes and begin to put into practice some of what they've learned at Bishop Gwynne -- not only the theology and history, but the agriculture as well. "Nowadays, most of the pastors are asking for people to send money, to send things to them," says Cimbir Alkatib, one of the graduating students. "But when they can grow their own things, then they can feed other people. That's why it is important for the pastor to know about agriculture. He'll be able to tell them how to grow a lot of things. Then they can have a lot of things in their church to help other people."
Jesse Zink is a writer and student at Berkeley Divinity School at Yale in New Haven, Connecticut. He traveled to Sudan in September 2010.