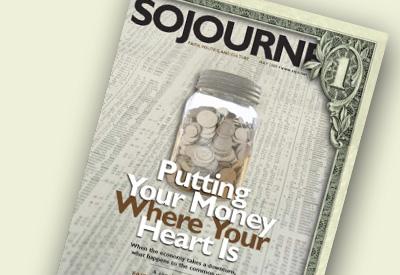 A special list of resources to help you get the most out of Sojourners' May 2008 issue, Putting Your Money Where Your Heart Is.
Especially when it comes to finances, people often ask us for news they can use—nuts-and-bolts resources. Below, you'll find Web sites that can help you free your mind with Bible study and advocate for a more equitable society, but also research where to invest retirement savings, teach your teenager about stewardship of money, and plan (and pray over) your household budget. Read on—and email it to a friend to share the abundance!
Web Extra Contents :
Spiritual Grounding
Socially Responsible Investing
Community Investing
Family & Household Economics
Personal Debt
Predatory Lending
Giving
Working for a More Equitable Society

Spiritual Grounding
Bartimaeus Cooperative Ministries in Oak View, California, is one of the best places to look for more on Sabbath economics, the biblical jubilee model, and moving money for fun and prophecy. The Biblical Vision of Sabbath Economics , by Ched Myers of BCM, is a popular 70-page booklet that helps you read the Bible economically in order to read the economy biblically. Sabbath Economics: Household Practices, by Matthew Colwell, a BCM board member, is a 100-page booklet that aids individuals or groups desiring to ground their finances and lifestyle in ecological and economic sustainability and justice.
Ministry of Money in Germantown, Maryland, explores money and spirituality in a way that encourages us to become free from our attachments to cultural values regarding money. They lead "reverse pilgrimages" and intensive money and spirituality retreats. See the newsletter and the Money and Faith study circle handbook.
Crown Financial Ministries is an interdenominational ministry dedicated to equipping people around the world to learn, apply, and teach biblical financial principles.
Sabbath Economics Collaborative is a network that seeks to facilitate cooperation among faith-based persons and organizations committed to economic justice and to serve as a resource to congregations and movements involved in the struggle for sustainable economics and poverty reduction.
Socially Responsible Investing
Where Your Heart Is, by G. Jeffrey MacDonald
Wall Street and Christian Conscience, by Susan Wennemyr
The Social Investment Forum is the only national membership association dedicated to advancing the concept, practice, and growth of socially and environmentally responsible investing (SRI).
Social Funds has news and resources on socially responsible investing. "Investing in Socially Responsible Mutual Funds" is a free, downloadable 20-page guide.
The Biblically Responsible Investing Institute provides a primer on socially conservative BRI screening.
CorpWatch is a San-Francisco-based organization that investigates and exposes corporate violations of human rights, environmental crimes, fraud, and corruption around the world.
Co-op America is a nonprofit organization that offers extensive print and Web resources to help consumers, investors, businesses, and the marketplace to create a socially just and environmentally sustainable society. Offers guides to fair trade, investing, and financial planning. (Also publishes the National Green Pages™, a nationwide directory of screened, socially and environmentally responsible businesses.)
Community Investing
Seeking the 'Fair Balance,' by Peg Rosenkrands
Indigenous Economics, by Rebecca Adamson
Investing in Communities guide from the Social Investment Forum Foundation and Co-op America lists hundreds of Community Development Financial Institutions by category.
Investing for the World describes the global impact of community investments.
Calvert Foundation's Social Return Calculator: Find out the good your investment can do.
CDFI Data Project, a project of the CDFI Coalition, offers facts on the impact of community investment.
The Community Investment Center has a detailed professional overview, due diligence guidelines, mutual fund primer, and a searchable database for hundreds of regional, state, and local community investment options for financial advisers and institutional investors.
The Opportunity Finance Network has a subscription-based CDFI Assessment and Rating System (CARS) that provides a "comprehensive, third-party analysis of community development financial institutions." Click on the "Financing" tab.
Oikocredit is one of the largest faith-based community investment institutions in the world—with a rigorous SRI grid. It was founded by the World Council of Churches in 1975 and currently is a $405 million fund with partners in more than 67 countries. (For more on Oikocredit, see A Loan At Last, by Katherine Paarlberg, from the January 2004 issue of Sojourners.)
First Peoples Worldwide helps strengthen Indigenous communities through asset control. For more information also see www.lakotafund.org, and www.sustainabledevelopmentinstitute.org.
Family & Household Economics
Practicing Sabbath Economics, by Matthew Colwell
Piggy Banks and God's Abundance, by Susan Taylor
Credit cards for the common good: ShoreBank Pacific's Salmon Nation credit card helps protect the environment, while the Working Assets credit card donates funds to a number of causes.
Alternatives for Simple Living equips people of faith to challenge consumerism, live justly and celebrate responsibly.
Co-op America's National Green Pages™ is a nationwide directory of screened, socially and environmentally responsible businesses.
Learning about money for kids (and everyone else):
Ynow (as in "why now?") is a Web site from Mennonite Mutual Aid that helps people ages 15 to 25 make good choices early in life about stewardship of money and other gifts.
Share-Save-Spend, founded by Nathan Dungan, a financial adviser for Thrivent Financial for Lutherans, aims to help youth and adults achieve financial sanity by developing and maintaining health financial habits. Dungan has also written a book, Prodigal Sons and Material Girls: How Not to Be Your Child's ATM (Wiley and Sons, 2003).
For other information to build a greener, less consumptive life, go to:
www.myfootprint.org to assess your environmental impact;
www.localharvest.org to find community-supported agriculture in your area;
www.cohousingresources.com to look at shared housing options.
Personal Debt
Eyes & Ears: A Culture of Debt, by Danny Duncan Collum
"Matter of Life and Debt" from the Church of England includes worksheets for household budgets and prayers.
National Foundation for Credit Counseling is the national voice for 100 member nonprofit agencies and more than 900 local offices that offer community-based debt counseling.
Predatory Lending
Detoothing the Money Sharks, by Alexis Vaughan
"Home Ownership, Subprime Loans, and Poverty" is a report from anti-poverty organization Bread for the World
These groups are doing excellent work to curb the problem of predatory or "pay-day" lending:
Center for Responsible Lending
Ohio Coalition for Responsible Lending
National Association of Federal Credit Unions: Credit unions have a federally mandated cap on interest rates, which offers protection against predatory lending:
International Association of Hebrew Free Loans is a donation-supported network of institutions offering interest-free loans to people in need.
Giving
Extreme Charity, by Julie Polter
Bolder Giving challenges societal assumptions about how much of our wealth we should consider dedicating to philanthropy.
Generous Giving encourages givers of all income levels to embrace a lifestyle of generosity. Tools include books, study guides, curricula, newsletters, Bible study notes, and an online research library of articles, stewardship sermons, and a forum.
To become more organized and strategic about your generosity, read Inspired Philanthropy: Your Step-by-Step Guide to Creating a Giving Plan, by Tracy Gary and Melissa Kohner (Jossey-Bass, 2002).
Working for a More Equitable Society:
Return to Sojourners' May 2008 issue,
Putting Your Money Where Your Heart Is.