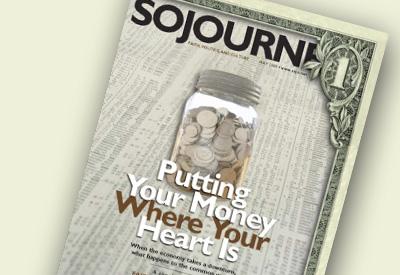 Theologian Ched Myers characterizes "Sabbath economics" as the basic struggle of mammon vs. manna. "Mammon" is the Greek word (from Aramaic) used in Luke 16:13 when Jesus notes that "no slave can serve two masters ... you cannot serve God and mammon." The word is translated "wealth" in the NRSV, and is portrayed a few verses later as the "love of money" (Luke 16:14). Mammon is then illustrated by a tale Jesus tells in Luke 16:19-31, in which a rich man feasts sumptuously and stores up luxury goods even as a poor beggar lies right outside his door. The economy of mammon is one of excess accumulation for some and poverty and deprivation for others.
"Manna," on the other hand, refers to the story from Exodus 16 in which God rains down "bread from heaven" (Exodus 16:4). The Hebrew people were instructed to gather neither too much nor too little of the manna, but rather enough to meet their needs. And they were not to gather manna on the Sabbath day itself, making this manna story one of the first illustrations in all scripture of the meaning of Sabbath. In contrast to mammon economics of excess and deprivation, this model of manna or "Sabbath" economics stresses God's abundance and provision. That abundance carries with it the accompanying instruction not to gather too much lest others go without.
Practicing an economy of sufficiency is no easy task when the model of mammon economics dominates. But there are practical steps households can take to live into alternatives. The following steps are based on the "Sabbath Economics Covenant" developed by Bartimaeus Cooperative Ministries, an ecumenical organization focused on economic and spiritual discipleship. The covenant is a simple tool for applying the biblical theme of Sabbath economics to daily practice, inviting households to commit to changes in seven economic areas. Since lifestyle change is rarely easy work, commitments to new economic practices are often best made in small-group settings where idea-sharing, support, and accountability can be part of the process.
Some steps to consider:
1. Take a look at where your money is invested. Is it held in Socially Responsible Investments (SRI) that screen out predatory lending, war profiteering, and other unjust economic practices? Better yet, is it invested in community development financial institutions (CDFIs) that make capital available to the poor and to underserved communities? (See other articles in this issue to learn more about SRI and community investing.)
2. Look at your credit card and how you use it. For years, I had a credit card from Wells Fargo Bank, only to later learn of their notorious predatory lending practices (see www.responsiblewealth.org). More eco-friendly credit card options are available today, such as the Salmon Nation card from Shorebank Pacific, a bank committed to environmentally sustainable community development (www.salmonnation.com). Since owning a credit card carries with it the temptation to overspend, some find it helpful to limit themselves to one credit card, to avoid credit cards altogether, or to construct a "credit card condom." Such a "condom" is a paper sleeve placed over the credit card with questions on it such as "Do I really need this?" and "Can I really afford this?"
3. Get organized in your giving. Evaluate the organizations you currently donate to, and ask yourself which institutions, organizations, or causes best reflect your values and priorities. Then make an annual "giving plan" that charts how your convictions actually line up with your practice of giving. A helpful resource in constructing such a plan is Inspired Philanthropy by Tracy Gary and Melissa Kohner. Sabbath economics begs the specific question: Are you giving to organizations that locally and globally promote an economy of sufficiency, ensuring that the poor and hungry have enough?
4. Take steps towards a greener lifestyle. You can assess your environmental footprint at www.myfootprint.org. Transportation choices have an enormous impact, so bicycling, public transportation, walking, or other forms of travel that avoid or limit car usage can significantly decrease our footprint. For food choices, look into purchasing your food at a local farmer's market, through a community-supported agriculture program in your area (www.localharvest.org), or through a community or self-tended garden. Green Living: The E Magazine Handbook for Living Lightly on the Earth provides a host of green lifestyle options to consider, such as greening your living space or yard and switching to eco-friendly products. The mantra "reduce, reuse, recycle" remains a helpful "rule of life" for treading lightly on the irreplaceable gift of creation.
5. Take a look at your consumption habits. In Stuff: The Secret Lives of Everyday Things, John C. Ryan and Alan Thein Durning note, "Though they see only a fraction of it, Americans consume 120 pounds—nearly their average body weight—every day in natural resources extracted from farms, forests, rangelands, and mines." Ryan and Durning further point out that if the whole world were to consume at the level of North Americans, we would need at least three additional planets to support it. Consider ways to limit your consumption to more sustainable levels. A much discussed event of 2006 was a "compact" made by a group of friends in San Francisco who committed to a "shopping sabbatical," introducing only used or borrowed items into their households for a year. How might you take such a "sabbatical" for a week, a month, or a year? Some find it helpful to "fast" from purchasing particular products they are prone to overbuying. You might also consider downsizing your living space or explore co-housing options (www.cohousingresources. com), either of which helps limit excess accumulation. For additional steps households can take, books on "simple living" abound—Simpler Living, Compassionate Life: A Christian Perspective is one such resource.
6. Take steps toward greater solidarity with the poor and marginalized. Trips of exposure or "reverse mission" help individuals and groups connect with and learn from people who are living in poverty. BorderLinks, Witness for Peace, Ministry of Money, and Center for Global Education all sponsor such trips of solidarity. Other organizations provide opportunities for individuals to serve as "international accompanists," thereby inviting North Americans to both draw near to oppressed and marginalized communities and provide a "peacekeeping" presence that deters violence. Christian Peacemaker Teams, Presbyterian Peace Fellowship, and Justicia y Paz are three of the many organizations that sponsor such journeys. For more local solidarity options, look into participating in a local living wage campaign (www.livingwagecampaign.org). Volunteering at a soup kitchen or homeless shelter can also be a helpful entry point toward deeper relationships with the poor through the conversations and connections such efforts can allow.
7. Observe a Sabbath discipline in your daily, weekly, monthly, and/or yearly rhythm. The Hebrew word for Sabbath, shabbat, literally means "to cease" or "to rest." While a number of religious traditions (including the Reformed/Presbyterian tradition of which I am a part) have unfortunate histories surrounding Sabbath legalism, to dispense with Sabbath-keeping in reaction to such past excesses would be throwing out the baby with the bathwater. The longstanding Jewish and Christian discipline of marking one day of the week as free from work is a practice as vital now as it ever was, given our modern-day propensity for speed, hyperactivity, and overwork. In both Jewish and Christian traditions, Sabbath-keeping has been practiced as a community, supported by others engaging in the same practice on the same day. Those attempting to practice the discipline today may encounter difficulty and frustration in their efforts without the accountability of a small group, Sabbath-keeping partner, or community of support. Sabbath-keeping can also be incorporated into one's daily activity through designated time for prayer, journaling, or scripture study. Taking a designated day for a retreat once a month or observing a several-day retreat once a year can open up additional room for Sabbath, allowing time and space for God to "re-create" us.
Household economic actions like these are no substitute for the necessary work of public action and political advocacy. The global environmental crisis will not be solved simply by household recycling, nor will the extraordinary economic disparity in our world disappear when a few more people choose community investing. But these practices are a vital complement to the larger political work, reinforcing and amplifying our public witness. Such practices might be compared to the classic spiritual disciplines of prayer, fasting, and corporate worship. They are simple, everyday expressions of faith representing steps on the lifelong path of discipleship.
In Isaiah 58:6-8, after criticizing God's people for fasting while simultaneously oppressing their workers (58:3), the voice of the Lord declares that practices of economic justice should be the spiritual disciplines of the people:
Is not this the fast that I choose: to loose the bonds of injustice, to undo the thongs of the yoke, to let the oppressed go free, and to break every yoke? Is it not to share your bread with the hungry, and bring the homeless poor into your house? ... Then your light shall break forth like the dawn, and your healing shall spring up quickly; your vindicator shall go before you, the glory of the Lord shall be your rear guard.
Matthew Colwell, the author of Sabbath Economics: Household Practices (Tell the Word Press), served as pastor of Knox Presbyterian Church in Pasadena, California and was a board member of Bartimaeus Cooperative Ministries (bcm-net.org) when this article appeared.