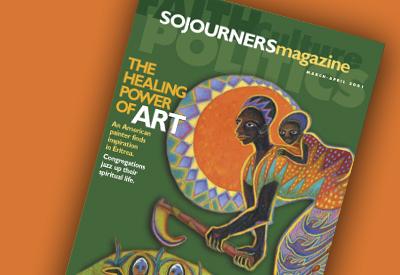 I first came to Eritrea in 1994, to interview artists for a book project, Africa: Women's Art, Women's Lives. Those artists became my guides to Eritrea's war-weary past.
Villages are the pulses of this small Horn of Africa nation. Frequently invited to share tea or coffee in adobe or stone and thatch homes, we sketched the mothers preparing tea or weaving baskets, children caring for other children or fetching water at the village pond. There were sheep and goat herders carrying long guide sticks, men plowing with oxen or leading camels to market. In the process, my eyes, hands, and heart merged with the pen lines that eventually filled many sketchbooks.
In 1995 I returned to Eritrea to present an art workshop at the Asmara School of Art. In all my 32 years of teaching, I had never experienced such enthusiastic students. They ranged from 10 young teachers in training to the majority of older, seasoned soldiers. The workshop culminated in an exhibit of more than 100 detailed pen drawings and acrylic paintings. Impressed by Eritreans who valued art in war as well as peace, I kept returning to visit friends and to continue our sketchbook ventures.
Saho Basket Weavers
In my studio, select travel sketches placed on a wall near the easel became catalysts for the large acrylic paintings that emerged later in my home studio.
Ordinary scenes of everyday life filtered through my imaginative process. Saho Basket Weavers was inspired by sketches made at Saho mountain villages near Senafe, as women sat outside their stone and thatch homes weaving baskets, weaving dreams. During the brief 1991-98 period of peace, Eritreans organized themselves to terrace the steeply eroded mountainsides with endless ribbons of rock. Erosion, the result of a deliberate deforestation program, was another form of war conducted during the long Ethiopian occupation. In Reshaping the Land, a Kunama mother plants corn between the rock terraces.
In Asmara, my sketching began early as most often I was awakened by the pre-dawn imam's call to the faithful to pray at the mosque, followed by the ringing of Catholic and Coptic church bells. Frequently I joined mothers and grandmothers as they walked to an expansive plaza in front of the stately St. Mary's Coptic Church. There the Virgin painted in shades of pale blue greeted them from a mural high above the church entryway.
Wrapped in traditional white cotton shawls against the morning chill, these Tigrinya women began each day with prayers and meditation. Their open palms were raised high toward the Virgin, held before their chests, or placed on the ground as they knelt and kissed the earth.
Coptic Altar
I never tired of sketching their statuesque forms in diverse prayer gestures or their intense features, filled with the painful memory of loss, now silhouetted by the first glimmer of daylight.
Their soulful forms are portrayed in Coptic Altar, a triptych. In the center, the Virgin is based on a sketch of a village woman with a newborn lamb in her arms. I also included men playing the big ceremonial drums at the conclusion of the Sunday Mass. Their reverberations resounded like a communal heartbeat.
Experiencing Eritrea year after year through many seasons has been like a seesaw, first rising high like a good harvest, then weighted down by a senseless war. It was impossible for me to remain immune to the suffering of people who were more than statistics: They were friends. During 1998 and 1999, I returned to sketch in war zones and refugee and relocation camps. Gradually, a second group of paintings began to emerge-"Eritrea-Ethiopia: Prayers for Peace," a series created to portray grief as well as hope.
This series includes images inspired by earlier journeys to Ethiopia's ancient Christian and Coptic churches of Auxum, Gondar, and Lalibela. Seeking solace through prayer is a daily ritual that has been performed for centuries by Tigrinya mothers on both sides of the border-a shared concern for their families' and children's well-being.
THE WAR ZONE. In 1998, the Ethiopian government initiated an ongoing program of ethnic cleansing cited by Amnesty International as a gross human rights violation. Families were forcibly severed, spouses split up as well as parents from children and grandchildren. Long-time Eritrean residents were rounded up and deported without notice. Others were allowed one suitcase before being expelled to the border by bus.
This dislocation and loss shaped my painting Eritrea-Ethiopia, Where Have All the Fathers Gone? Overseen by the compassionate Virgin, three generations-mothers, children, and grandmothers-pray and weep beside rows of burial crosses, while above the crescent moon and star of Islam rise high.
Eritrea-Ethiopia, Where
Have All the Fathers Gone?
It was difficult to realize how quickly the earth soaks up the blood of each generation.
In October 1998, we took our sketchpads directly to the war zone. En route, we saw typical scenes of children walking to school, men and women cutting grain, and donkeys loaded with the grain harvest many times their size. In Zalambessa, the signs of war were evident, as many of the pastel-painted adobe shops and homes along the unpaved main street had bullet, mortar, or artillery-shell holes and were roofless.
Reporter Paul Harris described how the Eritrean Defense Force retook Zalambessa in May 1998. "The streets of Zalambessa were littered with bodies," he said, "which baked in the sun for days until they were scooped up and dumped in a mass grave."
We drove beyond Zalambessa, passing a fertile valley where most grain fields still awaited harvesting, before arriving at Gelaba, a front-line village. There, to my surprise, in the sunlight outside one doorway were two young women fighters, Selam and Zemame, combing and braiding each other's hair.
Stretching along this surreal Gelaba front line were fields of yellow flowers where cows grazed and several little boys played. A short distance away a team of oxen threshed grain, their repeated rotations guided by several Eritrean Defense Force fighters who were committed to helping the farmers between battles, as they desperately tried to salvage their crops.
For two years, the war continued along three war zones (Zalambessa, the Red Sea port of Assab, and Badme) stretching over 620 miles. Though the battles had been sporadic, they were fierce.
Refugee Camp
Frightened by the devastation and fleeing from the bombs, more and more people from the war zones reluctantly left their land and homes with only a few meager possessions to seek safety.
Refugee camps. In 1999, we circled steep mountainsides to visit refugee camps: Mai Segla, Mai Wurai, and Dedda. At each camp, there was little variation in the expression of the inhabitants as they greeted us, disappointed at first that we were not nurses or doctors. Almost everyone suffered from deep coughs, intestinal ailments, and malnutrition. Millet porridge was the food staple; there wasn't enough. Gaunt mothers and children sat outside tents, sometimes boiling water for tea-a ritual of normalcy they still maintained. There wasn't much else to do.
My painting Refugee Camp is a composite of many sketches, fragments of expressions and gestures of people sitting or standing beside white UNHCR tents. It was hard to imagine people subsisting this way for years. Last year they were joined by so many more.
At home I am surrounded by beautiful baskets brought back from each Eritrean journey-dazzling designs and color.
Mandala for Peace
They are joyful. Optimistically, I feel Eritrea will once again heal, though it is heartbreaking to realize the acute, unnecessary suffering of so many.
In Mandala for Peace, a serene mother is seated in the midst of an incomplete circular structure. Her multiple features scan the past and the future, but she also faces us now in the present and wonders if we really see her. Shall mothers always shed tears as angels look on? But Eritreans are strong and determined and will move forward again in their journey of peace.
Betty LaDuke is a painter, activist, and teacher who lives in Ashland, Oregon. Her daughter, Winona, was the 2000 Green Party candidate for vice president.